Chris Cuccia
Professional Cornhole Player
ACL Pro for SouthEast Conference


Chris Cuccia's Biography
I am ACL Pro Chris Cuccia from the Southeast Conference and this is my story of how I became a professional cornhole player for the ACL. Jimmy Buffet tailgate 13 years ago. From the first bag I was hooked! My wife and I played together and got whooped all day. They were spinning the bag!!! We bought a set the next day and found our first tournament that weekend. I pulled one of the best players aside and got a lesson and watched most of the day. Haven't stopped playing since.
Cornhole Achievements:
Over 150 wins in 14 states.
4-peat champ of the Fenway Cornhole Classic
2 time ACL Pro
About Me
Most Memorable Moment

Winning the Dallas 105.3 The Fan, 150 team-single elimination, winner take all tournament

Preferred Bags

Local Outlaws

Occupation

Sales Director

My Home League

South Florida Cornhole

Favorite Shot

Nothing like a good push
THROW WHAT THE PRO'S THROW

RANDOM ACL PROS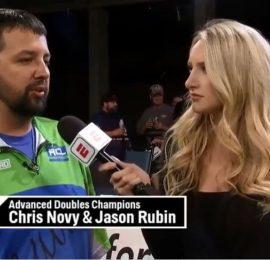 Jay Rubin
ACL Pro for Great Lakes Conference
I am Jay Rubin aka Jaybirdie Bird ACL Pro from the Great Lakes Conference and this is my story of how and when I started playing cornhole and worked my way up to an ACL Pro. I started playing cornhole in backyards, alleys, and bars here in Chicago 10-11 years ago. For about 2 years I would play in a local country station tournament but usually got destroyed in the sweet 16. Took 6 years off due to not having a partner. I showed up at a local tournament in Villa park back in 2015, and beat a really solid team that was well known. That victory opened up all the avenues I needed when it came to finding a partner. My first 2 years I would go to 5-10 local type of tournaments a year to get a sense of what I was really up against. During that time frame, I realized I had a lot of work to do if I wanted to be considered one of the best. 2 years ago I figured out how to throw a flat bag, which immensely helped my slide game. After that I started working on pushing, step outs, covering/blocking, airmailing, and the strategic side of the game. Once I had a good feel for all the tools needed to be successful, I decided to give the ACL a shot. In my first season I finished 25th in singles, and 36th in the overall rankings. During the summer of 2018 I elevated my game even more by winning several $1000-$3000 tournaments, while taking down some of the best players in the game. Some of my biggest accomplishments so far this season is 13/13 in regional singles, won a conference doubles, and a National in advanced doubles on ESPN. I'm currently competing for the $10,000 devour player of the year title, and also for player of the year in the ACL season. Still have a lot of work to do in order to accomplish either. Looking forward to seeing what the next 10 years brings me in my career!
Contact
Skype

Pizza (Lou Malnatis Deep Dish)
Check Skills
Blocking/Covering Proficiency
Eli Stevens
ACL Pro for Mid-East Conference
I am ACL Pro Eli Stevens from the Mid-East Conference and this is my story of how I became a professional cornhole player for the American Cornhole League. Went from beating up on everyone at back yard events to hustling folks at local bars until I met Dave Weiser and got into one of his leagues. That's when I got introduced to competitive Cornhole. I got my ass kicked at first now about 7 years later I'm one of the best In the Cleveland area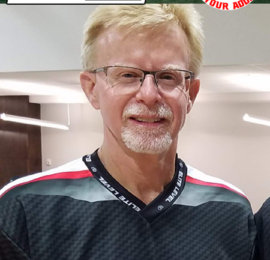 Greg Collins
ACL Pro for West Conference
I am ACL Pro Greg Collins from the West Conference and this is my story of how I became a professional cornhole player for the American Cornhole League. Started playing competitively in 2018 at the age of 58. I Live in the Central Valley of California, in a small farming town called Escalon. I work in the Director of Sales for All West Select Sires which provides genetics to dairy and beef producers. In October of 2018, my wife, Tamara saw on Facebook, her friends, Maybelle and Paul Abplanalp playing cornhole and inquired to when and where. That night we joined up with the Manteca league and we haven't looked back since. I remember my first Regional tournament in West Sacramento, it flamed a desire to really build my game. We would often drive into the San Francisco Bay area to play in locals and regionals with ACL pro Blake Demale, Nick Renevitz, Ken Jones and Brett Holland all highly skilled players, they pushed my game. 2019 I competed in my first King and Queen competition in Madera, CA and also went to Spencer McKenzie's Throw Down and placed well in the lower bracket partnering with Raymond Thomas. That was my first experience around many pros, it was very inspiring. In November 2019, I played at my 1st conference in Las Vegas and was noticed by Richard Morgan and a couple months later Mark Pryor invited me to play as part of Team Ultra. I then went to my first National in Florida in January 2020. Then Covid hit and messed up the chase for many of us. I went to Cleveland only to have it cancelled. I did go to the Final Chase, in Rock Hill.
20/21 is my first year as a pro. Mark Pryor, Ultra Cornhole will be sponsoring me this season. The bags I throw best and most are Widow-B's because of the two sided options they give you. Slick side is fast but not to fast and the slow side gives a soft landing block. I will be teaming up with Rudy Ai to make our chase. We both started within 6 months of each other and live only about 45 minutes apart. We regularly play in the same clubs together, many times we have partnered and are at most all Western conference events together. We approach the game similarly with solid steady heads and a never give up resolve .
I have never believed in luck. I believe you develop your game by playing smart, practicing hard and competing against challenging players. It's fun. That's why you'll hear me say "Have fun" at the start of a game. I use the Bible verse Proverbs 27:17 as my motto "As iron sharpens iron so one man sharpens the countenance of another..." I try to do this all day long not only in my game but in work and relationships also. So there you have it a little about me.
Contact
Office

Ultra - Widow-Bs, Viper-C

Email

Traveling with my wife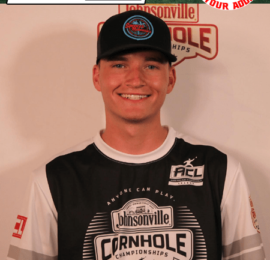 Tyler Bockholdt
ACL Pro for Great Lakes Conference
I am ACL Pro Tyler Bockholdt from the Great Lakes Conference and this is my story of how I became a professional cornhole player for the American Cornhole League. When I was 18 years old I met Vince Pacione through friends of friends in high school. I overheard someone talking about playing bags over the weekend and stopped and asked where because I love to play in my backyard. Alspa told me about a weekly blind draw (totally foreign to me at the time) that happened every Monday night just 20 minutes from my house. This was not an ACL event, rather one sided bags and bouncy boards but it was all I knew! Later when I saw all the talent at this bar, I found out that a lot of these players played nationally and at other establishments almost every day of the week!
This is when I met Vince Pacione at the bar called Katie O'Connor's (presently called Backroads). Winter came and I didn't play for a couple months but got a text message from Vince that there is an indoor event that he's starting and he wanted to see me there! I went for the first time on _______ and it wasn't until then out about double sided bags and what the ACL was. I bought a set of bags from Rob Bev, he sold me Reynolds Pro Edge Speeds for $20 as a gift for being an aspiring newbie in the game.
Finally found myself playing weekly and then traveling a little more to other blind draws over the week. When I got my own set of boards I wouldn't stop practicing until the street lights came on and I was ready for my first regional.
Since then it's been about a year, moved from competitive (for only 2 regionals) to advanced ever since, playing against some of the best in the Chicagoland area.
Contact
Office

Killshots .357 or Reynold Pro Advantage