Chuckie Love
Mid-East Conference

ACL Pro since:
2018
Preferred Bags:
Reynolds Fracture


I am ACL Pro Chuckie Love from the Mid East Conference and this is my story of becoming a pro player for the American cornhole league.
Chuckie's favorite Reynolds Bag is the FRACTURE. Grab a set here and see why!
A 61-year-old ACL Pro hailing from the charming city of Warren, Ohio. Chuckie's journey in the world of Cornhole is nothing short of inspiring, and we're here to share his incredible story.
Back in 2009, Chuckie's Cornhole adventure began with humble beginnings – corn-filled bags and half-inch bouncy boards. As he ventured out to different Cornhole events and competitions, he quickly realized that there was other equipment available. It was during this journey that he crossed paths with Jeff Reynolds, a pivotal moment that would change the game for Chuckie.
Jeff Reynolds introduced Chuckie to a new level of Cornhole gear, including his very first set of resin bead bags and top-notch boards. Little did Chuckie know that this encounter would lead him to an unexpected twist in his life – he's now a proud employee of Reynolds Bags.
Chuckie Love stands as a loyal representative for Reynolds Bags, his passion for the game is unwavering, and he's living proof of how dedication can take you from a simple Cornhole enthusiast to an industry pro.
When Chuckie isn't tossing bags or competing, he's sleep-dreaming about Cornhole – talk about true dedication! #CornholeIsMyLife is more than just a hashtag for Chuckie; it's a way of life.
Now, let's talk about Chuckie's favorite bags – the Fractures and the Typhoons are his go-to choices. On faster boards, he relies on the Typhoons for precision blocking and skillful slides into the hole on command. But Chuckie isn't one to rule out other options; he also has a soft spot for the Renegades, Cyclones, and Pro X bags. The Fractures, in particular, shine in all playing conditions, making them a versatile choice.
Chuckie Love's passion for Cornhole, dedication to Reynolds Bags, and love for the game's equipment make him a true icon in the Cornhole community. Keep your eyes on this legend as he continues to excel in the world of Cornhole!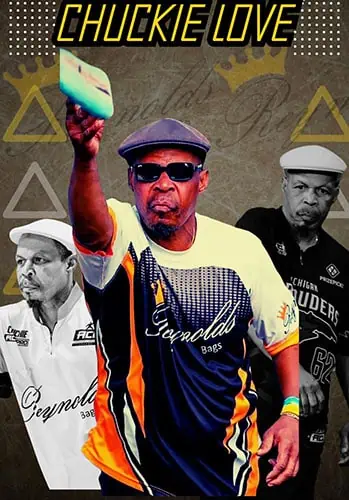 Recent Events
Date
Event
Finish
Winnings
2023-08-06
2023 ACL World Championship Senior Singles
t-5th in Bracket (t-9th Overall)
$100
2023-08-06
2023 ACL World Championship Senior Doubles
4th in Bracket (t-7th Overall)
$75
with Bob Vonch
2023-08-06
2023 ACL World Championship Senior Doubles
t-5th in Bracket (t-9th Overall)
$40
with Bob Vonch
2023-05-05
2023 ACL Open #12 Pro/Advanced Blind Draw
2nd in Bracket
$200
with John Clark
2023-03-03
2023 ACL Open #9 Pro/Advanced Blind Draw
3rd in Bracket
$110
with Alex Hicks
2023-03-03
2023 ACL Open #9 Senior Singles
t-5th Place
$100
2022-12-02
2023 ACL Open #5 Pro/Advanced Blind Draw
t-5th in Bracket
$50
with BRIAN FORBES
ACL Standings Finishes
Year
Standings
Rank
2023
Pro Singles
149
2023
Pro Doubles
94
Partner – Brian Edwards
2023
Open
242
2022
Pro Singles
84
2022
Pro Doubles
34
Partner – Timmy Jonas
2022
Open
61
2021
Pro Singles
90
2021
Pro Doubles
43
Partner – Keith Perry
2021
Open
105
2020
Pro Singles
38
2020
Pro Doubles
29
Partner – Eli Stevens
2020
Open
141
2019
Pro Doubles
15
Partner – Stacia Pugh
2019
Open
22
2018
Open
13
ACL Pro Division Stats
| Year | Event | Rounds | PPR | OPPR | DPR | 4 Bag % | In % | On % | Off % | Wins | Losses | Win % |
| --- | --- | --- | --- | --- | --- | --- | --- | --- | --- | --- | --- | --- |
| 2023 | Pro Singles | 434 | 9.63 | 9.55 | 0.07 | 31.11% | 71.89% | 25.00% | 3.11% | 13 | 13 | 50.00% |
| 2023 | Pro Doubles | 193 | 9.40 | 9.03 | 0.38 | 29.02% | 69.69% | 26.04% | 4.27% | 12 | 14 | 46.15% |
| 2022 | Pro Singles | 414 | 9.62 | 9.45 | 0.17 | 31.88% | 72.10% | 24.15% | 3.74% | 13 | 15 | 46.43% |
| 2022 | Pro Doubles | 198 | 9.36 | 9.19 | 0.17 | 23.74% | 69.44% | 25.76% | 4.80% | 14 | 10 | 58.33% |
All Event Finishes by $
Date
Event
Finish
Winnings
2023-05-05
2023 ACL Open #12 Pro/Advanced Blind Draw
2nd in Bracket
$200
with John Clark
2023-03-03
2023 ACL Open #9 Pro/Advanced Blind Draw
3rd in Bracket
$110
with Alex Hicks
2023-08-06
2023 ACL World Championship Senior Singles
t-5th in Bracket (t-9th Overall)
$100
2023-03-03
2023 ACL Open #9 Senior Singles
t-5th Place
$100
2023-08-06
2023 ACL World Championship Senior Doubles
4th in Bracket (t-7th Overall)
$75
with Bob Vonch
2022-12-02
2023 ACL Open #5 Pro/Advanced Blind Draw
t-5th in Bracket
$50
with BRIAN FORBES
2023-08-06
2023 ACL World Championship Senior Doubles
t-5th in Bracket (t-9th Overall)
$40
with Bob Vonch