About Me
My Home League

The Battleground Cornhole League
THE BEST ACL APPROVED CORNHOLE BAGS

RANDOM PLAYERS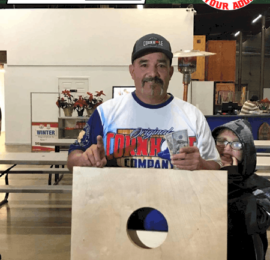 Florentino Mendoza
I am ACL Pro Florentino Mendoza from the West Conference and this is my story of how I became a professional cornhole player for the ACL.
I started playing cornhole in 2017. I originally played horseshoe's in California and when I moved to Arizona in 2017, my cousin introduced me to Cornhole. I started playing in tournaments and being very competitive. Then I started practicing to master the game. In 2021/2022 my hard work paid off when I was selected for the ACL Pro Development Cup.
Contact
Office

Vipers / Sure Fires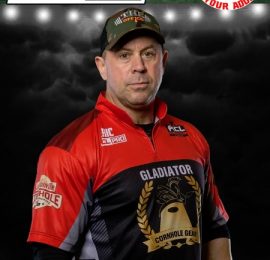 Eric Ryder
I am ACL Pro Eric Ryder from the Carolina Conference and this is my story of how and when I started playing cornhole and worked my way up to an ACL Pro. Back in 2009 I was invited to a friends house for a cookout. He had some cornhole boards made and pulled them out and explained the game to me. I had never heard of cornhole prior to that day. We played all afternoon and I was hooked. I bought my first set of 2x4/plywood Red Sox boards with corn bags and started playing in the neighborhood with neighbors. Soon heard about a tournament that Trey and I would play in and get our butts handed to us. We met some good players and learned about throwing a flat bag and resin bags and how there were tournaments every week in the area. It was at that point I knew this was a game I would be playing for a very long time.
Contact
Office

Gladiator Empire Pro VIII, Gladiator Dagger Pro VIII and Gladiator Predator Pro v2

Home

Orange (Go Tigers!!)

Skype

Pizza, Steak and Japanese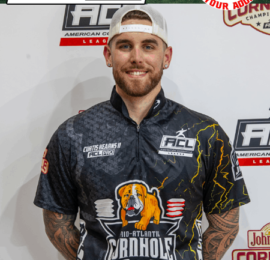 Curtis Kearns II
I am ACL Pro Curtis Kearns II from the Atlantic Conference and this is my story of how I became a professional cornhole player for the American Cornhole League. I started playing back when I was 15 just like most people at backyard BBQ's. From there I ventured into my first blind draw at a local Buffalo Wild Wings at the age of 17 and I got lucky enough to draw a guy named EB Marsh, the best guy in there at the time, and we ended up finishing second. From then on I was in love with the game. I stayed with the local blind draws for the next 6-7 years and never really ventured off and traveled. I had stared to become one of the best in my area so last year I decided to take on the pro circuit and try to make a name for myself across the country. I ended up Finishing 56th overall In the 2018-2019 season. Time to improve on that in seasons to come!
Contact
Email

Hunting, fishing, and cornhole

Location

Fredericksburg, Va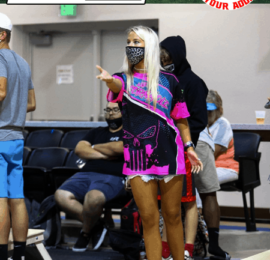 Kaylee Hunter
Carolina Conference
I am ACL Pro Kaylee Hunter from the Carolina Conference and this is my story of how I became a professional cornhole player for the American Cornhole League. Started out with Backyard cornhole with family and friends, I started getting good and putting in work then Jamie Graham introduced me into competitive cornhole. Ever since, I have fell in love with the game!
Contact
Office

Gamechangers, Allslides, BG

Email

Cornhole and shopping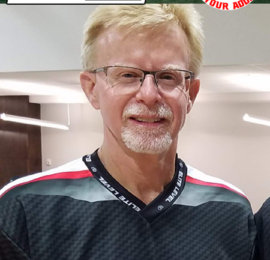 Greg Collins
I am ACL Pro Greg Collins from the West Conference and this is my story of how I became a professional cornhole player for the American Cornhole League. Started playing competitively in 2018 at the age of 58. I Live in the Central Valley of California, in a small farming town called Escalon. I work in the Director of Sales for All West Select Sires which provides genetics to dairy and beef producers. In October of 2018, my wife, Tamara saw on Facebook, her friends, Maybelle and Paul Abplanalp playing cornhole and inquired to when and where. That night we joined up with the Manteca league and we haven't looked back since. I remember my first Regional tournament in West Sacramento, it flamed a desire to really build my game. We would often drive into the San Francisco Bay area to play in locals and regionals with ACL pro Blake Demale, Nick Renevitz, Ken Jones and Brett Holland all highly skilled players, they pushed my game. 2019 I competed in my first King and Queen competition in Madera, CA and also went to Spencer McKenzie's Throw Down and placed well in the lower bracket partnering with Raymond Thomas. That was my first experience around many pros, it was very inspiring. In November 2019, I played at my 1st conference in Las Vegas and was noticed by Richard Morgan and a couple months later Mark Pryor invited me to play as part of Team Ultra. I then went to my first National in Florida in January 2020. Then Covid hit and messed up the chase for many of us. I went to Cleveland only to have it cancelled. I did go to the Final Chase, in Rock Hill.
20/21 is my first year as a pro. Mark Pryor, Ultra Cornhole will be sponsoring me this season. The bags I throw best and most are Widow-B's because of the two sided options they give you. Slick side is fast but not to fast and the slow side gives a soft landing block. I will be teaming up with Rudy Ai to make our chase. We both started within 6 months of each other and live only about 45 minutes apart. We regularly play in the same clubs together, many times we have partnered and are at most all Western conference events together. We approach the game similarly with solid steady heads and a never give up resolve .
I have never believed in luck. I believe you develop your game by playing smart, practicing hard and competing against challenging players. It's fun. That's why you'll hear me say "Have fun" at the start of a game. I use the Bible verse Proverbs 27:17 as my motto "As iron sharpens iron so one man sharpens the countenance of another..." I try to do this all day long not only in my game but in work and relationships also. So there you have it a little about me.
Contact
Office

Ultra - Widow-Bs, Viper-C

Email

Traveling with my wife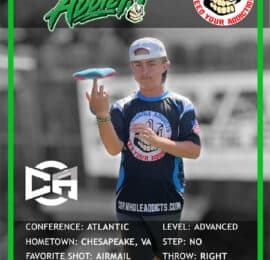 Greyson Waller
TeamAddicts Sponsored Player
Greyson Waller is a Sponsored Player for TeamAddicts and from the Atlantic Conference. This is his story of how he started playing cornhole.
I got started playing cornhole down at the campground I go to and everyone was playing down there so I figured I could give it a try. That's when I fell in love with the game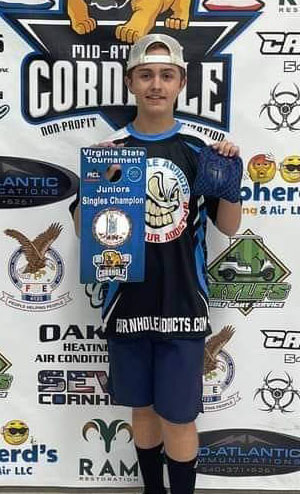 Greyson Waller Beast of the East 2022 blind draw CHAMPION!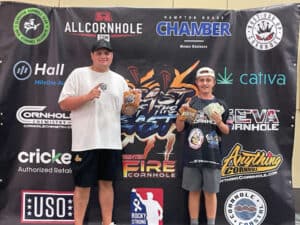 Be sure to follow us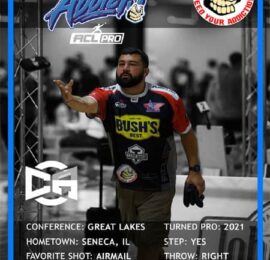 Nico Mireles
TeamAddicts Sponsored Pro
I am ACL Pro Nico Mireles from the Great Lakes Conference and this is my story of how I became a professional cornhole player for the ACL.
If it wasn't for COVID, I wouldn't be playing Cornhole. I was hardcore into shooting pool and traveled to many tournaments to do so. Obviously, Coronavirus happened and the bars closed down so pool was put on hold. So me being me I had to find something else to play. I used to play Cornhole 10 years ago but I got a girlfriend (now wife) and stepped away from the game. Fast forward 8 years and I saw cornhole on ESPN. I thought to myself I can do that and googled how to get into playing competitively. Turns out there was a conference that next weekend so I decided to go. David Morse was taking signups and asked my skill level. I asked him what's the highest level I can play in. Then the first person I saw playing was Jay Rubin and I knew I was in trouble that day. I went through a lot of whoopings to get where I'm at now. Now, David Morse is a good buddy of mine and Jay Rubin took me under his wing.
Contact
Office

Titan Devastators, Venoms, Thrashers. Titan Bags!!

Email

Gaming or Practicing
Haseeb Habiban
SouthEast Conference
I am ACL Pro Haseeb Habiban from the Southeast Conference and this is my story of how I became a professional cornhole player for the ACL. Started in the Finley's yard, won the first time I played and we did it every weekend then we started to venture out and winning most of the time with my wife. It's been about 10 years now and loving this game. Now this great sport is playing overseas and just amazing. The ACL is just awesome!
Contact
Location

Cottontree, Guyana