THE BEST ACL APPROVED CORNHOLE BAGS

RANDOM PLAYERS
Cody Henderson
Mid-East Conference
I am ACL Pro Cody Henderson from the Mid-East Conference and this is my story of how I became a professional cornhole player for the American Cornhole League.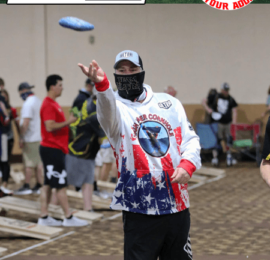 Reuben Snyder
Mid-East Conference
I am ACL Pro Reuben Snyder from the Mid-East Conference and this is my story of how I became a professional cornhole player for the ACL. Like many back yard parties to pre game tail gating.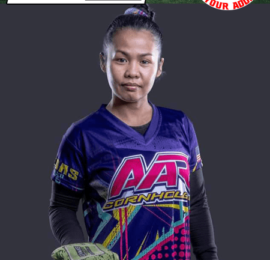 Maya Cupp
Great Lakes Conference
I am ACL Pro Maya Cupp from the Great Lakes Conference and this is my story of how I became a professional cornhole player for the ACL. Summer 2016 when my husband and pro partner, Donald Cupp, built our cornhole boards, we start playing in our backyards with corn filled bags just for fun. In 2017, a friend invited us to a big cornhole tournament and we played in a social division. We did not win and everybody was good (we did not know cornhole been existing here 12 years ago and its a big thing here in Michigan). We then joined in a social cornhole league where we took 3rd. One time while playing cornhole I saw great players playing on ESPN. I was amazed how these player played. I told to my self "oh my God, I am going to play on TV one day". I keep playing as much as I can. I lost a lot but I just kept going and the rest history. To everybody reading this, keep playing be nice to new players encourage them and never give up on yourself. Thank you.
Contact
Office

GameChangers and All-Slides

Email

reading motivational & spiritual books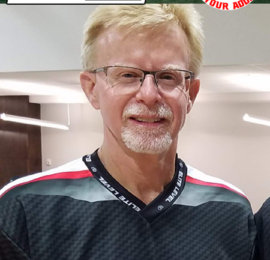 Greg Collins
I am ACL Pro Greg Collins from the West Conference and this is my story of how I became a professional cornhole player for the American Cornhole League. Started playing competitively in 2018 at the age of 58. I Live in the Central Valley of California, in a small farming town called Escalon. I work in the Director of Sales for All West Select Sires which provides genetics to dairy and beef producers. In October of 2018, my wife, Tamara saw on Facebook, her friends, Maybelle and Paul Abplanalp playing cornhole and inquired to when and where. That night we joined up with the Manteca league and we haven't looked back since. I remember my first Regional tournament in West Sacramento, it flamed a desire to really build my game. We would often drive into the San Francisco Bay area to play in locals and regionals with ACL pro Blake Demale, Nick Renevitz, Ken Jones and Brett Holland all highly skilled players, they pushed my game. 2019 I competed in my first King and Queen competition in Madera, CA and also went to Spencer McKenzie's Throw Down and placed well in the lower bracket partnering with Raymond Thomas. That was my first experience around many pros, it was very inspiring. In November 2019, I played at my 1st conference in Las Vegas and was noticed by Richard Morgan and a couple months later Mark Pryor invited me to play as part of Team Ultra. I then went to my first National in Florida in January 2020. Then Covid hit and messed up the chase for many of us. I went to Cleveland only to have it cancelled. I did go to the Final Chase, in Rock Hill.
20/21 is my first year as a pro. Mark Pryor, Ultra Cornhole will be sponsoring me this season. The bags I throw best and most are Widow-B's because of the two sided options they give you. Slick side is fast but not to fast and the slow side gives a soft landing block. I will be teaming up with Rudy Ai to make our chase. We both started within 6 months of each other and live only about 45 minutes apart. We regularly play in the same clubs together, many times we have partnered and are at most all Western conference events together. We approach the game similarly with solid steady heads and a never give up resolve .
I have never believed in luck. I believe you develop your game by playing smart, practicing hard and competing against challenging players. It's fun. That's why you'll hear me say "Have fun" at the start of a game. I use the Bible verse Proverbs 27:17 as my motto "As iron sharpens iron so one man sharpens the countenance of another..." I try to do this all day long not only in my game but in work and relationships also. So there you have it a little about me.
Contact
Office

Ultra - Widow-Bs, Viper-C

Email

Traveling with my wife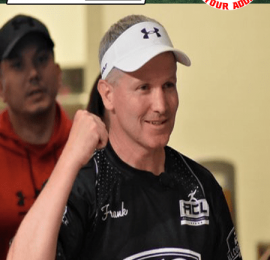 Frank Modlin
Carolina Conference
I am ACL Pro Frank Modlin from the Carolina Conference and this is my story of how I became a professional cornhole player for the American Cornhole League. I started playing about 10 years ago. We were camping with the family down on the Outer Banks of N.C. I saw some guys playing a game I had not seen before. They asked me to join them. I was hooked immediately! My wife ordered me a set of boards for my birthday and I started practicing!
My buddy Steve McCombs and I would throw for hours on end. I heard there was going to be a tournament in a neighboring town close to us at a festival they were having. So, Steve and I decided to go! We were nervous to say the least. We both are super competitive and did not want to embarrass ourselves. It was a small tournament with some local players there, but you would have thought it was Worlds for us. Long story short, we won the tournament, and made some really good friends that I am still friends with today!
Oh yea, I met my buddy George Cowand from Midway NC at that tournament. We ended up becoming great friends and traveling and playing a lot of tournaments in the local area. We had quite a few wins together! Well, this only fueled my desire to get better and play bigger tournaments. So, I started searching for tournaments outside my area and traveling more. I found out there was "organized cornhole" that had point systems and rankings. I knew right then that I wanted to play competitively and see where I stood against some of the higher-ranking players. I definitely took and still take my share of losses. But I have really enjoyed the successes I've had along the way. I have made so many friends in this sport! I enjoy the fact that I can basically travel anywhere in the US now and run into friends. That is so cool to me. And no matter where we travel, the people always make us feel welcomed! I now travel and play the pro circuit with the American Cornhole League ran by commissioner, the legend himself "Stacey Moore"! He along with awesome his staff members run tournaments throughout the US and are now stretching out beyond our borders! The National tournaments can now be seen on several major TV networks like ESPN, ABC Sports and NBC Sports. I recently was fortunate enough to make the first ever USA National Team!! How cool is that to be able to represent your country doing something you genuinely enjoy!! I have been truly fortunate throughout the years and have the support of my wife, my daughters and their now spouses and my extended family.
I've got some of the best sponsors anyone could have with representing great companies like AllCornhole, AAR, Dirty Bags Cornhole and The Jersey Guy! You guys are the best and I can't thank you enough! I also am VERY fortunate to have the best fans ever!!! I am truly thankful for each and every one of you!!! One last thing because I know I went way to long with this, lol! I have been fortunate enough along with the help of Chad and Emily Littlewood with AllCornhole, bring to life a bag concept some of you may have heard of called "Gamechangers "!! This has been such a cool experience! To have something that you are a part of to be liked by so many of your peers is truly humbling. The family of supporters for Gamechangers are absolutely phenomenal!! I appreciate each and every one of you! It is such a honor to hear the compliments about Gamechangers! Thank you all!! It really means a lot to me!! Well ok, I think I am going to end it there. Hopefully, I didn't ramble too much. I just get carried away when I start talking about everything that I love about this sport!! Best of luck to you all and I hope to see you soon!!
Contact
Office

AllCornhole GameChangers

Email

Cornhole and anything with family!
Check Skills
Well my brand is Air21s so I'd say Airmails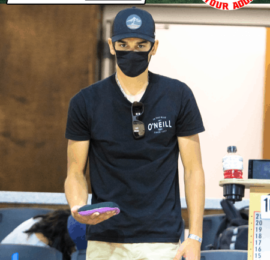 Storm Hogg
Mid-East Conference
I am ACL Pro Storm Hogg from the Northeast Conference and this is my story of how I became a professional cornhole player for the American Cornhole League. When I was 14, my dad and I played in some quoit tournaments run by the USQA for about 4 years. One weekend we decided to try out a cornhole tournament. This particular tournament was run by an ACL director, Joe Harsh. We ended up placing 4th and ever since then I've been hooked on cornhole and playing ACL tournaments.
Contact
Email

Follow the New York Yankees, Washington Redskins, & Florida Gators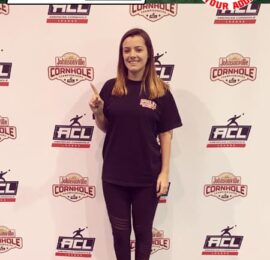 Kamryn Belvin
Atlantic Conference
I am ACL Pro Kamryn Belvin from the Atlantic Conference and this is my story of how I became an professional cornhole player for the American Cornhole League. When I met my boyfriend he played all the time and I got tired of watching so I ended up starting to play as well
Contact
Office

AllCornhole All-Slides

Email

Cornhole or shopping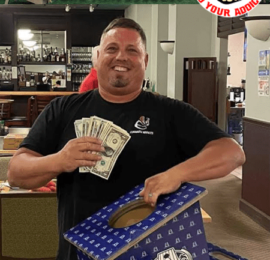 Chris Caudill
TeamAddicts Brand Ambassador
I started playing Cornhole while camping and at family parties and gatherings. That lead into finding some small bar leagues which turned into locals, regionals, conferences and opens. I've played for about 10-12 years but competitively for only about 4. Had a couple close friends as my partners but my favorite partner to compete with is my sons CJ and Cameron. My wife travels with me to tournaments and is my biggest cheerleader and statistician. We make the best of cornhole weekends by camping near tournaments or being "tourists" in whatever town we are in. I've met so many people through the Cornhole community that are such great friends now. In 2020 we moved from Maryland (Mid-Atlantic conference) to Florida. We never skipped a beat after finding all he places to play Cornhole down here. Meeting Dave at Cornhole Addicts several years ago at COBS in Philly was a blessing not only for sponsorship but for a great friendship as well!
Contact
Office

Pro Snipers and Killshots

Email

Cornhole and collecting shells on the beach here in the gulf coast of Florida

Skype

Perfectly cooked filet mignon with a grouper taco