Jordan Langworthy


Jordan Langworthy's Cornhole Biography
I am ACL Pro Jordan Langworthy from the Mid-South Conference and this is my story of how I became a professional cornhole player for the ACL. I started playing cornhole in my backyard. I went to a fair tournament and met Damon Dennis and Josh Lunsford and they talked me into traveling and competing in bigger tournaments.
Cornhole Achievements:
Multiple National Titles.
2017 Singles ACL World Champion.
2020 Advanced Doubles World Champion.

About Me
Most Memorable Moment

2017 World Singles Championship.

Preferred Bags

Killshot Predator

Favorite Hobby

Hunting, Call of Duty, and Cornhole.

Hometown

Crab Orchard, KY.

Favorite Player

Dale Smith
THE BEST ACL APPROVED CORNHOLE BAGS

RANDOM PLAYERS
Mike Kitzmiller
I am Mike Kitzmiller ACL Pro from the MidEast Conference and this is my story of how and when I started playing cornhole and worked my way up to an ACL Pro. Started playing tailgates 10 yrs ago slowly got involved with local tourneys!!! 5 yrs ago started getting more serious getting in bigger tournaments which kept growing more and more each yr and now entering the Pro Level is a big step and looking forward to the challenge
Contact
Office

Reynolds Pro Advantage

Email

Hunting, fishing, gardening and woodwork
Cody Henderson
Mid-East Conference
I am ACL Pro Cody Henderson from the Mid-East Conference and this is my story of how I became a professional cornhole player for the American Cornhole League.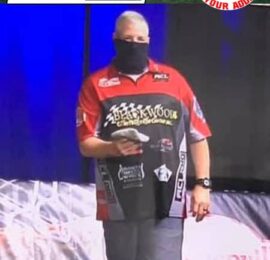 Andy Noyes
I am ACL Pro Andy Noyes from the Atlantic Conference and this is my story of how I became a professional cornhole player for the American Cornhole League. I started after being an avid bowler. Started about 10 years ago playing backyard games. Then throwing in some charity tournaments. About 4 years ago I started getting into the competitive nature of the game and have loved it since.
Adrian Johnson
Atlantic Conference
I am ACL Pro Adrian Johnson from the Atlantic Conference and this is my story of how and when I started playing cornhole and worked my way up to an ACL Pro. I've always been very competitive in sports so when I found out about Cornhole, I instantly fell in love with the game. I loved how competitive it is but once I started traveling, the real joy came from all the great people I met along the journey.
Contact
Location

Clifton Forge, VA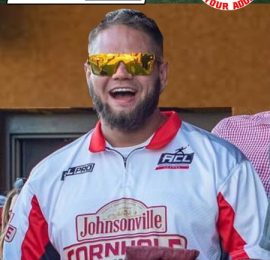 Drew Brown
I am ACL Pro Drew Brown from SouthEast Conference the and this is my story of how I became a professional cornhole player at the American Cornhole League. I grew up playing baseball year round in high school. I was a very aggressive pitcher/3rd baseman and had a passion for winning all my life. During my senior year I contracted mononucleosis and was told by doctors that it was the worst case they had seen in almost 35 years of practice. I went from 155 lbs to 125 lbs in just over a month and they rushed me to the hospital twice within that month to be sure I was getting the right amount of fluids. I also missed my last month of my senior year of high school but I was fortunate enough to be released on the day of graduation and was given the "OK" from doctors to attend the ceremony. After high school I went on to play college ball at Bethany College, but quickly knew I didn't have the strength that I once had. In an effort to focus on my health and devote more to my studies, I transferred to a school closer to home. I needed something to keep my competitive edge going and that is when I turned to cornhole. My cousin, Wes Phillipson, brought boards to our thanksgiving dinner one year and needless to say I was very much a beginner player. He beat me in every game that we played that year and I there was only one way I knew how to respond. PRACTICE. All winter long and through the summer I practiced everyday, even tying the chandelier to the banister with a rope in my mom's house when it was cold out so I could play indoors. I wanted to make sure at the next family function I wouldn't be able to be beat so that I had bragging rights at the dinner table. Sure enough my dedication paid off. So much so that I thought that I was one of the best in the state at that point taking down local tournaments in my hometown. After that I started googling tournaments and I would take my buddies CJ and Jake Blanchard to play cornhole across the state just to play in tournaments. That was when I ran into the unstoppable duo of Matt Guy and Randy Atha in Dublin Ohio at the Irish festival. They beat us 21-0 but I quickly received word on who these two were in the cornhole world. That was who I wanted to be. This is where a new chapter began and my search to become one of the household names in cornhole started. I knew I had a lot of work to do to get where I needed to become one of the best. During one of my google searches, I found a tournament in West Virginia and got introduced to my good friend, Ted Dillon. He is the one that I give a lot of credit to, for he was the first person to take a chance on me as a player and be my partner. It also helped that he ran an abundance of regional tournaments where I slowly started to meet and play against today's most familiar faces. Now after over 10 years of playing against the best in the world, I believe I am ready to prove to everyone that I have what it takes.
Contact
Office

Reynolds Pro Advantages

Email

Hanging out with my girls

Location

Cadiz, OH but moved to Sugar Hill, GA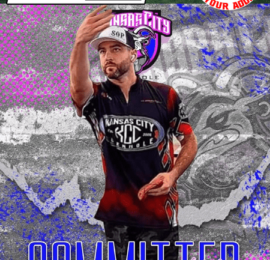 John Fuentez
Mid-West Conference
I am ACL Pro John Fuentez from the Mid-West Conference and this is my story of how I became a professional cornhole player for the ACL.
About 16-17 yrs ago we had an adult wiffle ball league in my home town. They always had boards on the side lines. Peaked the interest obviously. The older man that owned the land we played on was always beating up on everybody. His name was Ronnie Mac. He was the only one, well the only one I remember at least, with that perfect spinning flat bag. Back then I held the bag on the corner and flipped it. I was good, but inconsistent depending on how the bag landed. So after playing there all the time, we of course decided to make our own boards so we could play more often. Then it just became what we did at all family stuff and most weekends. In the beginning there was never a thought of becoming a professional cornhole player..... but look at me now. I love this sport. I mainly love the people. The cornhole family is amazing. Don't know what I would do without it. There is nothing better in life than walking into a tournament on opening day and hearing the sound of hundreds of bags hitting the boards.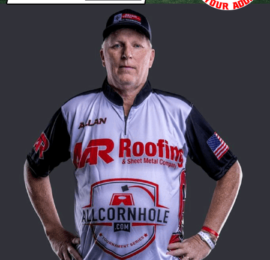 Allan Rockwell
Atlantic Conference
I am ACL Pro Allan Rockwell from the Atlantic Conference and this is my story of how I became a professional cornhole player for the ACL. Started 11 years ago at an outside venue called " The Knot Hole Station". Ken Parsons, Owner, got the group started. This is the same place Pros players James Baldwin, Harlee Culpepper, Ronnie Culpepper and Allison Heine played on a weekly basis as there was no other place around playing. After playing for months, the 1st time me and another player threw a double 4 bagger everyone clapped and roared out loud as that was unheard of. Played there for almost a year before I got in a National group. When $1000 cornhole tourney would come out on Facebook that was 4 hours away, we would go and before long we were traveling to all of them.
We are sorry to report that on September 29, 2021, the Cornhole world lost one of its "OGs", Allan "Rocky" Rockwell, after a fight with prostate cancer.
You can read his obituary here
Contact
Office

GameChangers or Allslides depends on board conditions

Email

Hunting, Fishing, Cornhole

Skype

Anything with chicken

Location

Suffolk VA, 1 hour from VA Beach
Check Skills
Surviving Hot Flashes while playing, they are brutal.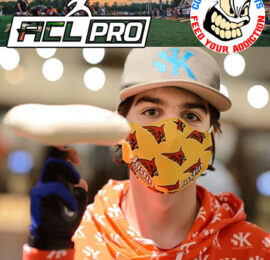 Justin Stranger
Atlantic Conference
I am Justin Stranger ACL Pro from the Atlantic Conference and this is my story of how and when I started playing cornhole and worked my way up to an ACL Pro. I am a high school student and a professional cornhole player. I've been playing for approximately 3 years.
I partnered with Shawn Smith in the Pro Doubles Division for the 2019-2020 season. I am partnering with Tony Smith in 2020-2021 season.
I got my start like most people did, playing in my backyard with my dad on bouncy boards with corn bags and sometimes at breweries my dad liked to visit until someone from his work invited us to play some blind draws. In August 2017, my dad and I started plays $5 blind draws with handicaps on Monday and Thursday with Carroll County Cornhole run by Brian "Fitz" Fitzsimmons. That is where I met my cornhole mentor, Bob Mallonee, who is also going pro this year. Once I started mastering some of the basics, my dad and I started playing in tournaments, mostly in social divisions, if they had them. Around 6 months in, I started to get pretty good and people were asking my dad if I could partner with them. I started having some successes, which included placing in and winning events. I then heard about COBS and really wanted to go. My dad kept saying "let's see." In June of 2018, there was a local tournament called "Jack Taylor" that had juniors. My goal was to win that and prove to my dad, I should go to COBS. I came in second. However, I played in the competitive division with a another non-pro and we finished 4th in a group that included Timmy Pitcher, Leston Allen, Frank Modlin, John Kitchin, Jordan Camba, Jay Corley and other high level players. After the event, my dad said we were going to COBS because even though I was not happy with my junior's performance and seemed down, my dad was proud of me for fighting back, never quitting and playing hard in a stacked division. I went to COBS, went 3-2 in Junior's singles. My dad and I met a lot of good people, got a lot of advice and I fell in love with cornhole.
So we decided that in 2018, I should focus on the ACL and the Junior's division. In my first month of the season, I was fortunate enough to be able to play a Regional with ACL Pro John Kitchin (still one of my favorite players), who I thank for taking a chance by playing with an unknown 14 year old. Early in the season, I had quite a bit of success in singles and doubles early in the season with Zach Owings, which helped each of us start to show our skills. I wanted to root him on at the ACL National College Championships that December, so my dad went on a search for someone to play with me, since Zach could not. He was able to get Seto Soto to play with me. We did pretty well and it enabled me to play against some top level players that I had been admiring.
During the rest of my first ACL season, I generally partnered with very good advanced players and ACL Pros, which included Ryan Smith, Dylan Wood, Matthew Morton, Leston Allen, Eli Stevens and my now Pro partner Shawn Smith. I capped my year off by winning the Junior's Championship and on the way home, my parents and I talked and decided it was time to let me go Pro. So, here I am, an ACL Pro. I am looking forward to playing a sport I love, being an ambassador for the sport and teaching other to play the game, like the players in my cornhole club I just started at school.
Oh and just so you know, I still play some tournaments with my dad and I still play with Carroll County Cornhole, but we've gotten rid of handicaps because there is no need. There are great players there that challenge and push me. If you're ever in my area, I recommend coming out to play with us on Tuesday nights! (Once COVID restrictions are over)
Contact
Location

Owings Mills, MD