Jordan Langworthy


Jordan Langworthy's Cornhole Biography
I am ACL Pro Jordan Langworthy from the Mid-South Conference and this is my story of how I became a professional cornhole player for the ACL. I started playing cornhole in my backyard. I went to a fair tournament and met Damon Dennis and Josh Lunsford and they talked me into traveling and competing in bigger tournaments.
About Me
Most Memorable Moment

2017 World Singles Championship.

Preferred Bags

Killshot Predator

Favorite Hobby

Hunting, Call of Duty, and Cornhole.

Hometown

Crab Orchard, KY.

Favorite Player

Dale Smith
THE BEST ACL APPROVED CORNHOLE BAGS

RANDOM PLAYERS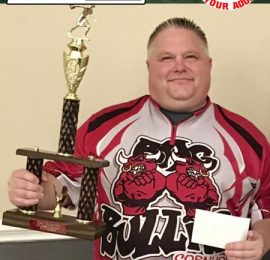 Contact
Office

Boardmen Pro Performance Go!

Location

Middle River, MD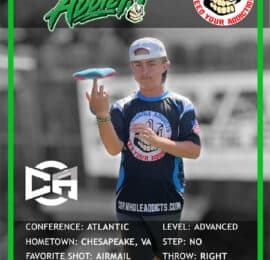 Greyson Waller
TeamAddicts Sponsored Player
Greyson Waller is a Sponsored Player for TeamAddicts and from the Atlantic Conference. This is his story of how he started playing cornhole.
I got started playing cornhole down at the campground I go to and everyone was playing down there so I figured I could give it a try. That's when I fell in love with the game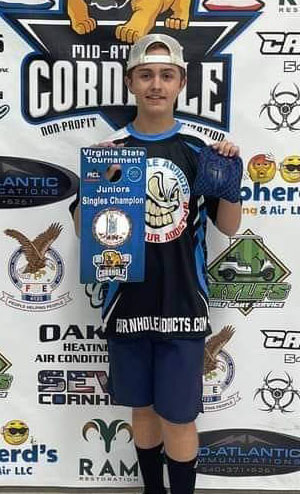 Greyson Waller Beast of the East 2022 blind draw CHAMPION!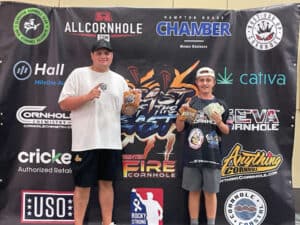 Be sure to follow us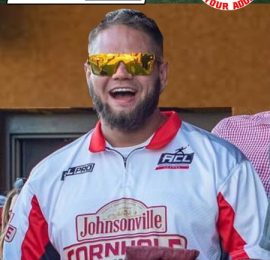 Drew Brown
I am ACL Pro Drew Brown from SouthEast Conference the and this is my story of how I became a professional cornhole player at the American Cornhole League. I grew up playing baseball year round in high school. I was a very aggressive pitcher/3rd baseman and had a passion for winning all my life. During my senior year I contracted mononucleosis and was told by doctors that it was the worst case they had seen in almost 35 years of practice. I went from 155 lbs to 125 lbs in just over a month and they rushed me to the hospital twice within that month to be sure I was getting the right amount of fluids. I also missed my last month of my senior year of high school but I was fortunate enough to be released on the day of graduation and was given the "OK" from doctors to attend the ceremony. After high school I went on to play college ball at Bethany College, but quickly knew I didn't have the strength that I once had. In an effort to focus on my health and devote more to my studies, I transferred to a school closer to home. I needed something to keep my competitive edge going and that is when I turned to cornhole. My cousin, Wes Phillipson, brought boards to our thanksgiving dinner one year and needless to say I was very much a beginner player. He beat me in every game that we played that year and I there was only one way I knew how to respond. PRACTICE. All winter long and through the summer I practiced everyday, even tying the chandelier to the banister with a rope in my mom's house when it was cold out so I could play indoors. I wanted to make sure at the next family function I wouldn't be able to be beat so that I had bragging rights at the dinner table. Sure enough my dedication paid off. So much so that I thought that I was one of the best in the state at that point taking down local tournaments in my hometown. After that I started googling tournaments and I would take my buddies CJ and Jake Blanchard to play cornhole across the state just to play in tournaments. That was when I ran into the unstoppable duo of Matt Guy and Randy Atha in Dublin Ohio at the Irish festival. They beat us 21-0 but I quickly received word on who these two were in the cornhole world. That was who I wanted to be. This is where a new chapter began and my search to become one of the household names in cornhole started. I knew I had a lot of work to do to get where I needed to become one of the best. During one of my google searches, I found a tournament in West Virginia and got introduced to my good friend, Ted Dillon. He is the one that I give a lot of credit to, for he was the first person to take a chance on me as a player and be my partner. It also helped that he ran an abundance of regional tournaments where I slowly started to meet and play against today's most familiar faces. Now after over 10 years of playing against the best in the world, I believe I am ready to prove to everyone that I have what it takes.
Contact
Office

Reynolds Pro Advantages

Email

Hanging out with my girls

Location

Cadiz, OH but moved to Sugar Hill, GA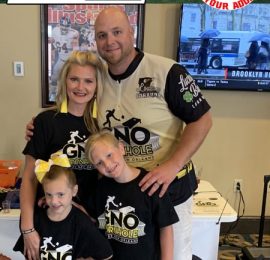 Josh Bordelon
I am ACL Pro Josh Bordelon from the SouthWest Conference and this is my story of how and when I started playing cornhole and worked my way up to an ACL Pro. Playing in the backyard early Summer of 2018, I decided it was time to search for some tournaments in the New Orleans area only to find that their really wasn't much competitive. I decided to start my own league (GNO Cornhole) and it has taken off over this past year. Since then, I have traveled to a couple Conferences and Nationals to gain experience and improve my game to achieve enough points to qualify to be an ACL Pro. I am grateful for the ACL for giving me this opportunity and look forward to many great experiences along the way to improving my game as a Pro.
Contact
Email

Cornhole, Darts, and any other competitive sports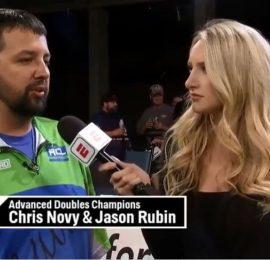 Jay Rubin
Great Lakes Conference
I am Jay Rubin aka Jaybirdie Bird ACL Pro from the Great Lakes Conference and this is my story of how and when I started playing cornhole and worked my way up to an ACL Pro. I started playing cornhole in backyards, alleys, and bars here in Chicago 10-11 years ago. For about 2 years I would play in a local country station tournament but usually got destroyed in the sweet 16. Took 6 years off due to not having a partner. I showed up at a local tournament in Villa park back in 2015, and beat a really solid team that was well known. That victory opened up all the avenues I needed when it came to finding a partner. My first 2 years I would go to 5-10 local type of tournaments a year to get a sense of what I was really up against. During that time frame, I realized I had a lot of work to do if I wanted to be considered one of the best. 2 years ago I figured out how to throw a flat bag, which immensely helped my slide game. After that I started working on pushing, step outs, covering/blocking, airmailing, and the strategic side of the game. Once I had a good feel for all the tools needed to be successful, I decided to give the ACL a shot. In my first season I finished 25th in singles, and 36th in the overall rankings. During the summer of 2018 I elevated my game even more by winning several $1000-$3000 tournaments, while taking down some of the best players in the game. Some of my biggest accomplishments so far this season is 13/13 in regional singles, won a conference doubles, and a National in advanced doubles on ESPN. I'm currently competing for the $10,000 devour player of the year title, and also for player of the year in the ACL season. Still have a lot of work to do in order to accomplish either. Looking forward to seeing what the next 10 years brings me in my career!
Contact
Skype

Pizza (Lou Malnatis Deep Dish)
Check Skills
Blocking/Covering Proficiency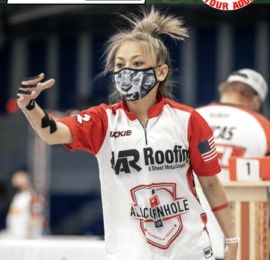 Jackie Sayasone
Mid-West Conference
I am ACL Pro Jackie Sayasone from the Midwest Conference and this is my story of how I became a professional cornhole player for the American Cornhole League. I was playing at a local bar league, when I met some players that told me about a blind draw event. I thought I was good at cornhole because I was the one who always won at backyard parties or tailgates. So I showed up to my first ACL event and kind of laughed at everyone that had their own bags.
Well, I got my butt whooped and was annoyed. I didn't want to see the disappointment when a player drew me, lol -so as competitive as I am, I decided to buy my own set of bags and practice on my own time. It took me a week to get it all down. Since then I just kept growing as a player. I went out to compete at the World Championships last season, there was a really strong, and special cornhole culture there, and I knew I wanted to be a part of that vibe. Eight months later, here I am! :)
Contact
Office

AllCornhole All-Slides

Email

Volunteering at cats & dogs rescues, & quality time with my family & friends.

Skype

Mothers Homemade Cooking
Len Hiatt
I am ACL Pro Len Hiatt from the Northwest Conference and this is my story of how I became a professional cornhole player for the ACL. In 2016 a friend took a business trip to Ohio. While at his work conference, he played cornhole as a team builder. He brought the game home to WA. It was the first time that I or any of my friends had ever seen it. We played all summer. That fall, I started the Cowlitz County Cornhole League and have been playing ever since.
Contact
Office

C3 Bags (Kilt, Sasquatch, Highlander)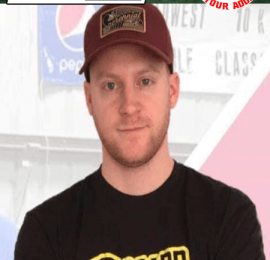 Dave Sutton
I am ACL Pro Dave Sutton from the Great Lakes Conference and this is my story of how I became a professional cornhole player for the American Cornhole League.
Contact
Location

University City, MO