Ken Smith Jr Atlantic Conference


Ken Smith Jr's Cornhole Biography
I am ACL Pro Ken Smith Jr from the Atlantic Conference and this is my story of how I became a professional cornhole player for the ACL.
I started playing cornhole when COVID started. I was at my apartment and I saw someone throwing and I asked to join him. After that he told me about these blind draws at a bar in Chesapeake, Virginia on Thursday's. After that someone told me about The ACL and I went to my first regional in Franklin Virginia. And now here I am, an ACL Pro!
Cornhole Achievements:
Qualified as an ACL Pro during the Qualifier in Rock Hill,SC. I was top 32 out of 576 players.

M

ade the top 16 for Atlantic Conference World Cup team

About Me
Most Memorable Moment

Last bag in the pro qualifier to qualify as an ACL Pro

Preferred Bags

Killshots Gen3 P90s

Favorite Hobby

Playing Xbox or watching sports

Favorite Food

Lemon Pepper Wings

Occupation

Rigger in Newport News Shipyard

Hometown

Virginia Beach, VA

My Home League

Coastal Baggers

Favorite Player

Cody Henderson
THE BEST ACL APPROVED CORNHOLE BAGS

RANDOM PLAYERS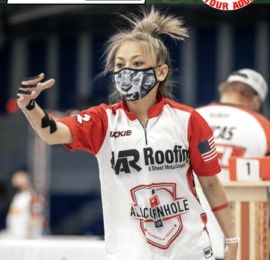 Jackie Sayasone
Mid-West Conference
I am ACL Pro Jackie Sayasone from the Midwest Conference and this is my story of how I became a professional cornhole player for the American Cornhole League. I was playing at a local bar league, when I met some players that told me about a blind draw event. I thought I was good at cornhole because I was the one who always won at backyard parties or tailgates. So I showed up to my first ACL event and kind of laughed at everyone that had their own bags.
Well, I got my butt whooped and was annoyed. I didn't want to see the disappointment when a player drew me, lol -so as competitive as I am, I decided to buy my own set of bags and practice on my own time. It took me a week to get it all down. Since then I just kept growing as a player. I went out to compete at the World Championships last season, there was a really strong, and special cornhole culture there, and I knew I wanted to be a part of that vibe. Eight months later, here I am! :)
Contact
Office

AllCornhole All-Slides

Email

Volunteering at cats & dogs rescues, & quality time with my family & friends.

Skype

Mothers Homemade Cooking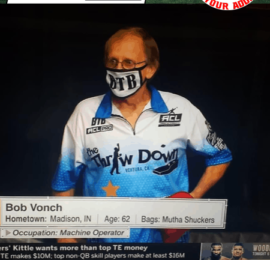 Contact
Email

Camping, Hunting, Fishing, And Pitching Bags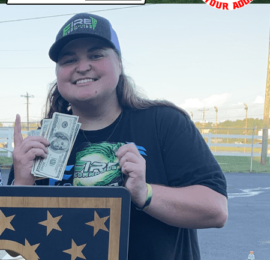 Megan Maupin
Mid-South Conference
I am ACL Pro Megan Maupin from the Mid South Conference and this is my story of how I became a professional cornhole player for the ACL.
I was 12 years old and my dad built a set of boards. I sucked when I first started but I kept practicing and kept getting better. I decided to try out an actual tournament where I met Troy Houser and he introduced me to the ACO. I played ACO for about 5 or 6 years. While playing the ACO, I started playing ACL as well. I realized how much the ACL has grown the game of cornhole and decided it was time to make the switch and I'm blessed to be able to call myself an ACL Pro.
Contact
Location

Johnson City, TN
Mike Kitzmiller
I am Mike Kitzmiller ACL Pro from the MidEast Conference and this is my story of how and when I started playing cornhole and worked my way up to an ACL Pro. Started playing tailgates 10 yrs ago slowly got involved with local tourneys!!! 5 yrs ago started getting more serious getting in bigger tournaments which kept growing more and more each yr and now entering the Pro Level is a big step and looking forward to the challenge
Contact
Office

Reynolds Pro Advantage

Email

Hunting, fishing, gardening and woodwork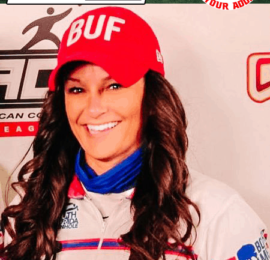 Lori Dool
SouthEast Conference
I am ACL Pro Lori Dool from the Southeast Conference and this is my story of how I became a professional cornhole player for the ACL. I started playing Cornhole in college to win gift cards at Buffalo Wild Wings on football Sundays but did not start playing competitively with South Florida Cornhole until November 2017. Cornhole is an engaging sport that incorporates talent, skill, and mental toughness that has taken this hobby to something that I never expected. To be an ACL Pro is an incredible opportunity to travel, meet some of the best people, and to inspire others to play.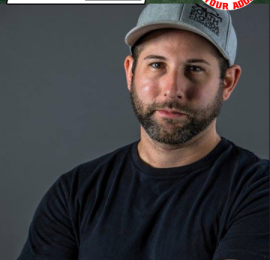 Scott Schultz
SouthEast Conference
I am ACL Pro Scott Schultz from the Southeast Conference and this is my story of how I became a professional cornhole player for the American Cornhole League. I began playing Cornhole while I was at UCF with some of my buddies. I was hooked from there and with a competitive side from my younger days of competing in tournaments almost every weekend for bowling, I knew this was something that I wanted to pursue.
I won multiple state championships in NY for high school, regional tournaments for the northeast, many finals appearances from ages 14-21, shot my first 300 game when I was 15 at the largest tournament of the year on the east coast, had numerous 300s and 800 series.. But nothing compared to bowling for a team in college and traveling the country, I bowled my first 2 years and held the highest average among rookies in the nation for a smaller school called Briarcliffe College on Long Island in NY, where I grew up. Then I moved to Orlando to join the top ranked college team in the country for 2 years. Since then, I have lived in Florida (mostly in Orlando and West Palm Beach) and recently moved to the Jacksonville area.
I learned my stance and how to throw from several different people. First, John Artz and Danny Dow in Orlando showed me some things, then after a little bit, Rosie Streker taught me how to hold the bag the way that I still do today.
I'd like to thank John, Danny and Rosie as well as Davis Streker for pushing me to be better. Davis was the person that pushed for me to start traveling in this game and try to become a pro. He has always helped anyone that wants to learn and get better, he spends almost all of his spare time running tournaments and helping new players! Thank you!
For the past 5 years or so, I have been competing in Cornhole at the highest level against the very best players in the world. I have won and placed in some very large tournaments around the nation over the years, including an ACL national title in crew while playing on ESPN. I am happy to be an ambassador for the game of Cornhole while we are still in the pioneering stages of it becoming one of the most popular games played around the world.
I earned pro status back in 2015 and look forward to continue representing this game with the highest integrity on the highest level for some time to come.
Look out this year for me and my partner Dalton Mcklem in doubles this season! We're ready to make some noise!
Contact
Office

AllCornhole and Razors

Email

Bowling, basketball, kickball, gym. I enjoy the beach and watching tv shows like the office and breaking bad

Skype

Chipotle, Pizza, sushi and of course Chicken Parm!

Location

Delray Beach, FL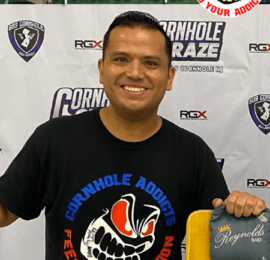 Rod Jara
TeamAddicts Sponsored Player
I am TeamAddicts Sponsored Player Rod Jara and this is my story of how I started playing cornhole. I got started in cornhole in 2018 when my g/f's mom at the time used to bartend at the Lacey Elks. She told us about a cornhole league starting up and wanted to see if we were interested. Up to this point, I had maybe thrown 5 cornhole bags in my life at backyard BBQ's. Needless to say, it was something completely new to us. Nevertheless, we joined the league as it was something new and social for us to do. My first season, I was BAD. If I landed 1 bag on the board out of 10 throws, I was happy. The league was run by some great people that are still close to us today. By the end of the 1st season i had developed some what of a flat bag and knew I wanted to give it another go. So we came back for our 2nd season. That's when I started learning more and applying more of my time to the game. I would ask everyone questions about how they threw, they would teach me how to stand, the hold, the release, etc. I really enjoyed it, even though I wasn't very good. By our 3rd season, I finished top 5 in our league and that's when i started playing in cornhole tournaments around NJ. I would partner up with guys from my own league. Everywhere I'd go, I'd get rocked. But i enjoyed playing and learning so I kept at it. I then joined the ACL and played in the competitive division for a year. I won numerous regionals in singles, until our director bumped me up to advanced in 2020. Covid then hit, and everything went virtual. That's when I would practice 5+ hours a day in my backyard. I LOVED practicing! I would take the fastest bags i had, all the way to the slowest bags, and i would make myself adjust to the conditions. The ACL then opened things up again and we started going to conferences and opens all around the country to compete against better competition. I now play in the advanced division and hope to work my way up to the PRO division soon.
Contact
Email

Watching soccer or cornhole

Skype

California Cheeseburger.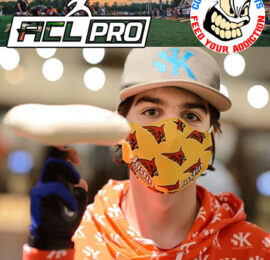 Justin Stranger
Atlantic Conference
I am Justin Stranger ACL Pro from the Atlantic Conference and this is my story of how and when I started playing cornhole and worked my way up to an ACL Pro. I am a high school student and a professional cornhole player. I've been playing for approximately 3 years.
I partnered with Shawn Smith in the Pro Doubles Division for the 2019-2020 season. I am partnering with Tony Smith in 2020-2021 season.
I got my start like most people did, playing in my backyard with my dad on bouncy boards with corn bags and sometimes at breweries my dad liked to visit until someone from his work invited us to play some blind draws. In August 2017, my dad and I started plays $5 blind draws with handicaps on Monday and Thursday with Carroll County Cornhole run by Brian "Fitz" Fitzsimmons. That is where I met my cornhole mentor, Bob Mallonee, who is also going pro this year. Once I started mastering some of the basics, my dad and I started playing in tournaments, mostly in social divisions, if they had them. Around 6 months in, I started to get pretty good and people were asking my dad if I could partner with them. I started having some successes, which included placing in and winning events. I then heard about COBS and really wanted to go. My dad kept saying "let's see." In June of 2018, there was a local tournament called "Jack Taylor" that had juniors. My goal was to win that and prove to my dad, I should go to COBS. I came in second. However, I played in the competitive division with a another non-pro and we finished 4th in a group that included Timmy Pitcher, Leston Allen, Frank Modlin, John Kitchin, Jordan Camba, Jay Corley and other high level players. After the event, my dad said we were going to COBS because even though I was not happy with my junior's performance and seemed down, my dad was proud of me for fighting back, never quitting and playing hard in a stacked division. I went to COBS, went 3-2 in Junior's singles. My dad and I met a lot of good people, got a lot of advice and I fell in love with cornhole.
So we decided that in 2018, I should focus on the ACL and the Junior's division. In my first month of the season, I was fortunate enough to be able to play a Regional with ACL Pro John Kitchin (still one of my favorite players), who I thank for taking a chance by playing with an unknown 14 year old. Early in the season, I had quite a bit of success in singles and doubles early in the season with Zach Owings, which helped each of us start to show our skills. I wanted to root him on at the ACL National College Championships that December, so my dad went on a search for someone to play with me, since Zach could not. He was able to get Seto Soto to play with me. We did pretty well and it enabled me to play against some top level players that I had been admiring.
During the rest of my first ACL season, I generally partnered with very good advanced players and ACL Pros, which included Ryan Smith, Dylan Wood, Matthew Morton, Leston Allen, Eli Stevens and my now Pro partner Shawn Smith. I capped my year off by winning the Junior's Championship and on the way home, my parents and I talked and decided it was time to let me go Pro. So, here I am, an ACL Pro. I am looking forward to playing a sport I love, being an ambassador for the sport and teaching other to play the game, like the players in my cornhole club I just started at school.
Oh and just so you know, I still play some tournaments with my dad and I still play with Carroll County Cornhole, but we've gotten rid of handicaps because there is no need. There are great players there that challenge and push me. If you're ever in my area, I recommend coming out to play with us on Tuesday nights! (Once COVID restrictions are over)
Contact
Location

Owings Mills, MD