Matthew Creekkiller SouthWest Conference


Matthew Creekkiller's Cornhole Biography
I am Matthew Creekkiller, ACL Pro from the Southwest Conference and this is my story of how I became a professional cornhole player in the American Cornhole League. My sister brought her husbands cornhole boards over on my birthday, got hooked and haven't stopped playing!
Cornhole Achievements:
State champion
3rd overall in singles and doubles at my 2nd open ever

About Me
Preferred Bags

BG Vikings

Occupation

Cornhole player

Hometown

Clouds Creek, OK

My Home League

DC Cornhole
THE BEST ACL APPROVED CORNHOLE BAGS

RANDOM PLAYERS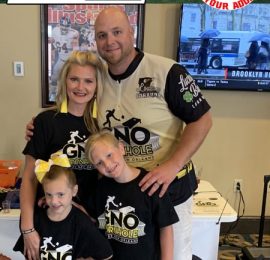 Josh Bordelon
I am ACL Pro Josh Bordelon from the SouthWest Conference and this is my story of how and when I started playing cornhole and worked my way up to an ACL Pro. Playing in the backyard early Summer of 2018, I decided it was time to search for some tournaments in the New Orleans area only to find that their really wasn't much competitive. I decided to start my own league (GNO Cornhole) and it has taken off over this past year. Since then, I have traveled to a couple Conferences and Nationals to gain experience and improve my game to achieve enough points to qualify to be an ACL Pro. I am grateful for the ACL for giving me this opportunity and look forward to many great experiences along the way to improving my game as a Pro.
Contact
Email

Cornhole, Darts, and any other competitive sports
Yetty Irwan
I am ACL Pro Yetty Irwan from the Mountain South Conference and this is my story of how I became a professional cornhole player for the American Cornhole League. My now-husband, Harry Stoltzfus, moved to Colorado with me in 2017 and set up a cornhole court in the basement. Eventually I joined him during his practice session and started throwing bags with him at the local league and tournaments. When he qualified to be an ACL Pro for 2019-2020 season, he convinced me to be his pro doubles partner.
Contact
Location

Fort Collins, CO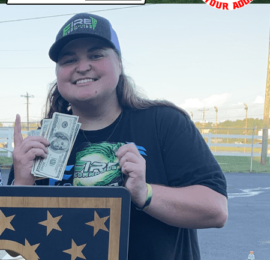 Megan Maupin
Mid-South Conference
I am ACL Pro Megan Maupin from the Mid South Conference and this is my story of how I became a professional cornhole player for the ACL.
I was 12 years old and my dad built a set of boards. I sucked when I first started but I kept practicing and kept getting better. I decided to try out an actual tournament where I met Troy Houser and he introduced me to the ACO. I played ACO for about 5 or 6 years. While playing the ACO, I started playing ACL as well. I realized how much the ACL has grown the game of cornhole and decided it was time to make the switch and I'm blessed to be able to call myself an ACL Pro.
Contact
Location

Johnson City, TN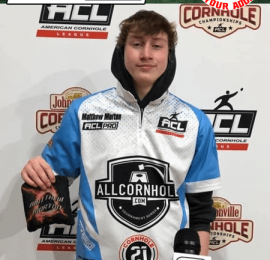 Matthew Morton
Atlantic Conference
I'm 17 years old and started playing cornhole in Driver, VA with my dad when I was 11. We played $2 blind draws for fun with all the money going to charity. I loved playing and it gave me and my dad a chance to spend a lot of time together so we started going to different places for blind draws. After I started doing well, we started playing in the organized leagues and traveling for some bigger tournaments. I eventually decided to become an ACL Pro last season so I could play regularly against the best competition in the world.
I had a great year in my first season as an ACL Pro, with some really great finishes and getting to appear on ESPNs first ever live broadcast of an ESPN event in the Pro Doubles World Championships. I'm looking forward to another great season in 2020!
Contact
Office

AllCornhole Gamechangers

Email

Cornhole, of course!
Check Skills
Airmails hitting back of the hole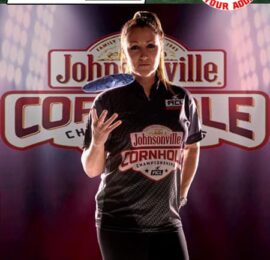 Allison Peters
Carolina Conference
I am ACL Pro Allison Peters from the Carolina Conference and this is my story of how I became a professional cornhole player for the American Cornhole League. I started playing cornhole at my apartment complex when I first moved in. It was basically... you pick a partner and you stay on the boards as long as you were winning. One day, someone came to the pool and said there were tournaments here and if we are good enough that we should check them out. I went to the first couple and watched but quickly became enthralled with the game. December 2018 was my first real tournament. The rest is history. I was hooked and playing as much as I could play daily and weekly.
Contact
Office

AllCornhole GameChangers

Location

Kernersville, NC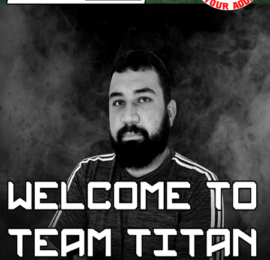 Nico Mireles
TeamAddicts Sponsored Pro
I am ACL Pro Nico Mireles from the Great Lakes Conference and this is my story of how I became a professional cornhole player for the ACL.
If it wasn't for COVID, I wouldn't be playing Cornhole. I was hardcore into shooting pool and traveled to many tournaments to do so. Obviously, Coronavirus happened and the bars closed down so pool was put on hold. So me being me I had to find something else to play. I used to play Cornhole 10 years ago but I got a girlfriend (now wife) and stepped away from the game. Fast forward 8 years and I saw cornhole on ESPN. I thought to myself I can do that and googled how to get into playing competitively. Turns out there was a conference that next weekend so I decided to go. David Morse was taking signups and asked my skill level. I asked him what's the highest level I can play in. Then the first person I saw playing was Jay Rubin and I knew I was in trouble that day. I went through a lot of whoopings to get where I'm at now. Now, David Morse is a good buddy of mine and Jay Rubin took me under his wing.
Contact
Office

Titan devastators or Titan Venoms

Email

Gaming or Practicing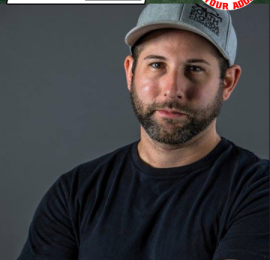 Scott Schultz
SouthEast Conference
I am ACL Pro Scott Schultz from the Southeast Conference and this is my story of how I became a professional cornhole player for the American Cornhole League. I began playing Cornhole while I was at UCF with some of my buddies. I was hooked from there and with a competitive side from my younger days of competing in tournaments almost every weekend for bowling, I knew this was something that I wanted to pursue.
I won multiple state championships in NY for high school, regional tournaments for the northeast, many finals appearances from ages 14-21, shot my first 300 game when I was 15 at the largest tournament of the year on the east coast, had numerous 300s and 800 series.. But nothing compared to bowling for a team in college and traveling the country, I bowled my first 2 years and held the highest average among rookies in the nation for a smaller school called Briarcliffe College on Long Island in NY, where I grew up. Then I moved to Orlando to join the top ranked college team in the country for 2 years. Since then, I have lived in Florida (mostly in Orlando and West Palm Beach) and recently moved to the Jacksonville area.
I learned my stance and how to throw from several different people. First, John Artz and Danny Dow in Orlando showed me some things, then after a little bit, Rosie Streker taught me how to hold the bag the way that I still do today.
I'd like to thank John, Danny and Rosie as well as Davis Streker for pushing me to be better. Davis was the person that pushed for me to start traveling in this game and try to become a pro. He has always helped anyone that wants to learn and get better, he spends almost all of his spare time running tournaments and helping new players! Thank you!
For the past 5 years or so, I have been competing in Cornhole at the highest level against the very best players in the world. I have won and placed in some very large tournaments around the nation over the years, including an ACL national title in crew while playing on ESPN. I am happy to be an ambassador for the game of Cornhole while we are still in the pioneering stages of it becoming one of the most popular games played around the world.
I earned pro status back in 2015 and look forward to continue representing this game with the highest integrity on the highest level for some time to come.
Look out this year for me and my partner Dalton Mcklem in doubles this season! We're ready to make some noise!
Contact
Office

AllCornhole and Razors

Email

Bowling, basketball, kickball, gym. I enjoy the beach and watching tv shows like the office and breaking bad

Skype

Chipotle, Pizza, sushi and of course Chicken Parm!

Location

Delray Beach, FL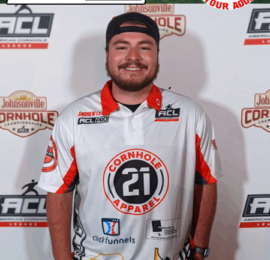 Andrew Clark
I am ACL Pro Andrew Clark from the Mountain North Conference and this is my story of how I became a professional cornhole player for the American Cornhole League. Cornhole for me began on Camping trips where we would run mini tournaments and I wasn't sure what I was doing. I quickly picked it up after finishing playing college baseball as I needed something to feed my competitive side of me. After playing competitively for almost 2 years, I decided to get my pro card and test my skills against the best.
Contact
Email

Cornhole, Fishing, Sports