Miguel Villa


Miguel Villa's Cornhole Biography
I am ACL Pro Miguel Villa from the Great Lakes Conference and this is my story of how I became a professional cornhole player for the American Cornhole League. When I was in high school I used to play in my cul de sac with all my neighborhood friends for hours into the night. I Didn't start playing cornhole competitively until I found the ACL and went to my first National March 2017. I met all the regular baggers in the Chicago land area and now all come my mentors and all of them became family.
Cornhole Achievements:
Becoming a household name in Chicago as a Chitown Bagger.

Representing and being ambassador of the sport in Chicago has been my biggest accomplishment.

About Me
Most Memorable Moment

Beating Chris Novy in a regional for the very first time

Turned Pro

Kerry Mittmiller

Preferred Bags

Reynolds Pro Advantages

Favorite Hobby

Making videos

My Home League

Favorite Player

Jacob Shaw

Favorite Shot

Bounce Shot
THE BEST ACL APPROVED CORNHOLE BAGS

RANDOM PLAYERS
Eric Tscherne
I am ACL Pro Eric Tscherne from the West Conference and this is my story of how I became a professional cornhole player for the ACL.
From Encinitas, CA, Eric Tscherne is a 1st year ACL Pro. Originally from Twinsburg, Ohio, Tscherne graduated from the University of Cincinnati and moved to Southern California in 1999. He is a member of the Diecast Hall of Fame and Toy Hall of Fame for his work as a Hot Wheels Designer from 1999-2004. He is also well known for his work on the hit TV show PAW Patrol where he was part of the creative team behind the show and the toys.
Eric was introduced to the game of cornhole 7 years ago while camping with his father and son YMCA Adventure Guides tribe The Mighty Wappo of the Redhawk Nation. His passion and love for the game grew from here as he went on to host several charity events and tournaments while camping with this group. This lead to hosting events for friends and neighbors locally in North County San Diego via his 4 In Cornhole club.
In 2017 he started playing more regionally with Dirty Bags. From here his game grew considerably. Tscherne's game really took form in the 2019-2020 season. He was committed to playing top level cornhole and traveling. Covid 19 did not stop Eric. He spent the initial months playing many virtual tournaments and performing very well. As restrictions lifted, Tscherne came out hot and won his first San Diego Advanced Regional in June 2020, besting a field of 4 current ACL Pros and 3 more who would become pros for the 2020-21 season. Tscherne carried that momentum into the ACL World Championships in Rock Hill, SC.. He qualified on Sunday via the 1st ACL Pro Qualifier.
Tscherne is a member of Team Ultra having thrown Ultra Bags for most of his career. His favorite bag is the Viper. For the 2020-21 ACL Pro season, Tscherne is teaming with Andrew Robinson. Robinson and Tscherne have partnered in the past as both players were coming up. Tscherne has claimed a singles Regional victory in the 2020-21 Season and is looking for more.
Tscherne is married to a supportive wife Geri. They have 2 kids Madelyn and Roxton.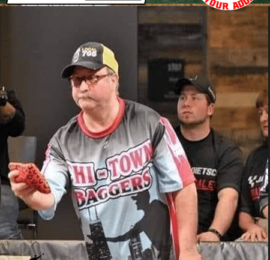 Tom Gorski
I am ACL Pro Tom Gorski from the Great Lakes Conference and this is my story of how I became a professional cornhole player for the ACL.
After winning a backyard tournament, I searched Facebook and discovered a group called Midwest Baggers that listed competitive tournaments and decided to test the waters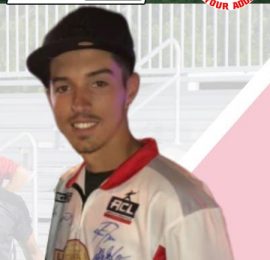 Kyle Malone
I am Kyle Mayday Malone ACL Pro from the Southeast Conference and this is my story of how and when I started playing cornhole and worked my way up to an ACL Pro. My favorite aspect about this sport is the amazing people it has brought into my life. It's not just a group of people, it's a family. When I first started at a local bar as no more than an amateur, the crowd welcomed me and approached me with tips and advice to help my game. Now from there I'm on the pro circuit looking to be a world champion. Outside of that though my main hobbies are softball and fishing naturally since I do live in Florida. Without cornhole I honestly do not know what I would do on the weekends or even during the week anymore. At this point, I couldn't imagine not playing.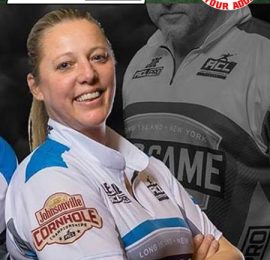 Leslie Adcock
I am Leslie Adcock ACL Pro from the NorthEast Conference and this is my story of how and when I started playing cornhole and worked my way up to an ACL Pro. I was introduced to this crazy game about 10 years ago. I played at BBQ's and in the backyard. 6 years ago I got involved in leagues and local tournaments. 2 years ago I started the Journey of advanced competition and have been playing at the Pro level for 1 yr.
I am married to my Pro Partner for 20 yrs and we have 3 kids. Jenna 20- attending the Citadel, Jordan 18- attending Salisbury University and Sean 11- He loves baseball and Cornhole.
Contact
Office

Slide-Rites or GameChangers

Email

cornhole, pool time, beach time, Beer time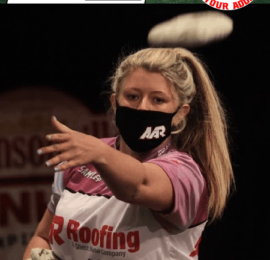 Samantha Finley
SouthEast Conference
I am ACL Pro Samantha Finley from the Southeast Conference and this is my story of how I became a professional cornhole player for the ACL. I started off playing in the backyard and local tournaments about 11-12 years ago. My mom went to work in Ohio where she met Christine Papcke and we really started getting into it. I have been playing competitively for about 8 years now.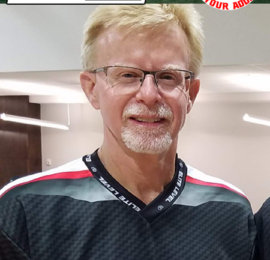 Greg Collins
I am ACL Pro Greg Collins from the West Conference and this is my story of how I became a professional cornhole player for the American Cornhole League. Started playing competitively in 2018 at the age of 58. I Live in the Central Valley of California, in a small farming town called Escalon. I work in the Director of Sales for All West Select Sires which provides genetics to dairy and beef producers. In October of 2018, my wife, Tamara saw on Facebook, her friends, Maybelle and Paul Abplanalp playing cornhole and inquired to when and where. That night we joined up with the Manteca league and we haven't looked back since. I remember my first Regional tournament in West Sacramento, it flamed a desire to really build my game. We would often drive into the San Francisco Bay area to play in locals and regionals with ACL pro Blake Demale, Nick Renevitz, Ken Jones and Brett Holland all highly skilled players, they pushed my game. 2019 I competed in my first King and Queen competition in Madera, CA and also went to Spencer McKenzie's Throw Down and placed well in the lower bracket partnering with Raymond Thomas. That was my first experience around many pros, it was very inspiring. In November 2019, I played at my 1st conference in Las Vegas and was noticed by Richard Morgan and a couple months later Mark Pryor invited me to play as part of Team Ultra. I then went to my first National in Florida in January 2020. Then Covid hit and messed up the chase for many of us. I went to Cleveland only to have it cancelled. I did go to the Final Chase, in Rock Hill.
20/21 is my first year as a pro. Mark Pryor, Ultra Cornhole will be sponsoring me this season. The bags I throw best and most are Widow-B's because of the two sided options they give you. Slick side is fast but not to fast and the slow side gives a soft landing block. I will be teaming up with Rudy Ai to make our chase. We both started within 6 months of each other and live only about 45 minutes apart. We regularly play in the same clubs together, many times we have partnered and are at most all Western conference events together. We approach the game similarly with solid steady heads and a never give up resolve .
I have never believed in luck. I believe you develop your game by playing smart, practicing hard and competing against challenging players. It's fun. That's why you'll hear me say "Have fun" at the start of a game. I use the Bible verse Proverbs 27:17 as my motto "As iron sharpens iron so one man sharpens the countenance of another..." I try to do this all day long not only in my game but in work and relationships also. So there you have it a little about me.
Contact
Office

Ultra - Widow-Bs, Viper-C

Email

Traveling with my wife
Robert Sperry
I am ACL Pro Robert Sperry from the NorthEast Conference and this is my story of how and when I started playing cornhole and worked my way up to an ACL Pro.
There are many words to describe Robert Sperry, but the best suited are tenacious, passionate, and experienced. At 51, "Bobby" as most know him by, is not only a father and step-father to seven children, he is a grandfather to 12 grandchildren as well. By day he is a plumbing estimator while at night he fluctuates between being a cornhole clinic instructor, woodworker, huntsman and fisherman, as well as a devoted family man. And that doesn't also account for other cornhole leagues and tournaments he attends regularly as well. With most of his family still living in Virginia where he grew up, Bobby always makes time for them and visiting them every holiday and free weekend he can. Bobby is always moving, creating, and leading forward. He never gives up on the things he loves, and always finds the time to be there when others rely on him.
Bobby aspires to continue to hone and craft his cornhole skills in hopes to become a top player in the country and from there, turning his passion and tenacity for the sport into a full-time career. He has already made a name for himself, winning multiple tournaments in the United States as well as Canada which led him to gaining a Canadian bag sponsorship. Bobby's love of the sport reaches beyond just playing, into an enjoyment for the comradery between players as well gaining more knowledge about how to be a better player as well as teammate. He is always looking for ways to exude his excellence as well as be a top leader in the sport. Two things he has proven time and time again that he can execute extremely well.
Robert Sperry is driven by passion and dedication, to not only the sport of cornhole but to everything he sets his heart and mind upon. And time again he has proven his leadership skills and abilities to guide the next generation of players to come. This drive will bring him to the top of the player roster before we know it, so keep an eye on him moving forward.
Contact
Email

Gold prospecting, hunting, fishing and cornhole

Skype

Bacon cheeseburgers
Pj Sarro
I am ACL Pro PJ Sarro from the Northeast Conference and this is my story of how I became a professional cornhole player for the American Cornhole League. I probably started like everyone else did , in the backyard at cookouts messing around over a few drinks , then my dad decided to raise money for the VFW that he worked at by having a cornhole tournament. A local board maker let him borrow boards for being able to put a table up to showcase his company in return, 2 guys showed up and cleaned up on all of us only giving up 2 points the whole tournament ( happened to be against me and my partner ). After the tournament one of those guys came up to be and said " why haven't I seen you around before you're pretty good" my response was " I didn't know cornhole was a thing outside of cookouts" , fast forward about 2-3 months I went to a byop tournament being held by the guys that let us borrow there boards, let's just say it didn't go to well,I then thought damn I'm not that good at this so i started to practice a little here and a little there. Until our Regional singles tournament which was a split tournament doubles were in one spot and singles was the next day on the marina where they film Wicked Tuna , so I went and played and finished 5th in singles just in the money. The hard work is starting to pay off , so I continued to play in every weekly blind draw and every tournament I can make and here I am now fast forward a year being able to sign Pro with the ACL
Contact
Office

BG Rogues / Reynold pro advantage

Email

Cornhole and hockey

Skype

Tacos and buffalo chicken