Rod Jara TeamAddicts Sponsored Player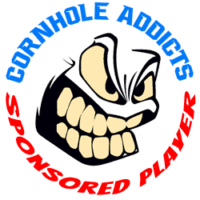 Rod Jara's Cornhole Biography
I am TeamAddicts Sponsored Player Rod Jara and this is my story of how I started playing cornhole. I got started in cornhole in 2018 when my g/f's mom at the time used to bartend at the Lacey Elks. She told us about a cornhole league starting up and wanted to see if we were interested. Up to this point, I had maybe thrown 5 cornhole bags in my life at backyard BBQ's. Needless to say, it was something completely new to us. Nevertheless, we joined the league as it was something new and social for us to do. My first season, I was BAD. If I landed 1 bag on the board out of 10 throws, I was happy. The league was run by some great people that are still close to us today. By the end of the 1st season i had developed some what of a flat bag and knew I wanted to give it another go. So we came back for our 2nd season. That's when I started learning more and applying more of my time to the game. I would ask everyone questions about how they threw, they would teach me how to stand, the hold, the release, etc. I really enjoyed it, even though I wasn't very good. By our 3rd season, I finished top 5 in our league and that's when i started playing in cornhole tournaments around NJ. I would partner up with guys from my own league. Everywhere I'd go, I'd get rocked. But i enjoyed playing and learning so I kept at it. I then joined the ACL and played in the competitive division for a year. I won numerous regionals in singles, until our director bumped me up to advanced in 2020. Covid then hit, and everything went virtual. That's when I would practice 5+ hours a day in my backyard. I LOVED practicing! I would take the fastest bags i had, all the way to the slowest bags, and i would make myself adjust to the conditions. The ACL then opened things up again and we started going to conferences and opens all around the country to compete against better competition. I now play in the advanced division and hope to work my way up to the PRO division soon.
Cornhole Achievements:
Top 16 finish in the Northeast Conference in 2021. Numerous Advanced Singles wins in regionals.
Many tournament wins in singles and doubles.

About Me
Most Memorable Moment

Playing with John Kitchin representing the Northeast Conference in Rock Hill, SC in 2021.

Preferred Bags

Seva Serpents

Favorite Hobby

Watching soccer or cornhole

Favorite Food

California Cheeseburger.

My Home League

Mayhem Cornhole

Favorite Player

Jimmy Youmans without a doubt.

Favorite Shot

Backside Clean Airmail

Mentor

Joe and Leslie Adcock got us started in competitive cornhole.
THE BEST ACL APPROVED CORNHOLE BAGS

RANDOM PLAYERS