Wilbur McDonald TeamAddicts Brand Ambassador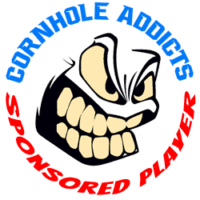 Wilbur McDonald's Cornhole Biography
I am TeamAddicts Brand Ambassador Wilbur McDonald and this is my story of how I started playing cornhole. I started playing cornhole with one of the best people I ever met in my life who unfortunately passed away in 2017. His name was Travis Story. I moved to Virginia in search of a better life and I was fortunate to meet Travis and his family! He was playing this game with bean bags one day and I had no clue what he was doing! He invited me over and taught me the game! I fell in love with it! After he passed away, I decided that one day was going to look on google and see if there was any place that played. I found a tournament in VA Beach and decided to try it out! When I arrived I had no clue how competitive this game really was! I met Jordan Camba and Frank Modlin that day! Jordan told me of other places in the area to play and from there I was able to meet Allan Rockwell, who became a very good friend of mine as well, and I started playing competitively! Rocky was running blind draws out of Eagles Nest in Chesapeake, VA at that time! We became good friends and he would invite me on trips to ACL events he was going to so I could play too! I fell in love even more with this game and I've been addicted ever since!!
Cornhole Achievements:
I've had many accomplishments through the 2 years I've played through both the competitive and advanced division, but I think my biggest accomplishment was when I finished one place out from becoming pro in the 2020 pro qualifier in Rock Hill, SC! What a great experience that was! I fought hard that day and learned a lot about not only the game but my self as a player as well!

About Me
Most Memorable Moment

My most memorable moment was the very first big blind draw I placed 1st place in! My partner just so happened to be Allan Rockwell! I was so nervous because I was still so new to the game and learning all the different types of bags that were out there! I didn't even have my own set of bags yet! Rocky and I battled through a field of great players like Matt Morton, Mike Harvey, and Jordan Camba! To be able to take 1st place in a stacked blind draw like that was and always will be my most memorable time!!

Preferred Bags

Mutha Shuckers 313s

Favorite Hobby

Cornhole of course!

Favorite Food

I am Puerto Rican so I love my rice and beans LOL

Occupation

I am a Leader inside of the Target Distribution Warehouse in Suffolk, Virginia

My Home League

Rock Center Renegades

Favorite Player

Frank Modlin! I love how he nt only plays the game but how he conducts himself off the boards as well! Great guy!!

Favorite Shot

Airmail! No better feeling than hitting a clean airmail over a blocker!

Mentor

Allan "Rocky" Rockwell
THE BEST ACL APPROVED CORNHOLE BAGS

RANDOM PLAYERS