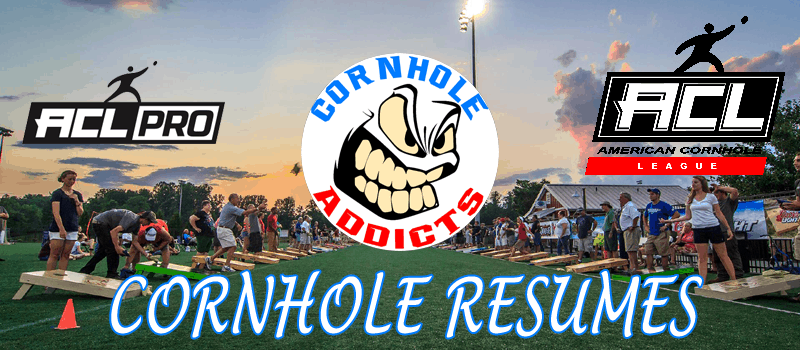 What is a resume? By definition it is a document that provides an overview of your professional qualifications, including your relevant work experience, skills, education, and notable accomplishments. So how does this relate to cornhole? Well, if you are a serious player, then cornhole could be considered your full or part time job.
Cornhole resumes to connect players and brands
The purpose of a cornhole resume is to provide a unique new way for players to showcase their cornhole career and achievements to brands and companies that are looking for players to sponsor. We want to help connect brands with players. This section is only available ACL Pro and Non-Pro players with an up-to-date paid ACL membership. Our goal is to grow the game and and support the players, the Addicts Family!
How to post your resume
Scroll down to the HOW TO section and read that post for all the info.
Please read everything carefully, follow the rules and structure of the resume and do not abuse this section.
This is NOT an application for sponsorship with us. It is YOUR cornhole resume to help you land the best "job" or sponsorship you can!
You need to log in to create posts and topics.
Let Us Help You Get Sponsored!!
Statistics
Currently Online: 1 Guest
If you are looking for the best bags, boards and everything cornhole, be sure to check out our Pro Shop