Fire Starter Bags – right out of the box
At first touch, the Fire Starter bags are super soft and feel great in your hand. I have not felt another bag that uses this material, it is definitely unique. I don't believe there is a pro bag out there with a suede material. But this is definitely not your typical suede. On this bag, the suede is the faster side which I believe it to be a microsuede. Based on the bags I am familiar with and have thrown, if I had to throw speeds on this bag I would say 6 or 7 and 9 or 10.
How do they play? We threw these a bunch tonight and got them in the hands of some Pros as well. Everyone's initial reaction was how soft the bags are. They fly nice and flat through the air and seek the hole. The faster suede side is great for dragging bags and has good pushing power to move other bags out of its way. My airmail was on point tonight so I was hitting and dragging bags like nobody's business. I am anxious to see how these bags perform when fully broken because they are sweet out of the box!
Follow up on the Fire Starter bags
I never wash bags to break them in. I like to break in my bags the natural way, by throwing them, but for the purpose of the article and to bring the info to the Addicts faster, I opted to wash these Fire Started bags. Let me tell ya, they definitely loosened up and the flexibility rating doubled in my opinion! I got the bags on Friday, washed them on Saturday and brought them to a tournament on Sunday and made a point to put them in some hands that threw them on Friday night when they were new.
These bags are fast, even the slower side was fast on the boards yesterday (sunny and 70+ degrees) but if that is the style of bag you desire, these need to be in your Battle Bag for sure! For those that threw them for a second time on Sunday were really happy with their performance and are anxious to get a set in their hands. After washing, the Fire Starter bags are still a nice firm bag in the hand and not sloppy like a some other hole friendly bags out there.
The actual speeds of a bag can vary based on many factors such as the age of a bag, your throwing style, the weather conditions, boards as well as other factors. Therefore, no one has the perfect system for measuring speeds. The numbers are to be used as a guide only and are usually only based on the bags being new. But we all know bags play differently when they are broken in.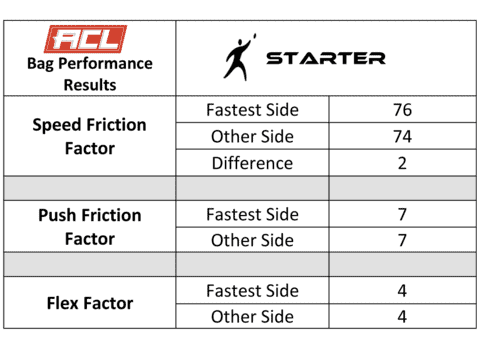 According to the chart above done by the ACL at their own testing facility, both sides of this bag are very similar in speed. Although when we tested the Fire Starter bag on real boards with real players, we received different results. The conditions of the right out of the box testing was done indoors while the follow up testing was done outdoors in sunny 70+ degree temps. 2 different testing areas with extremely different temps and conditions. Based on our testing grounds, we feel the 2 sides of this bag have different speeds but either way, both sides are fast.
These bags are ACL Pro Approved for the 2020 – 2021 season. But you do not need to be a pro to get these bags in your hand. In fact, if you would like to pre-order a set of the Fire Starter by Fire Cornhole, you can do so here. And if you need more information on the ACL or how to become a member, please visit there website and tell them Cornhole Addicts sent you.