As we start to see the Fire Starter Cornhole bags flood the cornhole world with their release of the Starter bags, they are already working on the next 2 series of bags, Control and Accelerator. We were lucky enough to get these bags in our hands prior to their release to the public so we will give you a first impressions look at how they feel and play!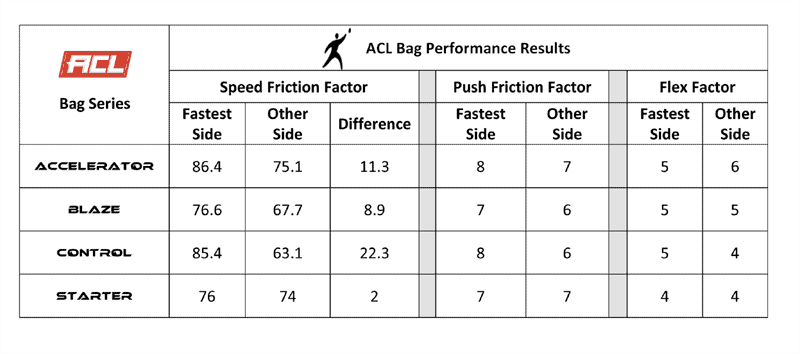 Fire Cornhole Accelerator Bag
Here is what we know about this bag, it is a fast and faster type bag with one side of the bag being the same "fast suede" material as the Fire Starter bag. The other side, which is the faster side is a different type of material we have not seen used on any bags before. While I have seen and touched many of the bags on the market, there are still some I have not.
How does the Accelerator play?
The Accelerator is a fast bag and on the boards and conditions we were using them, they seemed really fast. But if I had to compare them to something in terms of speed, I would say an All-Slide. So if that is what you like in a bag, then this is could be a good choice for you.
I also want to mention that we played with the Control and Accelerator right out of the box which doesn't give you a true feel for the bag. While it is more flexible that the Starter bag, it still needs to be thrown around to make it more flexible and tournament ready.
---
Fire Cornhole Control Bag
This is their traditional slick and stick type bag. The slick or faster side of the bag utilizes the same material as the faster side of the Accelerator bag while the stick side introduces yet another new suede material we have not seen before. It is stickier than the stick side of the Fire Starter bag and with this new soft-feeling suede material used, there was no kick which is something we find with many other suede bags.
How does the Control play?
The Control is a slick and stick bag but the stick side isn't super sticky. To me, it is the perfect speed as it can be used to put up a nice blocker and throw most people off their game when needed but can also slide up the board and in hole.
The slide side on this bag is not to fast, where if you miss the hole it will go right of the board. But, it has enough speed to push your blocker as well as split other bags. Overall, a solid performing cornhole bag that is great for beginner to pro.
Again, this bag was more loose than the Starter bag but, in my opinion, still requires some attention to get it tournament ready. To help get both the Control and Accelerator ready for battle, we recommend a double application of the Sac Relax
The Control and Accelerator Cornhole Bags
Both the Control and Accelerator cornhole bags have rounded corners, are stitched very well and the fill to bag ratio gives them both a nice full and firm feel. Since we pulled them out of the box and played with them right away, we can not tell how these bags will do and how hole-friendly they will be when fully broken in. But based on what we see so far, we feel they will be a great contender for this season.
All in all, Fire Cornhole has 3 great bags, Starter, Control and Accelerator, in their line up which offer something for everyone. All of their bags are ACL Pro Approved and come with the ACL Pro Stamp. For more information about the ACL and how to become a member, click here. If you are looking to get your hands on a set of the Control and Accelerator bags, you will have to wait. They are not yet release but when they are, you can find them here.