Today we are going to look at a couple of bags by a new bag maker, Big Daddy Cornhole. They are a small company out of Louisville, KY. The bags we are looking at today are the Quake and Tsunami series. Neither of these bags are ACL Approved for this 2019/20 season but they are on the list for next season.
Big Daddy Cornhole Quake and Tsunami Bags
I received a set of the green Quake bags and right away, I played 4 virtual games with them. They felt firm and full and were ready to go right out of the box! The Quake series by Big Daddy Cornhole is a true slick n stick bag. It has a nice suede side to leave a hard blocker coupled with weave material on the other side to give it a medium fast slide or push. In terms of how they play, I would compare them to a Slide-Rite bag.
The Quake series bags, each, weighed in at 15.8 oz. They have nice rounded corners and are stitched tight and well around the seams. There was no separation in the seams when pulled apart. And, as you will notice in the picture below, the closing seem is small.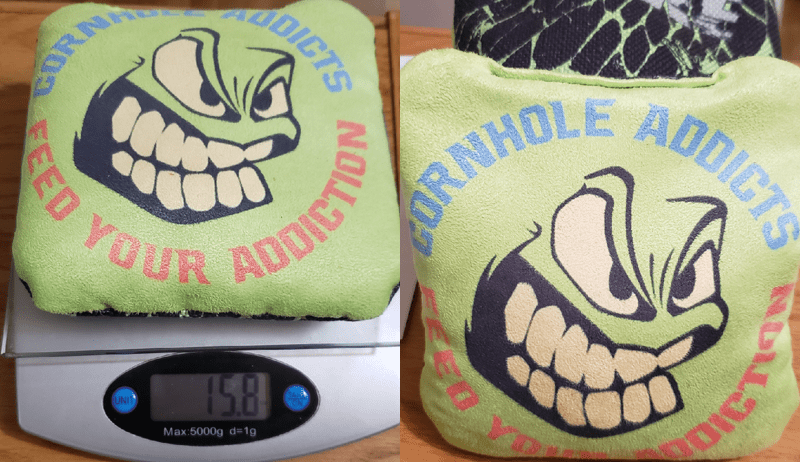 The Tsunami bags by Big Daddy Cornhole are a fast and faster type bag that are comparable to an All-Slide. It has a unique type of material on the "fast" side, unlike any other bags I have seen. With so many bags on the market, most of them use the same materials in different combinations so it's nice to see a new material introduced. After using the Tsunami bags for a couple of virtual games they break right in and become very hole-friendly!
The Tsunami cornhole bags weighed in a slightly heavier than the Quake at 15.9 oz. Just like the Quake, they also have nice rounded corners and are stitched tight and well around the seams as well as a small closing seem. Both of these series of bags from Big Daddy Cornhole are very well made and perform very well on the boards. Whether you like a slick and stick bag or a fast bag, you should give the new guy a chance and check out these bags.
After using the Quake bags for about 8 virtual games, they really break in nice and perform well. As a Slide-Rite user, myself, I am loving the Quake bags.
If you want to get your hands on a set of the Quake and Tsunami cornhole bags, click here for full sets or check here to see if we have any half sets in stock. For more information on Big Daddy Cornhole, check out their Facebook page
---
Also, listen to what the guys at the Big Asp Cornhole Podcast had to say about the Big Daddy Cornhole bags
[buzzsprout episode='3458461′ player='true']
[buzzsprout episode='3551746′ player='true']