First off we would like to thank KingSlayer for sending us a set of their new Cut Throat series bags to check out and write a first impressions article for you. I received the bags on the morning of Christmas eve and as soon as I took them out of the package, I had to get right to it!!
So, right off the bat, the KingSlayer logo and design of the bags scream badass! Between the hardcore name, Cut Throat, the sweet KingSlayer logo and the skull background, these bags not only look awesome but are sure to be a favorite amongst skull enthusiasts.
Cut Throat Bags Details
The Cut Throat bags feel full in the hand. That is something that I personally like in a cornhole bag which is why I was excited to start writing about these.
The bags have perfectly rounded corners and there is no separation in the seams of the bag. They appear to be stitched nice and tight. The closing stitch is small and doesn't have the end piece of thread dangling which I have seen on some other bags. Attention to detail definitely went into this bag! Each bag weighed a consistent 15.9 oz. The fill to bag ratio seems perfect to give it that full feel.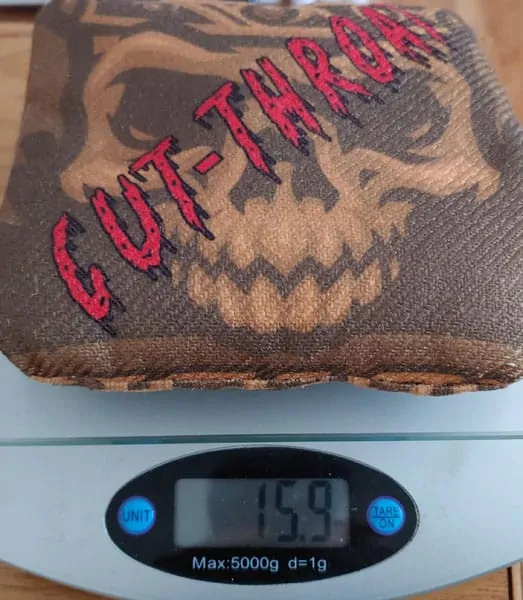 Each side of the bag has a different type of material. The logo side is a material we have seen on a Victory bag while the backside, we are unfamiliar with. We have tried to match it up to one of the many bags we have but couldn't really do so. You can see the fabric up close in the main picture and try to match it to a bag you might already have. The speed rating on the Cut Throat bag is a 6 on the "slower" side and 8 on the fast side. Based on that, this would be a fast and faster type bag with speeds similar to that of the Titan Devastator.
Broken In Cut Throat Bags
I know a lot of people are skeptical as to whether or not the Sac Relax actually works but we are sold on it and here is the result after just 1 treatment.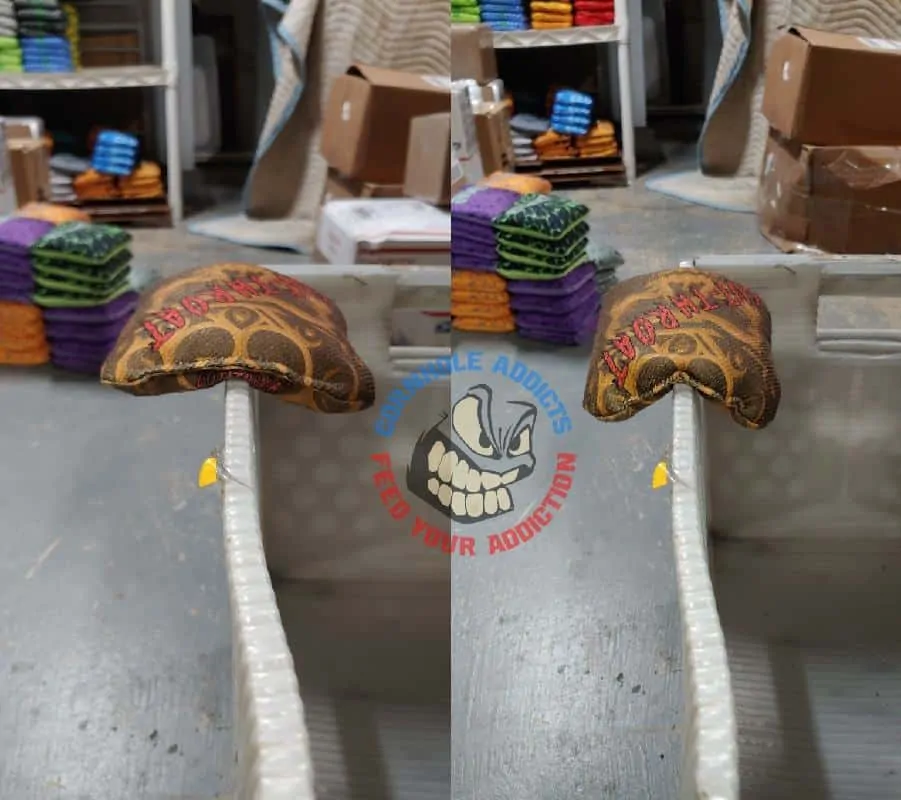 Since I have no indoor place to throw, nor do I have the time to break in bags, I use the Sac Relax product the achieve the broken in feel. That way, when I do get the chance to throw bags, they are good to go and I can test them accordingly.
How do the Cut Throat bags play?
I have been throwing the (KingSlayer cut throats) for a few days…. the bag is outstanding and begins to break in fairly quick!! The slow side is very workable and controllable… you can lay a block every time or just slide on in… the slick side is pretty fast and races straight to the hole like butter! Great for pushing through bags and moving bags out of play. Once the bag is completely broken in, you want be disappointed!!! It would definitely be a bag I would throw and would recommend to anyone that loves to play the game! – Douglas Parker