SEVA Cornhole is a new bag maker based in Hampton, VA. They have 4 bag series available, Marksman, Hypernova, Siege and Serpent which are all ACL approved and Pro stamped for this 2021/22 cornhole season. This first impressions review will give you a little info on each series to help you make the most informed decision before purchasing.
We always like to give the best information possible when doing a first impression so, what better way to get that info then to talk to someone who uses the bags. ACL Pro Chris "Tornado" Tornatola from the Northeast Conference started using these bags a couple months back and feel in love. He is the owner of Woohole Cornhole Facebook group where you can see him throwing and talking about the bags on his live streams. If you like to watch cornhole when you can't play, be sure to check out Woohole and give a Like/Follow and let them know Cornhole Addicts sent you.
One thing we love about the Seva Cornhole bag series is they put the speed right on each side of the bag. How many times have you had to ask your blind draw partner which is the slow or fast side of their bag? Having a speed right on the bag, eliminates the need. I would not let that be the main reason I bought a set of bags but it does help. The Seva Cornhole bags are very well made and stitched tight. Each series has different play speeds, feels great in your hand and optimal fill to bag size ratio designed to make a bag hole friendly and help you put them in the hole easier.
SEVA Cornhole Bag Lineup
Lets start with the slower bags from Seva Cornhole and work our way up. First off is their carpet bag, Siege. This bag has speeds of 4 and 7 and is perfect for those that like to flop, roll, cut and whatever else these kids do with bags today. This bag is most compared to a Reynolds Pro Advantage and BG Viking, without the "kick".
Next up, with speeds of 5 and 7, is the Seva Cornhole Marksmen bag. This bag has the same fast side as the siege with a little faster stick side. Bag is most compared to Reynolds Pro AV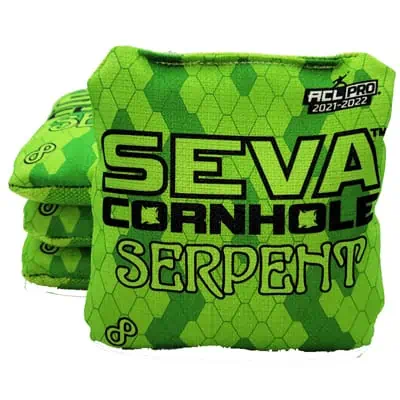 The Serpent is a fast and faster type bag with speeds at 6 and 8. This bag is great for someone who doesn't like a slow bag. Serpent plays comparable to an All-Slide.
And finally, the fastest bag in the Seva cornhole bag series, Hypernova. This bag has speeds of 5 and 9. It utilizes the same slow side of the Marksmen and coupled with a new faster side material to give this bag a huge advantage in the pushing department. When this bag is fully broken in, which doesn't take long at all, it is super hole friendly. Hypernova is most comparable to the Sure Fire.
So, if you are in the market for some new bags, check out this awesome lineup of Seva Cornhole bags. With 4 different bags available and more on the way, they have something for everyone.