Today we will be looking at some bags from Vortex Cornhole. They offer 3 series but we chose to go with the following 2, Storm and Supercell, and share our review of them. Unlike our other first impression articles, we decided to do something a little different in order to give you a more realistic review on how these bags play. We have decided to treat these bags with Sac Relax prior to doing the review and testing them.
The reason for this is so we can give you a more accurate review, because let's face it the ultimate answer everyone wants to know when it comes to bags is how hole friendly are they and how they perform which is hard to do when they are right out of the box.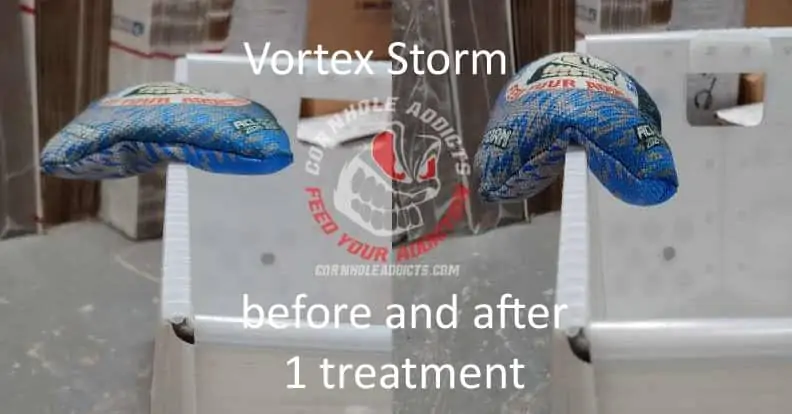 Vortex Storm
Let's first look at the Vortex Storm bags. These bags are ACL Pro stamped and are more of a medium and fast type bag with a speed rating of 8 on the faster side and 6 on the medium side, similar to the Ultra Widow bags. The fill to bag ratio gives them a nice medium full feel which feels good in your hand. Out of the box, the faster side feels a little stiff but with one treatment of Sac Relax, they felt extremely hole friendly and ready to go. And we will discuss how they play below.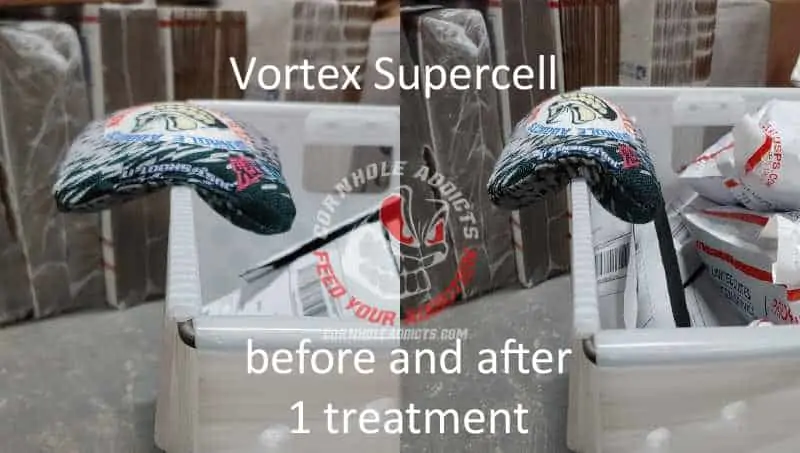 Vortex Supercell
The Vortex Supercell bags are ACL Comp stamped and are a stick and slick bag with a speed rating of 6 and 4, which is what the GameChanger Steady bags are rated. The slower side has a carpet like material while the other side has a slightly faster material. These bags have a nice full feel to them, more than the Storm bags. Overall a great feeling bag that feels ready to block or push bags into the hole.

Vortex Bags Battle Test
The Storm bags played very well and were very hole friendly as they seemed to find the hole more often than not and any bag that was hanging on melted into the hole. These bags played consistent and were easy to control. The fast side had no problem pushing through bags or going straight into the hole and the medium side offered somewhat of a blocker when needed or as a straight slide right up the board and in.
"The Vortex Storm bags I played with recently are my new favorites! They are very hole friendly and when I released my throw, i felt confident that they would find their way in the hole or in the proximity of the hole!" Brandon M
The Supercell bags also played nice and for the most part, were hole friendly. They could use a bit more play time to get them to that perfect consistency but I have know doubt that they will become that bag for you. The slow side had no kick and you were able to throw that blocker with ease when needed. The fast side was able to push through those blockers but was not too fast to where if you missed your push it went flying off the back of the board. These bags were very controllable whether you were throwing the sticky side down or the fast side down.
"The bags seemed to have a nice combination of stick and slide. I usually play to throw a good blocker my first throw and this would sit well in front however with a nice nudge it will move to the hole." Meghan M
Conclusion
The Vortex Storm and Supercell bags are NOT available for sale right now but we have many different bags that play similar.