Tampa Bay Cornhole X-Factor – Speed 4/7
$55.00
The X-Factor is a slick and stick with speeds of a 4 and 7. The slower side is perfect to block the hole while the faster side has plenty of pushing speed to doze anything in it's way to the hole. This bag is super hole friendly right out of the box and requires little to no time to fully break in. When battle tested these bags play very true to their speed rating.
Sold in sets of 4 bags.
Please allow 5-7 days for for shipping.
X-Factor by Tampa Bay Cornhole
Check out all of the Tampa Bay Cornhole Bags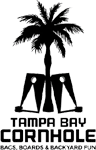 Come discuss everything cornhole at the only Cornhole Discussion Forum