Description
Mach1 cornhole bags
The Mach1 might be the most deadly bag of them all. Sitting comfortably in the middle of the speed scale with a rating of 6 & 7, it is the most neutral, versatile bag in the line up. With the high Flex score of 9, it is one of the most comfortable bags, as well as one of the best sitting bags once it lands on the board.
These bags sit just right, and hardly have any kick to them, so they are great for beginners and for pros. The micro knit fabric is also a secret weapon, in that while having a very smooth feel to the touch, it doesn't have a crazy amount of slide.
It feels just right coming out of the hand, and it sits just right when it lands. In the hands of a pro, you'd be hard pressed to be beat with the Mach1 bags.
Sold as a set of 4 bags
Bag Material= One side our Grid Weave & One Side our Micro Knit
Bag Fill= Resin Plastic Pellets
Closure= Black Heavy Duty Bonded Nylon Upholstery Thread
Closure Type= Internal Double Stitched, with Double Stitched Top Seam
Weight= Exactly 16 oz
Check out all the West Georgia Cornhole Bags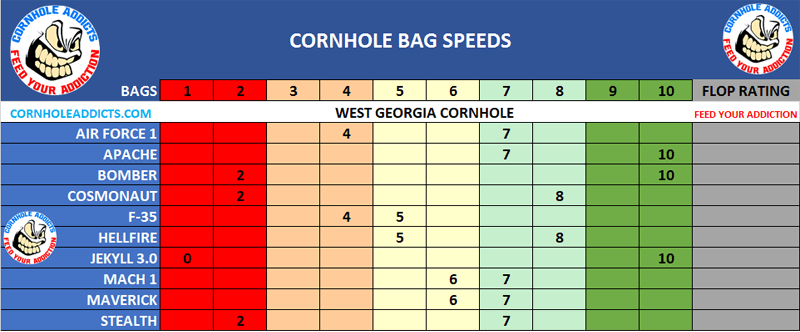 Check out the demo video