Meet TeamAddicts & ACL Pro players from the South East Conference. These cornhole players come from Alabama, Florida, Georgia and Mississippi.
Be sure to check out all the team players
SouthEast Conference TeamAddicts & ACL Pro Players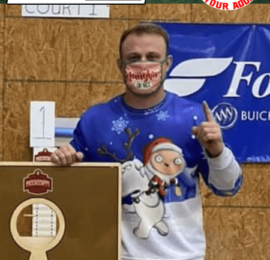 Trey Hunt
SouthEast Conference
I am ACL Pro Trey Hunt from the Southeast Conference and this is my story of how I became a professional cornhole player for the ACL.
I started playing cornhole in April 2019 and became a Pro this year, 2021. Signed with Kontraband for the 2021-22 season and my pro partner this year will be Kamryn Belvin
Contact
Office

Kontraband Kuttthroats

Location

Collinsville, MS
Samantha Finley
SouthEast Conference
I am ACL Pro Samantha Finley from the Southeast Conference and this is my story of how I became a professional cornhole player for the ACL. I started off playing in the backyard and local tournaments about 11-12 years ago. My mom went to work in Ohio where she met Christine Papcke and we really started getting into it. I have been playing competitively for about 8 years now.
Lori Dool
SouthEast Conference
I am ACL Pro Lori Dool from the Southeast Conference and this is my story of how I became a professional cornhole player for the ACL. I started playing Cornhole in college to win gift cards at Buffalo Wild Wings on football Sundays but did not start playing competitively with South Florida Cornhole until November 2017. Cornhole is an engaging sport that incorporates talent, skill, and mental toughness that has taken this hobby to something that I never expected. To be an ACL Pro is an incredible opportunity to travel, meet some of the best people, and to inspire others to play.
Tyler Cobb
SouthEast Conference
I am ACL Pro Tyler Cobb from the Southeast Conference and this is my story of how I became a professional cornhole player for the ACL. I got started in cornhole playing at family gatherings. When I realized that me and my brothers didn't lose very often, we decided to start playing at local tournaments. I started winning lots of local tournaments and decided that I was going to put all I had into it to see how far it could take me. I started playing in regionals and it took me a while, but i started winning lots of singles and doubles regionals. I decided it was time to take it to the next level, so I started going to conferences and attended the last national of 2020 in Rock Hill and played in the pro qualifier, where I went 5-3 and ended up getting the pro spot by application. Best thing that has ever happened to me!
Haseeb Habiban
SouthEast Conference
I am ACL Pro Haseeb Habiban from the Southeast Conference and this is my story of how I became a professional cornhole player for the ACL. Started in the Finley's yard, won the first time I played and we did it every weekend then we started to venture out and winning most of the time with my wife. It's been about 10 years now and loving this game. Now this great sport is playing overseas and just amazing. The ACL is just awesome!
Contact
Location

Cottontree, Guyana
Scott Schultz
SouthEast Conference
I am ACL Pro Scott Schultz from the Southeast Conference and this is my story of how I became a professional cornhole player for the American Cornhole League. I began playing Cornhole while I was at UCF with some of my buddies. I was hooked from there and with a competitive side from my younger days of competing in tournaments almost every weekend for bowling, I knew this was something that I wanted to pursue.
I won multiple state championships in NY for high school, regional tournaments for the northeast, many finals appearances from ages 14-21, shot my first 300 game when I was 15 at the largest tournament of the year on the east coast, had numerous 300s and 800 series.. But nothing compared to bowling for a team in college and traveling the country, I bowled my first 2 years and held the highest average among rookies in the nation for a smaller school called Briarcliffe College on Long Island in NY, where I grew up. Then I moved to Orlando to join the top ranked college team in the country for 2 years. Since then, I have lived in Florida (mostly in Orlando and West Palm Beach) and recently moved to the Jacksonville area.
I learned my stance and how to throw from several different people. First, John Artz and Danny Dow in Orlando showed me some things, then after a little bit, Rosie Streker taught me how to hold the bag the way that I still do today.
I'd like to thank John, Danny and Rosie as well as Davis Streker for pushing me to be better. Davis was the person that pushed for me to start traveling in this game and try to become a pro. He has always helped anyone that wants to learn and get better, he spends almost all of his spare time running tournaments and helping new players! Thank you!
For the past 5 years or so, I have been competing in Cornhole at the highest level against the very best players in the world. I have won and placed in some very large tournaments around the nation over the years, including an ACL national title in crew while playing on ESPN. I am happy to be an ambassador for the game of Cornhole while we are still in the pioneering stages of it becoming one of the most popular games played around the world.
I earned pro status back in 2015 and look forward to continue representing this game with the highest integrity on the highest level for some time to come.
Look out this year for me and my partner Dalton Mcklem in doubles this season! We're ready to make some noise!
Contact
Office

AllCornhole and Razors

Email

Bowling, basketball, kickball, gym. I enjoy the beach and watching tv shows like the office and breaking bad

Skype

Chipotle, Pizza, sushi and of course Chicken Parm!

Location

Delray Beach, FL
Drew Brown
SouthEast Conference
I am ACL Pro Drew Brown from SouthEast Conference the and this is my story of how I became a professional cornhole player at the American Cornhole League. I grew up playing baseball year round in high school. I was a very aggressive pitcher/3rd baseman and had a passion for winning all my life. During my senior year I contracted mononucleosis and was told by doctors that it was the worst case they had seen in almost 35 years of practice. I went from 155 lbs to 125 lbs in just over a month and they rushed me to the hospital twice within that month to be sure I was getting the right amount of fluids. I also missed my last month of my senior year of high school but I was fortunate enough to be released on the day of graduation and was given the "OK" from doctors to attend the ceremony. After high school I went on to play college ball at Bethany College, but quickly knew I didn't have the strength that I once had. In an effort to focus on my health and devote more to my studies, I transferred to a school closer to home. I needed something to keep my competitive edge going and that is when I turned to cornhole. My cousin, Wes Phillipson, brought boards to our thanksgiving dinner one year and needless to say I was very much a beginner player. He beat me in every game that we played that year and I there was only one way I knew how to respond. PRACTICE. All winter long and through the summer I practiced everyday, even tying the chandelier to the banister with a rope in my mom's house when it was cold out so I could play indoors. I wanted to make sure at the next family function I wouldn't be able to be beat so that I had bragging rights at the dinner table. Sure enough my dedication paid off. So much so that I thought that I was one of the best in the state at that point taking down local tournaments in my hometown. After that I started googling tournaments and I would take my buddies CJ and Jake Blanchard to play cornhole across the state just to play in tournaments. That was when I ran into the unstoppable duo of Matt Guy and Randy Atha in Dublin Ohio at the Irish festival. They beat us 21-0 but I quickly received word on who these two were in the cornhole world. That was who I wanted to be. This is where a new chapter began and my search to become one of the household names in cornhole started. I knew I had a lot of work to do to get where I needed to become one of the best. During one of my google searches, I found a tournament in West Virginia and got introduced to my good friend, Ted Dillon. He is the one that I give a lot of credit to, for he was the first person to take a chance on me as a player and be my partner. It also helped that he ran an abundance of regional tournaments where I slowly started to meet and play against today's most familiar faces. Now after over 10 years of playing against the best in the world, I believe I am ready to prove to everyone that I have what it takes.
Contact
Office

Reynolds Pro Advantages

Email

Hanging out with my girls

Location

Cadiz, OH but moved to Sugar Hill, GA
Contact
Office

All-Slides and GameChangers

Email

Football and basketball
Emory Parker
SouthEast Conference
I am Emory Parker ACL Pro from the Southeast Conference and this is my story of how and when I started playing cornhole and worked my way up to an ACL Pro. Went to South Bend, Indiana when I was 11 for a Florida State - Notre Dame football game. I had never seen cornhole before that and immediately fell in love. Upon returning home I built a set of boards with my Dad and it became a staple at our tailgates indefinitely. After graduating from Florida State, I moved to South Florida where I was looking for ways to meet people. I ran across South Florida Cornhole and went out for my first tournament that night. The rest was history as I began traveling out of town for tournaments and competing against the best in the state, and eventually the country.
As much as I love competing, for me Cornhole is all about the people you meet. Everyone has so much fun and enjoys being around one another. I cannot say enough about the people I have met from this game AKA "my cornhole fam."
Contact
Office

Game Changers, All-Slides

Email

College Football, Fishing, Golfing

Location

Jacksonville, Fl
Kyle Malone
SouthEast Conference
I am Kyle Mayday Malone ACL Pro from the Southeast Conference and this is my story of how and when I started playing cornhole and worked my way up to an ACL Pro. My favorite aspect about this sport is the amazing people it has brought into my life. It's not just a group of people, it's a family. When I first started at a local bar as no more than an amateur, the crowd welcomed me and approached me with tips and advice to help my game. Now from there I'm on the pro circuit looking to be a world champion. Outside of that though my main hobbies are softball and fishing naturally since I do live in Florida. Without cornhole I honestly do not know what I would do on the weekends or even during the week anymore. At this point, I couldn't imagine not playing.
Pro Bags
For more information on how to become a member of the ACL, visit their website