Welcome to the video section for Cornhole Addicts. Here we feature some trick shots, how to videos and some big games from around the American Cornhole League (ACL). Some videos are ours, made by or for Cornhole Addicts and some are not. But they all feature people addicted to cornhole!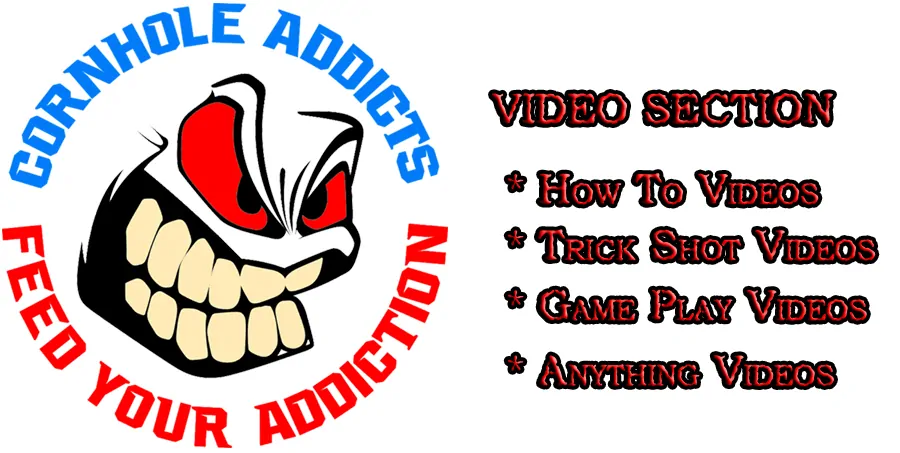 Much like this entire website, this section is new but we will be adding some great content here teaching beginners how to play cornhole, how to throw a flat bag, how to hit that airmail or push shot and more. We have some great people that range from advanced to Pro level who will be making the videos. People that have been in real tournament situations where you need to make that clutch shot to win a game.
Some of the greatest cornhole shot videos
We will also showcase some of the cornhole worlds iconic shots such as Daymon Dennis airmail shot that was named the best shot of all time, Frank Modlins 3 bag drag airmail shot and James Baldwins airmail drag to win the 2018 ACL Championships. So many great shots made by great players and even some great shots made by average players. We want to bring it all to you!
And, we are working on bringing you some funny, parody videos . We have some great ideas that we think you will like. And we have been pulling in some videos from around the internet as well.
Got a video you think we should add to our page, drop us a line here.
---
VIDEO CATEGORIES
[aiovg_categories template="list" order="desc"]
VIDEO GALLERY
[aiovg_videos category="658,2075,652,654,655,841,653,651,867,1596,1023″ orderby="rand" show_excerpt="1″]