RANDOM PLAYERS
Steven Bernacet
Great Lakes Conference
I am ACL Pro Steven Bernacet from the Great Lakes Conference and this is my story of how I became a professional cornhole player for the ACL. I started playing cornhole after going to a party and seeing that my skill level was slightly above the level that everyone else was playing at. After that night, I went home and searched YouTube to find out more about the sport. The first videos I watched were of Matt Guy. It was awesome seeing him throw bag after bag in the hole. After I watched more videos, I decided to start playing in some local tournaments to see if I could compete at that level. I quickly realized that I was becoming better and progressing much faster than I anticipated. As I was looking for more tournaments to play in, I found that there was a cornhole organization hosting a tournament that weekend. I signed up and drove about 3 hours away to my first regional. As soon as I was ready to play my first organized game ever, I saw Matt Guy standing at my board ready to go. Of course, with my nerves and with the initial shock of the G.O.A.T. standing so close to me, I ended up losing that game. After that tournament, being the passionate and determined person that I am, I worked harder and was officially addicted to cornhole.
Contact
Location

Schererville, IN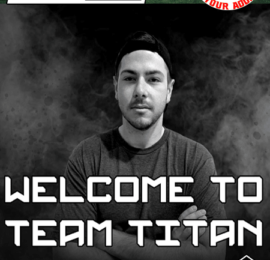 Joe Kniesteadt
TeamAddicts Sponsored Pro
I am ACL Pro Joe Kniesteadt from the Great Lakes Conference and this is my story of how I became a professional cornhole player for the ACL
Started with my grandpa when I was 6. Always played at family events but never knew anything about the ACL until 2018. My competitive cornhole career got started at Ts Roadhouse where I started my first league. From there I fell in love with the game and started to go to more and more events. In 2021 I made into the pro division for the first time.
Contact
Email

Cornhole, golf, fishing

Skype

Moms mashed potatoes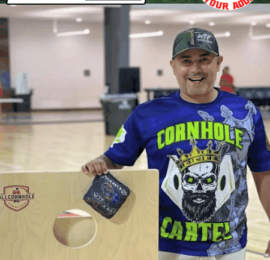 Ernest Monarca
I am ACL Pro Ernest Monarca from the Southwest Conference and this is my story of how I became a professional cornhole player for the ACL.
Found a local Facebook page having a league night and decided to join. Started watching the best players in the state of Texas play which got me started practicing. I was able to reach their level in 6 months and never looked back!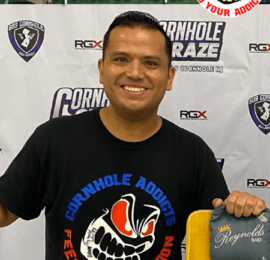 Rod Jara
TeamAddicts Sponsored Player
I am TeamAddicts Sponsored Player Rod Jara and this is my story of how I started playing cornhole. I got started in cornhole in 2018 when my g/f's mom at the time used to bartend at the Lacey Elks. She told us about a cornhole league starting up and wanted to see if we were interested. Up to this point, I had maybe thrown 5 cornhole bags in my life at backyard BBQ's. Needless to say, it was something completely new to us. Nevertheless, we joined the league as it was something new and social for us to do. My first season, I was BAD. If I landed 1 bag on the board out of 10 throws, I was happy. The league was run by some great people that are still close to us today. By the end of the 1st season i had developed some what of a flat bag and knew I wanted to give it another go. So we came back for our 2nd season. That's when I started learning more and applying more of my time to the game. I would ask everyone questions about how they threw, they would teach me how to stand, the hold, the release, etc. I really enjoyed it, even though I wasn't very good. By our 3rd season, I finished top 5 in our league and that's when i started playing in cornhole tournaments around NJ. I would partner up with guys from my own league. Everywhere I'd go, I'd get rocked. But i enjoyed playing and learning so I kept at it. I then joined the ACL and played in the competitive division for a year. I won numerous regionals in singles, until our director bumped me up to advanced in 2020. Covid then hit, and everything went virtual. That's when I would practice 5+ hours a day in my backyard. I LOVED practicing! I would take the fastest bags i had, all the way to the slowest bags, and i would make myself adjust to the conditions. The ACL then opened things up again and we started going to conferences and opens all around the country to compete against better competition. I now play in the advanced division and hope to work my way up to the PRO division soon.
Contact
Email

Watching soccer or cornhole

Skype

California Cheeseburger.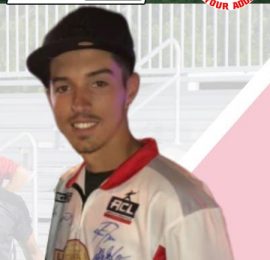 Kyle Malone
I am Kyle Mayday Malone ACL Pro from the Southeast Conference and this is my story of how and when I started playing cornhole and worked my way up to an ACL Pro. My favorite aspect about this sport is the amazing people it has brought into my life. It's not just a group of people, it's a family. When I first started at a local bar as no more than an amateur, the crowd welcomed me and approached me with tips and advice to help my game. Now from there I'm on the pro circuit looking to be a world champion. Outside of that though my main hobbies are softball and fishing naturally since I do live in Florida. Without cornhole I honestly do not know what I would do on the weekends or even during the week anymore. At this point, I couldn't imagine not playing.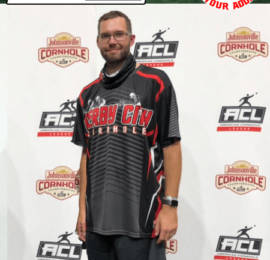 Justin Doss
I am ACL Pro Justin Doss from the Mid-South Conference and this is my story of how I became a professional cornhole player for the American Cornhole League. I started playing cornhole at my friends house when I was around 10 years old. We would play every now and then against each other, but I really began playing when I went to college. I went to the University of Louisville and I began to play at tailgates. My friends and I are extremely competitive and this is where the love of the game began. I always wanted to be the best and began practicing at home to get better. I saw an ESPN broadcast in the summer of 2018 and started going to local ACL events to try and compete. The inner drive to become the best keeps pushing me to improve my game each and everyday.
Contact
Office

AllCornhole GameChangers

Location

Mount Washington, KY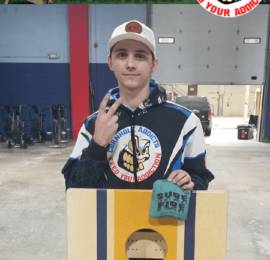 Jordon Popp
TeamAddicts Brand Ambassador
I am TeamAddicts Brand Ambassador Jordon Popp and this is my story of how I started playing cornhole. I started playing at family gathering. I eventually found a local blind draw which I ended up going 0-2 but I was instantly hooked on the game and the cornhole family.
Contact
Office

Reynolds Pro Advantage

Email

Cornhole and fishing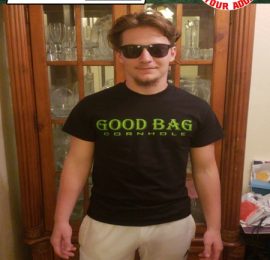 Contact
Office

All-Slides and GameChangers

Email

Football and basketball