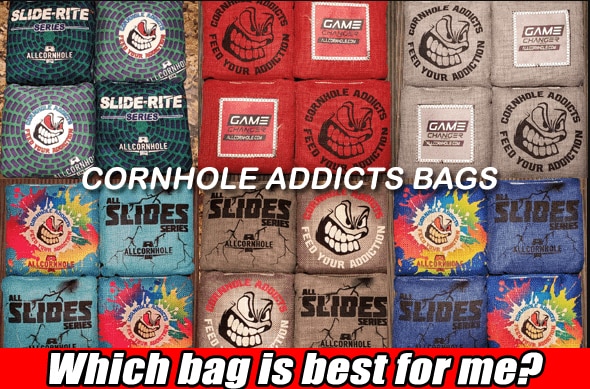 Find your perfect cornhole bag
Since you are here, you are obviously seeking some cornhole bag recommendations. Finding a cornhole bag that is right for you is much harder than you think. You could use the same bag your friend throws or just grab one that Pro used on ESPN but that bag might not be right for your playing style. So how do I find one that is right for me?
We came up with a system for you to answer some questions and we will make some cornhole bag recommendations based on your answers. We also break out the cornhole bags by category, listed below and at the bottom of the page, we attached our cornhole bag speed scales. That is another great way to get the right bag in your hand!
The purpose of this cornhole bag recommendations page is to help beginner players find a good bag that fits their playing style. It uses a series of questions, that you answer, to match the different characteristics of the bags we sell on this site. This does not cover every bag on the market. We have the largest selection of cornhole bags available and we only know about and recommend cornhole bags that we sell on this website.
Again, this cornhole bag recommendations page designed for beginning to social players who are overwhelmed by all the bags available to them and need help to narrow down the selection based on the way they throw! To get started, click below.
Cornhole Bag Recommendations
Answer a couple questions and we will recommend some cornhole bags based on your answers.
Please answer the following questions so we can help recommend the right bag for you
---
Cornhole Bags By Category
Bags In Stock and Ready To Ship
ACL Comp Approved
ACL Pro Approved
Carpet Bags
Great For Beginners
Slick and Stick Cornhole Bags
Fast and Faster Cornhole Bags
Hole Friendly Cornhole Bags
Versatile with Good Control Cornhole Bags
Speed Scales
---
ACL Comp Approved Cornhole Bags
---
ACL Pro Approved Cornhole Bags
---
Carpet Bags
---
Slick and Stick Cornhole Bags
Looking for a traditional slick and stick bag? Something with a suede side that is good for blocking? Well here are your choices below:
---
Fast Cornhole Bags
These are a fast and faster bag. These types of bags have 1 purpose, to slide up the board, alone or while pushing other bags and go in the hole. But be careful, if you are a line drive type thrower, these may not be best for you. Be sure to check out our quiz above for some better cornhole bag recommendations.
---
Forgiving, Hole Friendly Cornhole Bags
Bags in this category are a looser type bag.
Keep in mind, just because you saw someone on ESPN win with a certain type of bag, that doesn't mean that is the bag for you. Purchase the right bag for YOUR playing style.
---
Great For Beginners
These are some bags, that we feel, are great for beginners. Some are a slick and stick bag which will help you learn the about playing with a double sided bag and others are just fast and hole friendly. For hole friendly bags, if you can throw straight at the open hole, there's a good chance they will drop in. Check our quiz above for some better cornhole bag recommendations.
---