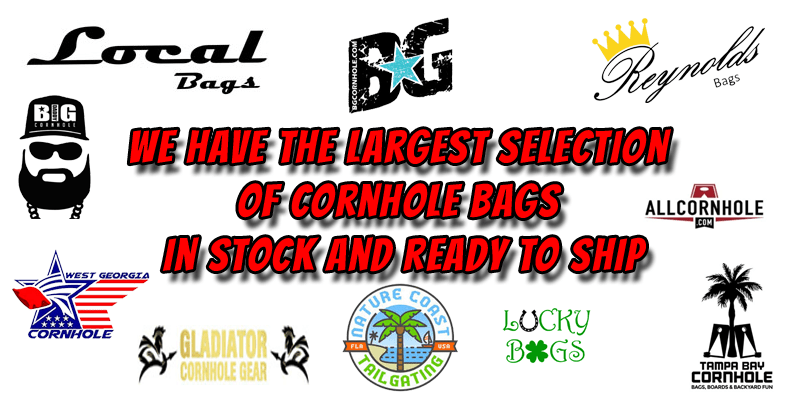 Pro Dual Sided Cornhole Bags
Cornhole Addicts offers some of the best dual sided cornhole bags or professional cornhole bags on the market. Many of which are ACL Approved. The Dual sided cornhole bags are the biggest rage today and used by all the ACL & ACO Cornhole Professionals as well as most backyard and league players around the globe. These cornhole bags are filled with the perfect amount of filler and stitched with super strong upholstery thread that makes them last!
They are also called Pro Cornhole Bags but they are not just for Pros. They are great bags for everyone from backyard to Professional players. Put down the old corn filled bags that leave a cloud of dust when they hit the board or turn to stone when they get wet and grab a set of these all-weather resin filled bags.
Pro dual sided cornhole bags are available with different fabrics on each side of the bag which make them to play differently. Some bags feature a stick side and slick side while others have fast materials on both sides. The advantage of a dual sided cornhole bag is that you have, in most cases, 2 different playing surfaces. And there are even bags with a patented square patch sewn into the middle of one side. All bags can feel different in your hand, have different weights, different fabrics, different sizes and rounded or square corners. But the best bag for you is the one that feels right and fits your playing style.
Each cornhole bag measures approx 6″ x 6″ and weighs 15 – 16oz which meets the standards set by the ACO, ACL and ACA. We have the largest selection of pro dual sided cornhole bags on the internet and most of them are ACL Approved. We have a bunch of them in stock but since we deal direct with the manufacturers, even if we run out, we can still order them for you.
Need help finding the perfect cornhole bag?
If you are a beginner player and not sure which bag would be best for you to start with, we can help. Our Cornhole Bag Recommendations system is what you need. Just answer some questions and we will recommend some bags for you. With so many bags on the market, it can be a little overwhelming on which bag does what.
Or, check out our Beginners Guide to Cornhole Bags where we shed some light on the most popular bags out there today. We discuss some Pros and Cons of the bags, what each bag is best used for, and help you to make the most informed decision when buying a set of bags. We also have a section in our blog where we "review" bags but we like to call them First Impressions.
Looking for a specific bag and don't see it listed here? We can probably get it for you! Just email us!
We sell Cornhole Bags by the biggest manufacturers:
AllCornhole – Reynolds – Local Bags – Gladiator – Nature Coast Tailgating – Big Daddy Cornhole – West Georgia Cornhole – Lucky Bags – Tampa Bay Cornhole – BG Bags – Magnum Cornhole
---
We have the LARGEST selection of cornhole bags on the internet!
We are working hard to build up our inventory so that we can have ALL the bags listed on this site, in stock and ready to ship! Find the bags you want, click the listing and see what colors we offer.
If the bags are listed IN STOCK, they will ship within 48 hours.
If the bags are listed ON BACKORDER, please allow up to 6 weeks but we hope to have them sooner.
BAGS LISTED ABOVE ARE
IN STOCK AND READY TO SHIP!
---

---
---

---
---
---
---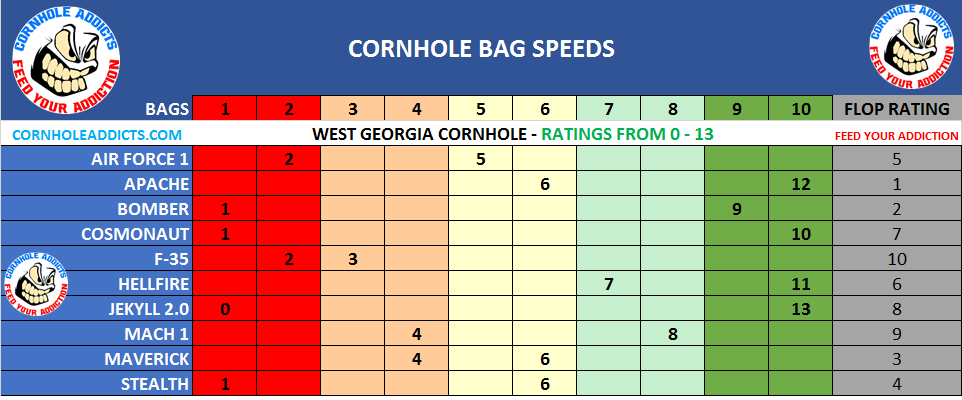 ---

---
4″ Mini Cornhole Bags
---
---
---
---
Limited Edition Bags
---