If you need to contact us, you are in the right place. Many of our questions are about delivery times, so we would like to answer some of those and save you having to email us.
Q. What should I do if it's past the estimated delivery time and I still haven't received my order?
A. Best bet would be to reach out to the courier with your tracking info. We do our job getting the package out the door and in the couriers hands in a timely manner. Now it is up to them to get the package in your hands. Be patient, you package will arrive.
Q. My packages was marked "delivered" but I didn't receive it
A. Your package was marked as "delivered", but it wasn't received? We're happy to help! When the tracking for your package is updated as "delivered" by the postal carrier, it triggers an automatic email from us to let you know about this new status. Sometimes, a package will be marked as delivered by the shipping carrier prematurely. If you receive the delivery email but have not received your package, please contact the courier to find out where they left it. We have seen where they mark packages delivered but don't actually deliver them til the next day.
Q. Can I cancel my order?
A. If you purchased anything "made-to-order" such as boards, scoreboard21, airmail box, etc, you have 24 hours to cancel. If you would like to cancel after that time period, send us an email and we will do our best to accommodate.
Cornhole bags are processed at 3 pm daily and shipped out the next day. If you catch us before 3 pm on the day they are ordered, we should be able to cancel the order. Once the bags ship, you can return them to us, you are responsible for shipping, for a full refund, minus shipping fee. (be sure to check our refund policy before you contact us)
Q. Do you offer a warranty on the bags you sell?
A. The suppliers we deal with offer a 90 day limited warranty on the bags against seam breakage or stitching issues. This means that if a seam blows out within 90 days of purchase, we will replace that 1 bag free of charge. But, if the bag gets ripped anywhere other than a seam, maybe due to the edge of the board or a rough spot, that will not be covered. Below are 2 examples of covered and uncovered under warranty bags.
If you need a replacement, fill out the contact us form below and attach pictures: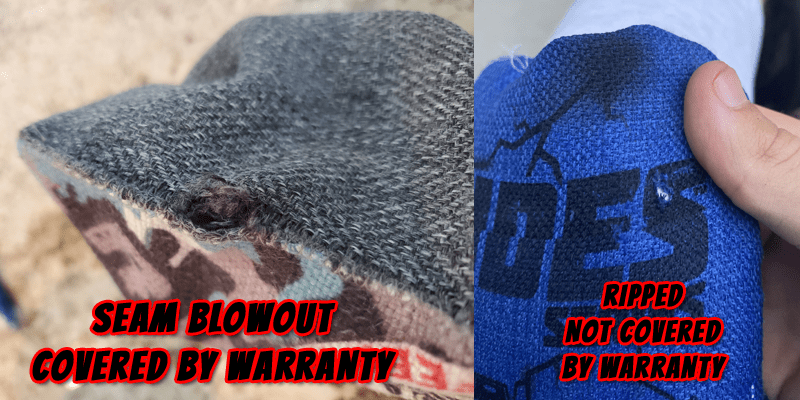 ---
Use the form below to contact us
If the form doesn't show below, click here