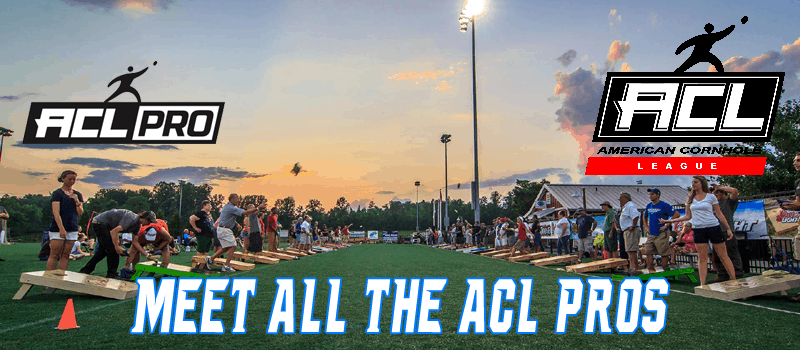 The ACL (American Cornhole League) promotes and develops cornhole as a sport for any age and any skill level. The organization establishes the rules and regulations to govern the sport around the world. The ACL is divided up in conferences based on the area you live in. The conferences are as follows:
SouthEast – NorthEast – Mid-South – Atlantic – SouthWest – Mid-West – Carolina – Mid-East – Mountain South – Mountain North – West – NorthWest – Mid-North – Great Lakes
With the start of every ACL season, there is a new list of ACL Pros. Most of them returning from the season before and some new faces. Returning players have qualified to become an ACL Pro by either finishing in the top 100 in singles, Top 50 doubles teams and top 24 in the Open Standings. Every season, players can compete in a pro qualifier to fill 32 of the open pro spots and the remaining spots are filled via application. The Pro Division is home to 256 ACL Pros. And new for the 2021/22 season, an extra 64 players were added to the ACL PDC or Pro Development Cup. Every year, the ACL Pro players will compete for a guaranteed prize pool of money and each season that number seems to increase. The 2022 season, it is set at $1 Million Dollars!! Full details on the Pro Division events can be found here, as well as information on qualifying for the next ACL season.
Anyone Can Play and Anyone Can Win.
If you are looking to become a an ACL Pro, here are a few suggestions to get you going in the right direction. First thing you need to do is get out of the backyard and compete in local tournaments against some of the best players in your area. When you are ready to take it to the next level and hang with the big boys (and girls), it is best to become a member of The American Cornhole League (ACL). They have events all around where registered players compete for points in order to make it to world final tournaments.
For everything you need to know about becoming a Pro or playing in the ACL, check out the ACL Players Guide
If you are an ACL Pro listed below and you would like us to create your profile page,
click below to fill out our form.
Listed in alphabetical order by first name
A
Adam Hissner
Adrian Johnson
AJ Sims
Alan Rawls
Alec Ryon
Alex Bal
Alex Hicks
Alex Rawls
Allison Peters
Andreu Labrador
Andrew Guy
Andrew Noyes
Andrew Robinson
Anthony Delgado
Anthony Reul
April Chismark
Ashton Speas
Austin Reynard
Austin Schlobohm
B
Ben Biagioni
Berklee Pair
Bill Hadley
Blaine Rosier
Bob Vonch
Bobby Fink
Brad Payton
Branden Davis
Brandon Corwin
Brandon Jones
Brandon Tyndal
Brandon Sehlmeyer
Breana Trujillo
Bret Guy
Brevon Valdivia
Brian Knupp
C
Caleb Franklin
Cameron Holland
Cameron Pressley
Carson Goette
Chad Braun
Chad Mayberry
Chad Webb
Charlene Simmons
Chelsea Hubbard
Cheyenne Renner
Chris Cuccia
Chris Tornatola
Christine Papcke
Chuckie Love
Clayton Robertson
Cody Henderson
Cody Johnson
Connie Altice
Corey Gilbert
Corey Morrison
Courtney Coy
Curtis Kearns II
D
Dakota Sallee
Dalton Mcklem
Daniela Luna
Danny Seals
Daryl Bizier
Dave Sutton
David Morse
David Searle
Davis Streker
Dawn Rodgers
Daymon Dennis
Dayton Webber
Dean Norton
Debra Odum
Delbert Foreman
Derek Holland
Derek Fateiger
Derek Singleton
Derrick King
Derrick Mentzer
Devon Harbaugh
Dillon Turpin
Donald Cupp
Doug Zafft
Draven Sneed
Drew Brown
Duncan Clemmer
Dusty Thompson
E
Eddie Grinderslev
Eian Cripps
Emory Parker
Eric Anderson
Eric Ryder
Eric Tscherne
Eric Zocklein
Erick Davis
Ernest Monarca
Ernest Herrera
F
Frank Modlin
G
Gage Landis
Gino Delisa
Glen Gundle
Greg Cather
Greg Collins
Greg Geary
H
Harry Stoltzfus
Haseeb Habiban
Hunter Thorne
Hunter Yaklin
I
Isabella Surprenant
Isidro Herrera
J
Jackie Sayasone
Jacob Beamer
Jacob Foreman
Jacob Trzcienski
Jaime Sanchez
Jalen Jones
James Baldwin
James Washington
James Cumberland Jr
Jamie Graham
Jamie Hudson
Jareth Nichols
Jason Rubin
Jay Corley
Jay Dotson
Jay Jaiprashad
Jeff Reynolds
Jeremy Frazier
Jeremy Schermerhorn
Jessica Jones
Jim Glasscock
Jimmy McGuffin
Jim Bottis
Jimmy Youmans
Joe Kniesteadt
John Fuentez
John Kitchin
Johnny Cox
Jordan Kimbrell
Jordan Langworthy
Jordan Power
Josh Holland
Josh Bordelon
Josh Groce
Josh Lunsford
Josh Thielen
Justin Doss
Justin Lang
Justin Stranger
Justin Reul
Justin Carpenter
Justin Riach
K
Kaleb Batson
Kamryn Belvin
Kaylee Hunter
Keith Perry
Ken Smith Jr
Kenny Tackett
Kenzie Beach
Kerry Mittermiller
Kevin Leut
Kevin Nellis
Kevin Smith
Kevin Allen
Kimberli Glass
Kyle Malone
Kyle Hutley
L
Len Hiatt
Lester Price
Leston Allen
Lori Dool
Lowen Reams
M
Mark Richards
Mason Morgado
Matt Guy
Matt Ryan
Matt Mendelsohn
Matt Abernathy
Matthew Morton
Matthew Sorrells
Matthew Creekkiller
Matthew Stout
Matthew Corley
Maya Cupp
Mcgwire Shepherd
Megan Maupin
Melissa Morrison
Michael Dinges
Michael Lucas Jr
Mike Ferreira
Mike Harvey
Mike Jacques
Mike Hoffman
Mike Bechtel
Miranda Coy
Moses Zazueta
N
Nate Stevens
Nate Voyer
Nick Williams
Nico Mireles
Noah Almanza
Noah Wooten
O
P
Peter Zazueta Jr
Peyton Mares
Philip Haydon
Philip Lopez
PJ Sarro
Q
R
Raul Chavez
Reuben Snyder
Ricky Gonzales
Ricky Cantin
RJ Crawford
Robert Chismark
Robert Sperry
Ron Kugel
Rosie Streker
Ryan Littlejohn
Ryan Smith
Ryan Windsor
S
Samantha Finley
Sarah Cassidy
Scott Eberly
Scott Phillips
Scott Schultz
Scott Lane
Sean Short
Shawn Markov
Sheila Roy
Steve Schroeder
Steven Bernacet
Steven Wendling
Steven Ochoa
Steven Sanford
Storm Hogg
T
Taco Ochoa
Tae Harris
Tanner Halbert
Teghan Owens
Terry Mathis
Tiffany Sparks
Timmy Jonas
Todd Bridgeman
Tom Gustafson
Tom Walter
Tony Hughes
Tony Smith
Trevor Kuhfuss
Trey Burchfield
Tucker Stills
Trey Hunt
Tubby Cobb
Ty Lopez
Tyce Cobb
Tyler Cobb
Tyler Parent
U
V
Vanessa Fillingim
Victor Glass
Vince Pacione
W
Wendy Sehlmeyer
Whittney Martinez
X
Y
Yetty Irwan
Z
Zachary Lewis
2021/22 ACL Pro Development Cup
Adam Acton
Alan Skotko
Andrew Clark
Autumn Nunes
Ben Close
Brennon Ballard
Brian Schram
Brianna Close
Chris Middleton
David Brown
David Reschke Jr
Drew Baker
Eli Stevens
Ersell White
Florentino Mendoza
Garrett Chapman
Greg Poulos
J Scott Collins
Jackson Gore
Jakob Gore
Jamie Brown
Jerry Roberts
Jessica Dover
Joe Adcock
Johnny Rockett
Joseph Lim
Josh Hill
Julie Christenson
Kenneth Allen
Kenneth Reeves
Kevin Todd
Kris Morrison
Leslie Adcock
Luke Johnson
Mark Lopez
Matt Allen
Matt Strattman
Miguel Villa
Mike Kitzmiller
Mike Wamsley
Pablo Islas
Paul Hardie
Rachel Winegardner
Richard Bushway
Richard Vasquez
Rob Vojinov
Rudy Ai
Rudy Thomas
Ryan Bishop
Ryan Fillingim
Ryan Johnson
Sara Planchon
Seto Soto
Stephen Mathew Jojola
Steve Samuels
Susan Finley
Teanitia Lashley
Tex Christman
Tom Gorski
Trevor Brooks
Trey Baker
Trisha Nawrocki
Tyler Bockholdt