Kaylee Hunter Carolina Conference


Kaylee Hunter's Cornhole Biography
I am ACL Pro Kaylee Hunter from the Carolina Conference and this is my story of how I became a professional cornhole player for the American Cornhole League. Started out with Backyard cornhole with family and friends, I started getting good and putting in work then Jamie Graham introduced me into competitive cornhole. Ever since, I have fell in love with the game!
Cornhole Achievements:
Winning doubles at the Myrtle Beach Open with Kenzie Beach!
Placing top 5 in women's singles and top 10 in coed.
Earning pro status
Finishing 3rd place in my first ever women's singles tournament in Alabama.

About Me
Most Memorable Moment

Getting Top 5 in women's singles @Worlds 2020

Preferred Bags

Gamechangers, Allslides, BG

Favorite Hobby

Cornhole and shopping

Favorite Food

Japanese food

Occupation

Full-time college student

My Home League

AAR Cornhole of NC!

Favorite Player

Jamie Graham & Jenn Vanderver

Favorite Shot

airmail drag
THE BEST ACL APPROVED CORNHOLE BAGS

RANDOM PLAYERS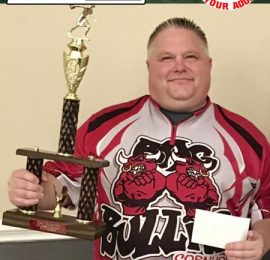 Contact
Office

Boardmen Pro Performance Go!

Location

Middle River, MD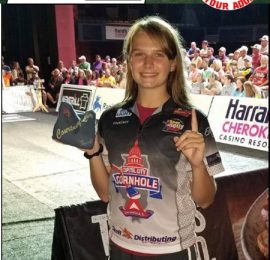 Courtney Coy
I am ACL Pro Courtney Coy from the Great Lakes Conference and this is my story of how and when I started playing cornhole and worked my way up to an ACL Pro. I was 15 years old when I started playing in the backyard with my dad just messing around, then I started playing in blind draws around my area through Capital City Cornhole. As I got better, I started traveling to bigger tournaments and found out I could compete with the competition. The more I played the better I got.
Contact
Email

Volleyball and Bags

Skype

Mac and cheese or chicken tenders
Eric Tscherne
I am ACL Pro Eric Tscherne from the West Conference and this is my story of how I became a professional cornhole player for the ACL.
From Encinitas, CA, Eric Tscherne is a 1st year ACL Pro. Originally from Twinsburg, Ohio, Tscherne graduated from the University of Cincinnati and moved to Southern California in 1999. He is a member of the Diecast Hall of Fame and Toy Hall of Fame for his work as a Hot Wheels Designer from 1999-2004. He is also well known for his work on the hit TV show PAW Patrol where he was part of the creative team behind the show and the toys.
Eric was introduced to the game of cornhole 7 years ago while camping with his father and son YMCA Adventure Guides tribe The Mighty Wappo of the Redhawk Nation. His passion and love for the game grew from here as he went on to host several charity events and tournaments while camping with this group. This lead to hosting events for friends and neighbors locally in North County San Diego via his 4 In Cornhole club.
In 2017 he started playing more regionally with Dirty Bags. From here his game grew considerably. Tscherne's game really took form in the 2019-2020 season. He was committed to playing top level cornhole and traveling. Covid 19 did not stop Eric. He spent the initial months playing many virtual tournaments and performing very well. As restrictions lifted, Tscherne came out hot and won his first San Diego Advanced Regional in June 2020, besting a field of 4 current ACL Pros and 3 more who would become pros for the 2020-21 season. Tscherne carried that momentum into the ACL World Championships in Rock Hill, SC.. He qualified on Sunday via the 1st ACL Pro Qualifier.
Tscherne is a member of Team Ultra having thrown Ultra Bags for most of his career. His favorite bag is the Viper. For the 2020-21 ACL Pro season, Tscherne is teaming with Andrew Robinson. Robinson and Tscherne have partnered in the past as both players were coming up. Tscherne has claimed a singles Regional victory in the 2020-21 Season and is looking for more.
Tscherne is married to a supportive wife Geri. They have 2 kids Madelyn and Roxton.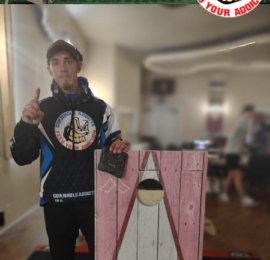 Shawn Smith
TeamAddicts Brand Ambassador
I am TeamAddicts Brand Ambassador Shawn Smith from the Mid-East Conference and this is my story of how I started playing cornhole.
Couple of buddies thought it be fun to sign up for this cornhole tournament at our local bar. My partner and I ended up finishing 2nd out of 25 teams. I started the winter of 2021 going to a weekly Mid-Penn blind draw. After building some confidence, I started traveling around and throwing with all kinds of great people.
Contact
Email

When not throwing trees or bags, I also like to throw dirt with my dirt bike with my boys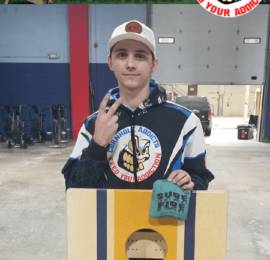 Jordon Popp
TeamAddicts Brand Ambassador
I am TeamAddicts Brand Ambassador Jordon Popp and this is my story of how I started playing cornhole. I started playing at family gathering. I eventually found a local blind draw which I ended up going 0-2 but I was instantly hooked on the game and the cornhole family.
Contact
Office

Reynolds Pro Advantage

Email

Cornhole and fishing
Contact
Email

Building Ghost Cornhole

Skype

Sour Cream and Picante Dip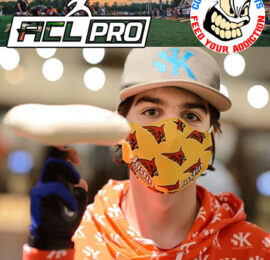 Justin Stranger
Atlantic Conference
I am Justin Stranger ACL Pro from the Atlantic Conference and this is my story of how and when I started playing cornhole and worked my way up to an ACL Pro. I am a high school student and a professional cornhole player. I've been playing for approximately 3 years.
I partnered with Shawn Smith in the Pro Doubles Division for the 2019-2020 season. I am partnering with Tony Smith in 2020-2021 season.
I got my start like most people did, playing in my backyard with my dad on bouncy boards with corn bags and sometimes at breweries my dad liked to visit until someone from his work invited us to play some blind draws. In August 2017, my dad and I started plays $5 blind draws with handicaps on Monday and Thursday with Carroll County Cornhole run by Brian "Fitz" Fitzsimmons. That is where I met my cornhole mentor, Bob Mallonee, who is also going pro this year. Once I started mastering some of the basics, my dad and I started playing in tournaments, mostly in social divisions, if they had them. Around 6 months in, I started to get pretty good and people were asking my dad if I could partner with them. I started having some successes, which included placing in and winning events. I then heard about COBS and really wanted to go. My dad kept saying "let's see." In June of 2018, there was a local tournament called "Jack Taylor" that had juniors. My goal was to win that and prove to my dad, I should go to COBS. I came in second. However, I played in the competitive division with a another non-pro and we finished 4th in a group that included Timmy Pitcher, Leston Allen, Frank Modlin, John Kitchin, Jordan Camba, Jay Corley and other high level players. After the event, my dad said we were going to COBS because even though I was not happy with my junior's performance and seemed down, my dad was proud of me for fighting back, never quitting and playing hard in a stacked division. I went to COBS, went 3-2 in Junior's singles. My dad and I met a lot of good people, got a lot of advice and I fell in love with cornhole.
So we decided that in 2018, I should focus on the ACL and the Junior's division. In my first month of the season, I was fortunate enough to be able to play a Regional with ACL Pro John Kitchin (still one of my favorite players), who I thank for taking a chance by playing with an unknown 14 year old. Early in the season, I had quite a bit of success in singles and doubles early in the season with Zach Owings, which helped each of us start to show our skills. I wanted to root him on at the ACL National College Championships that December, so my dad went on a search for someone to play with me, since Zach could not. He was able to get Seto Soto to play with me. We did pretty well and it enabled me to play against some top level players that I had been admiring.
During the rest of my first ACL season, I generally partnered with very good advanced players and ACL Pros, which included Ryan Smith, Dylan Wood, Matthew Morton, Leston Allen, Eli Stevens and my now Pro partner Shawn Smith. I capped my year off by winning the Junior's Championship and on the way home, my parents and I talked and decided it was time to let me go Pro. So, here I am, an ACL Pro. I am looking forward to playing a sport I love, being an ambassador for the sport and teaching other to play the game, like the players in my cornhole club I just started at school.
Oh and just so you know, I still play some tournaments with my dad and I still play with Carroll County Cornhole, but we've gotten rid of handicaps because there is no need. There are great players there that challenge and push me. If you're ever in my area, I recommend coming out to play with us on Tuesday nights! (Once COVID restrictions are over)
Contact
Location

Owings Mills, MD
Pj Sarro
I am ACL Pro PJ Sarro from the Northeast Conference and this is my story of how I became a professional cornhole player for the American Cornhole League. I probably started like everyone else did , in the backyard at cookouts messing around over a few drinks , then my dad decided to raise money for the VFW that he worked at by having a cornhole tournament. A local board maker let him borrow boards for being able to put a table up to showcase his company in return, 2 guys showed up and cleaned up on all of us only giving up 2 points the whole tournament ( happened to be against me and my partner ). After the tournament one of those guys came up to be and said " why haven't I seen you around before you're pretty good" my response was " I didn't know cornhole was a thing outside of cookouts" , fast forward about 2-3 months I went to a byop tournament being held by the guys that let us borrow there boards, let's just say it didn't go to well,I then thought damn I'm not that good at this so i started to practice a little here and a little there. Until our Regional singles tournament which was a split tournament doubles were in one spot and singles was the next day on the marina where they film Wicked Tuna , so I went and played and finished 5th in singles just in the money. The hard work is starting to pay off , so I continued to play in every weekly blind draw and every tournament I can make and here I am now fast forward a year being able to sign Pro with the ACL
Contact
Office

BG Rogues / Reynold pro advantage

Email

Cornhole and hockey

Skype

Tacos and buffalo chicken