Top Rated Reynolds Bags
Top Rated Titan Bags
Best Selling Bags
ACL Spec Cornhole Boards
Jerseys
HOW-TO
Cornhole, also referred to as "corn toss", "bean bag toss", "baggo", or "bags", is a game beloved by dedicated players who know it by its authentic name. Once you start playing this addictive and enjoyable game, you will find it difficult to resist its charm.
Tons of Info and The Best Cornhole Bags and Boards!
We are the largest american cornhole league resource on the web. Our Blog features tons of articles with how-to tips and techniques to get you from beginner to pro! Plus we have a great selection of pro cornhole bags, boards and more.
We currently offer professional cornhole bags and regulation cornhole boards, customized boards, cornhole sets and more.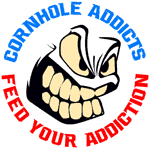 What happens if you go over 21 in cornhole?
The game ends when one person or team reaches 21 points. Therefore, it's ok to go over 21.
How far apart do boards need to be?
Regulation size 24″ x 48″ boards should set 27 feet apart from front to front of the boards.