Dalton Mcklem
Professional Cornhole Player
ACL Pro for SouthEast Conference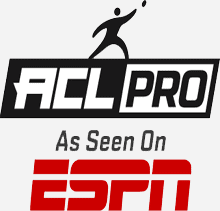 Dalton Mcklem's Biography
I am Dalton Mcklem ACL Pro from the SouthEast Conference and this is my story of how and when I started playing cornhole and worked my way up to an ACL Pro. I started as a backyard player then seen Matt guy on TV and he inspired me to play
Cornhole Achievements:
Kick off classic national#1 winner in singles and doubles
Gridiron grill off winner
I won a conference singles and doubles
Myrtle Beach 10,000 dollar champion
About Me
Most Memorable Moment

Beating Matt guy 21-1

Preferred Bags

All-Slides and GameChangers

Favorite Hobby

Football and basketball

Favorite Food

Chicken Alfredo

My Home League

Tailgatorz sports bar and grill

Favorite Player

James Baldwin
THROW WHAT THE PRO'S THROW

RANDOM ACL PROS
J Scott Collins
ACL Pro for Mid-East Conference
I am ACL Pro J Scott Collins from the Mid-East Conference and this is my story of how I became a professional cornhole player for the American Cornhole League. I started just like any one else in the backyard. After seeing one of the ACL programs on ESPN I started to throw like the people on tv. Well I quickly became better then all my friends and started to travel to tourneys alone to see how good I was. That's when reality hit.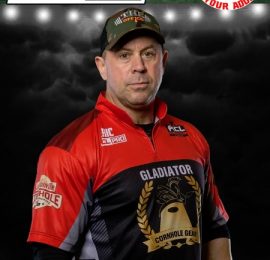 Eric Ryder
ACL Pro for Carolina Conference
I am ACL Pro Eric Ryder from the Carolina Conference and this is my story of how and when I started playing cornhole and worked my way up to an ACL Pro. Back in 2009 I was invited to a friends house for a cookout. He had some cornhole boards made and pulled them out and explained the game to me. I had never heard of cornhole prior to that day. We played all afternoon and I was hooked. I bought my first set of 2x4/plywood Red Sox boards with corn bags and started playing in the neighborhood with neighbors. Soon heard about a tournament that Trey and I would play in and get our butts handed to us. We met some good players and learned about throwing a flat bag and resin bags and how there were tournaments every week in the area. It was at that point I knew this was a game I would be playing for a very long time.
Contact
Office

Gladiator Empire Pro VIII, Gladiator Dagger Pro VIII and Gladiator Predator Pro v2

Home

Orange (Go Tigers!!)

Skype

Pizza, Steak and Japanese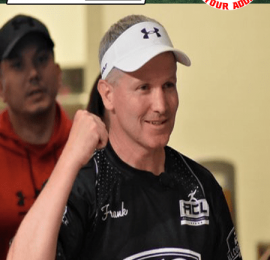 Frank Modlin
ACL Pro for Carolina Conference
I am ACL Pro Frank Modlin from the Carolina Conference and this is my story of how I became a professional cornhole player for the American Cornhole League. I started playing about 10 years ago. We were camping with the family down on the Outer Banks of N.C. I saw some guys playing a game I had not seen before. They asked me to join them. I was hooked immediately! My wife ordered me a set of boards for my birthday and I started practicing!
My buddy Steve McCombs and I would throw for hours on end. I heard there was going to be a tournament in a neighboring town close to us at a festival they were having. So, Steve and I decided to go! We were nervous to say the least. We both are super competitive and did not want to embarrass ourselves. It was a small tournament with some local players there, but you would have thought it was Worlds for us. Long story short, we won the tournament, and made some really good friends that I am still friends with today!
Oh yea, I met my buddy George Cowand from Midway NC at that tournament. We ended up becoming great friends and traveling and playing a lot of tournaments in the local area. We had quite a few wins together! Well, this only fueled my desire to get better and play bigger tournaments. So, I started searching for tournaments outside my area and traveling more. I found out there was "organized cornhole" that had point systems and rankings. I knew right then that I wanted to play competitively and see where I stood against some of the higher-ranking players. I definitely took and still take my share of losses. But I have really enjoyed the successes I've had along the way. I have made so many friends in this sport! I enjoy the fact that I can basically travel anywhere in the US now and run into friends. That is so cool to me. And no matter where we travel, the people always make us feel welcomed! I now travel and play the pro circuit with the American Cornhole League ran by commissioner, the legend himself "Stacey Moore"! He along with awesome his staff members run tournaments throughout the US and are now stretching out beyond our borders! The National tournaments can now be seen on several major TV networks like ESPN, ABC Sports and NBC Sports. I recently was fortunate enough to make the first ever USA National Team!! How cool is that to be able to represent your country doing something you genuinely enjoy!! I have been truly fortunate throughout the years and have the support of my wife, my daughters and their now spouses and my extended family.
I've got some of the best sponsors anyone could have with representing great companies like AllCornhole, AAR, Dirty Bags Cornhole and The Jersey Guy! You guys are the best and I can't thank you enough! I also am VERY fortunate to have the best fans ever!!! I am truly thankful for each and every one of you!!! One last thing because I know I went way to long with this, lol! I have been fortunate enough along with the help of Chad and Emily Littlewood with AllCornhole, bring to life a bag concept some of you may have heard of called "Gamechangers "!! This has been such a cool experience! To have something that you are a part of to be liked by so many of your peers is truly humbling. The family of supporters for Gamechangers are absolutely phenomenal!! I appreciate each and every one of you! It is such a honor to hear the compliments about Gamechangers! Thank you all!! It really means a lot to me!! Well ok, I think I am going to end it there. Hopefully, I didn't ramble too much. I just get carried away when I start talking about everything that I love about this sport!! Best of luck to you all and I hope to see you soon!!
Contact
Office

AllCornhole GameChangers

Email

Cornhole and anything with family!
Check Skills
Well my brand is Air21s so I'd say Airmails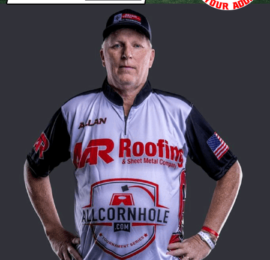 Allan Rockwell
ACL Pro for Atlantic Conference
I am ACL Pro Allan Rockwell from the Atlantic Conference and this is my story of how I became a professional cornhole player for the ACL. Started 11 years ago at an outside venue called " The Knot Hole Station". Ken Parsons, Owner, got the group started. This is the same place Pros players James Baldwin, Harlee Culpepper, Ronnie Culpepper and Allison Heine played on a weekly basis as there was no other place around playing. After playing for months, the 1st time me and another player threw a double 4 bagger everyone clapped and roared out loud as that was unheard of. Played there for almost a year before I got in a National group. When $1000 cornhole tourney would come out on Facebook that was 4 hours away, we would go and before long we were traveling to all of them.
We are sorry to report that on September 29, 2021, the Cornhole world lost one of its "OGs", Allan "Rocky" Rockwell, after a fight with prostate cancer.
You can read his obituary here
Contact
Office

GameChangers or Allslides depends on board conditions

Email

Hunting, Fishing, Cornhole

Skype

Anything with chicken

Location

Suffolk VA, 1 hour from VA Beach
Check Skills
Surviving Hot Flashes while playing, they are brutal.