Addiction Series Bags by Cornhole Addicts
This is our first cornhole bag series appropriately named, Addiction. This bag has a slower suede side with a speed of approx 2 and the other side is slightly faster material with a speed of approx 4. One thing we know you will absolutely love about this bag, it is super hole friendly! The fill to bag size ratio is perfect allowing this bag to melt in the hole. So if you prefer a slower bag that is liquid around the hole then Feed Your Addiction with this one! Sold in a set of 4 bags
As of 2/28/22, these bags have a NEW Pro Fill which gives the bag a completely different feel and play!! Now is a great time to get this awesome bag in your hands. These bags are priced to sell! Stop over-paying for bags. 
Check out what people are saying about these bags

---
Let me describe the conditions first. The boards were brand new boards, that we sell, from West Georgia Cornhole and the room was hot which made the boards themselves, play slower. These Addiction bags played slower than the rated 2 on the suede side. I would say in my conditions, they played like a 0-1, comparable to the slow side of a Jekyll & Slyde bag.
I have a hard line drive throw and found the bags to "hop" after landing but once they settled, they were like a rock, lol. So, can they block? ABSOLUTELY! But, keep in mind the bags are new. All suede bags right out of the box play slow. I am sure within a couple games, the slower side of this bag will play closer to a true 2 speed.
Now, onto the other side of the bag, the 4 speed side. I found the 4 to be the perfect side for these conditions and my throw style. The slower fast side gave me the confidence to get the bag up the board within the risk of it flying off the back. I also found that the faster side and my throw was enough power to hit some sweet pushes. With the smaller resin fill and the foot print of the bag, it is very hole friendly. Once I got the Addiction bags near the hole, they melt right in.
Playing on fast boards
Different set up, different conditions. Today I was at an indoor tournament, concrete floor and no heat so the room was cold which made the boards play faster. The bags definitely played like a true 2 and 4. The 2 side is a true blocking side while the 4 was slightly faster but not to the point of zipping off the fast board. If you like slower bags, the Addiction series is one you need in your arsenal
Check out our other bag series
We treated the bags with Sac Relax and here is the before and after!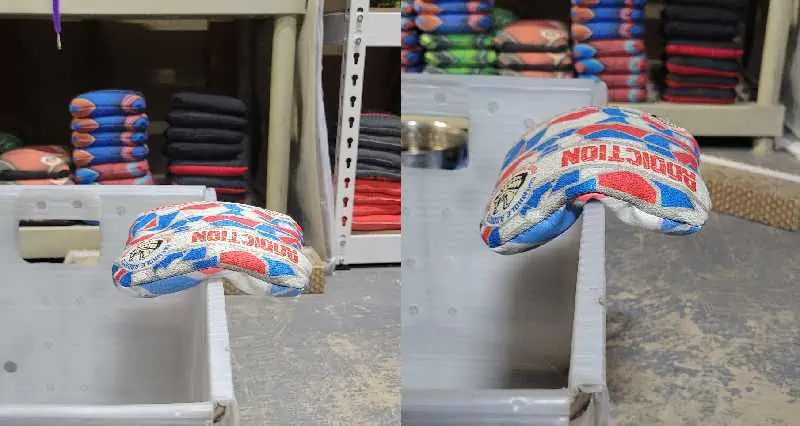 Check out the discussion boards at The Cornhole Forum