It may also be known as "corn toss", "bean bag toss", "baggo", or "bags", but true players passionately call it by its real name, cornhole. It's great family fun and is an addictive game you will not want to stop playing once you start.
CORNHOLE BAGS
CORNHOLE BOARDS
Professional Cornhole Boards made in the USA and built to the ACL & ACO specs for tournament style play.
Choose from our board designs or you can customize your own set of boards!
We are the largest cornhole resource on the web. Our Blog features tons of articles with how-to tips and techniques to get you from beginner to pro! Plus we have a great selection of pro cornhole bags, boards and more. Why shop anywhere else?
CORNHOLE ACCESSORIES
---
Do You Play Pickleball Too?
The Best Cornhole Bags and Boards!
We currently offer a selection of professional cornhole bags and most of them are in stock and ready to ship today. We sell regulation cornhole boards, customized boards, cornhole sets and more.
If you need help with your game, be sure to check out our extensive blog section featuring cornhole strategy, news around the cornhole organizations, Product Reviews, tips, tricks and techniques, pros perspectives, gear talk, about the game and so much more.
Our mission has always been to support those that support us. We accomplish this through sponsorship with clubs, leagues and players. Our support allows them to focus on what is truly important, growing the game. If you would like to be a part of the Addicts Family, hit up our shop page and grab some apparel and equipment.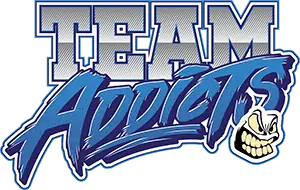 What happens if you go over 21 in cornhole?
The game ends when one person or team reaches 21 points. Therefore, it's ok to go over 21.
How far apart do boards need to be?
Regulation size 24″ x 48″ boards should set 27 feet apart from front to front of the boards.