Am I Up Yet?
So you played in a cornhole tournament this past weekend. How'd it go? Were you "that person"? Most people don't understand what it takes to run a cornhole tournament until you actually run one. Cornhole tournaments are "very profitable" and you should do one to add to your retirement fund, but before you consider doing it, look at the cost involved. While running a cornhole tournament is can be very rewarding, it is also very stressful at the same time. The reward most times is not financial, but sometimes you get lucky. Let's start with equipment required.
Cornhole Tournament Equipment
BOARDS
Finding good boards at a reasonable cost. That sentence does not make sense to any board builder, but as a tournament director you are offering to promote said board builder.
A good set of boards is a ¾ inch deck with 3 support braces down the middle.
That good set of boards should have a cross brace on the legs for additional support. I learned this from my dear friend Kang Cutes. The cross brace on the legs keeps airmails in most of the time, but also adds a layer of stability to the boards.
They aren't cheap. Material wise they are but add in the labor costs and tooling required and at best with you offering more sales to the builder you are looking at $100 minimum per set. And before you ask, I will never build you a set of boards for $100. 
BAGS
Tournament directors supplying bags is almost a must. Yes, most events are Bring Your Own Bags across the country, but what happens when your neighbor shows up to your event and has no bags?
Almost every bag manufacturer will discount their bags in bulk
Contact them and ask for a price. Cornhole has it's down months and most bag makers are looking to make payroll.
If you need help with discounted bags in bulk please contact me, lol.
SCORE SYSTEMS
Score towers out of PVC with numbers on corrugated plastic are common where I'm at. Build a stand out of PVC and screw the corrugated plastic on them and you are good to go. Keep a bunch of clips in a bag and roll with it. A great pointer is to go the $1 store and buy a bunch, they break. *Pro tip – get a lot more then you need, you can use them at home to keeps your potato chips fresh.
You can search locally or on the internet for the custom corrugated score tops, but be prepared to spend some money. Best deal I heard is $150 for 50 of them, but what are you going to do with 50 of them as a beginner tournament director.
There are advance scoring systems out there, like Digitowerz and Scoreholio, but I have no experience with them. I could do a review if they like, hint hint.
SOFTWARE
I primarily use Brakelope. Brackelope is available for Apple products only, but it's the best $10 you will ever spend for the full version.
Brackelope has a Live feature, you share the link and everyone can see the bracket and upcoming matches. But you need internet service to use the live function. Most people have unlimited data so learn how to link your phone to the iPad.
Sorry I have nothing else, I use Brackelope and personally love it. You Apple ID gets you all you devices for the $10. I have like 6 devices with the "pro version" for my $10, best $10 I've ever spent.
Respecting your Cornhole Tournament Director
So back to the original topic at hand. Running a cornhole tournament isn't just, here's the date and lets go. There are weeks of planning and dealing ultimately with the person paying you to provide services. Each phone call is the same story, I want $X to run the event. Here is what I'll provide and why you need me. Or, if you are lucky enough to have your own venues and take 30% of the pot that is good for you, but everyone needs to understand that comes at an expense.
Showing Up – You show up to a cornhole tournament early. It's 11 am registration and 12 pm bags fly. To your surprise everything is set up and ready to go. Yea that's right, a good director is their hours before registration setting up! Now I've been told I will be late to my own funeral so you get the point. Before I started running my own events I supplied boards to local TD's (tournament directors). I was asked to be there 2 hours before registration and I thought that was crazy, but doing my own events I understand you need to be prepared and be early. Being early allows for most issues, calling people to bring another score tower, running to get tape as you ran out, realizing you forgot something, etc.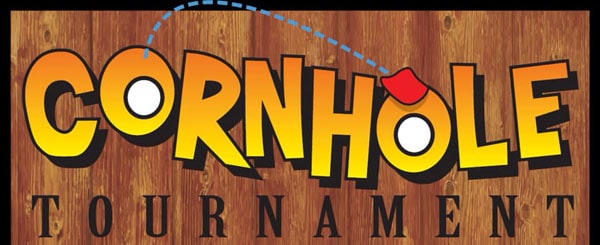 Tournament is Starting – Now the event is getting started. You can't find teams, someone is drunk already, everyone is asking the same questions, why haven't I played, I don't like these bags, when am I up, I didn't hear your announcement, does a one hop count, how do you score this, why do I have to play a good team this game, is it 2 out of 3, when am I up, my partner left what can we do, I won that game and you entered it as a loss, when am I up again? You are going to hear those questions constantly. It's like having a 4 year old, trust me I know.
My Advice – Don't ever be scared to be a "bully'. Now when I say that I mean you need these people to support you, you told the person paying you that X amount of teams should show. Be respectful, but the Alpha in the room. Call matches with authority and repeat them. When someone comes and asks where am I playing, be a smart ass. Don't belittle players but make snark remarks to remind them to pay attention to announcements.
Lastly, players need to understand that Tournament Directors have spent their own money on the equipment and are spending time away from their family to run this event. 30% cut sounds like a lot, but most TD's don't do this alone. I don't think there is anyone who can successfully run a 40 team event solo. Granted you will get help setting up from your friends, but that will end. A well run event of 40 teams takes at a minimum of two people and about 10 hours of their labor and their time away from their family and for what, $300? Most of you wouldn't work a Saturday for 12 hours for $300.
Wrapping Up – So, next time you feel it's funny to ask the person running an event dumb questions, think about what they gave up for you to spend a couple hours playing. First to arrive, last to leave. What is your time worth?
And don't be surprised when you ask me a dumb question and I tell you $4,000 for it all and run your own event and I will show. Cause quite frankly I will ask a bunch of dumb questions too.
Stay tuned for my future blogs and I will give an a more in-depth look at what it really costs to become a tournament director.