Peaks and Valleys
Let's talk about the evolution of a new cornhole player.
For me, cornhole is like golf, the more you put in the more you get out. Well, sort of……. Each sport you need some physical ability to succeed. I've grown up playing golf since I was 8 years old, and damn that's been a long time. I used to play golf every weekend, both days at a hard course. I met some great people and got my handicap down to a 2. But I was a 2 that didn't putt well. Then kid #2 comes along and golf is a work thing now. And while I am still able to hit some great shots at the 3 events I play each year, the all-around game is not there. When you are depending on your Operations Manager to make a 15-foot Eagle putt after you put him there, you are in trouble. He brought clubs 3 years ago cause his boss said you need to play golf. He is that blind draw partner that sends you home early. #startthecar
Golf is the type of game that requires you go to the range and hit balls for practice. And as always, those last 2 balls are the ones you will hit perfectly making you think you have it all figured out. Well cornhole is not much different. You play well a couple tosses, maybe win a couple games and suddenly and you are ready for the main stage of ESPN. Confidence is a huge thing in both. If you have no confidence in your game or practice routine you are screwed, I've been there. Heck, we have all been there. Stay positive or you will not have a good time.
Win or lose I've met friends for life playing cornhole. We may not see eye to eye all the time, but I can still call them and talk. And practice doesn't make perfect, perfect practice makes perfect! I would share a group on Facebook with good advice, but I'm now blocked from seeing it so sorry. But anyway, back to cornhole.
Picture this, you just attended your first tournament that was held outside at your brother-in-laws BBQ. You came in thinking I can't be touched, but went home after 2 games. Where do you go from there? Some people give it up but those with that competitive spirit search to get better. That's what I did. I scoured YouTube for videos of instruction, but it was all just matches of top players. One player from the 2016 Championship of Bags I saw a familiar throw was Scott Lane. I searched and searched Scott Lane, but all I found was Scott 'Freakin' Lane. I tried to mirror my throw towards his, and it was close. He has a short back swing and a decently flat bag and poof, airmail central. But I didn't have Hulk bags. I even grew a "beard" due to 2 weeks of having the flu and then wore a hat, and managed to get one comment about the resemblance. I'll take it!
For me, I started out throwing tumbler bags, that is how my little brother taught me to throw them. Man, my bounce bag was legit! Then one day I go back home and see he is now throwing a "flat bag" and one side is stickier then the other. So I begged him to get me a set of those sticky bags. And he did. But now they are completely beyond their sticky life. But I hang on to them and still have them today.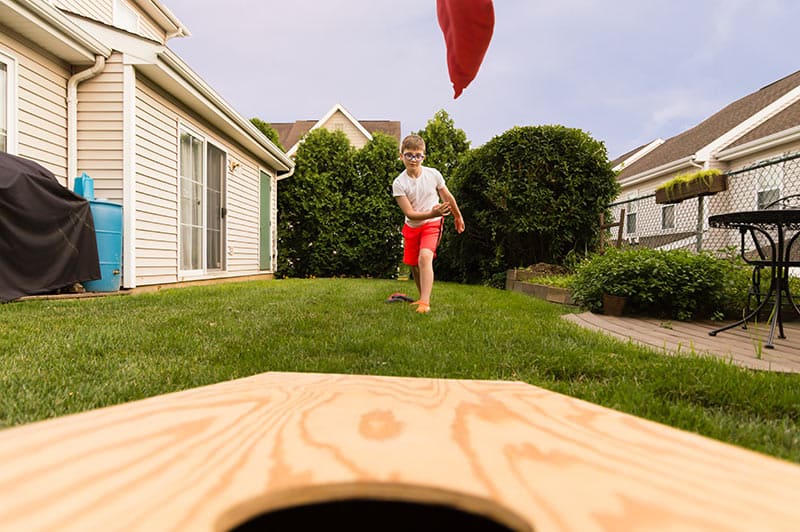 Now you are motivated and want to practice. You go from being the guy no one wants in the blind draw, to being a "maybe we can win" partner. Then you find it and it is absolutely glorious. You can't miss, talking trash to everyone. $5 a game? Let's go! Now people are starting to notice I am a legit player. I had a dinner after an event with OG New Jersey players who were legit players for years and still are. I made a comment that gave an awkward silence. I said "You guys/gals have been players the we looked up to for years but now I see you as beatable." And then I bought the next round of drinks. And even though I don't take first place, I show up to Tuesday league with all the momentum of beating a couple legit teams but then only winning one game in the finals out of the loser bracket. Still a monumental day for myself and Slim.
Back to the evolution of the new player, if you haven't figured out yet I ramble on and some how try to tie it all back together. Unfortunately like a corporate email you only read the first couple sentences, but I have some
good info below. As a new driven player, you will get "good" pretty fast. Most experienced players will take notice and be worried about playing you. You are dangerous, not a care in the world and all the potential. But don't slack off, you still need to practice. This phase is not going to last, trust me. Unless, you are one of those gifted people just like golf. The best player I've ever played golf with said I don't practice, I hate this game. And quite frankly I heard that from James Baldwin in Philly circa 2017. All of us less talented players often ask how much do you practice, "I don't, I'm lucky to be good at this and only play cause I'm good", he replied. I'm paraphrasing that as I had more to drink then he did. But if you are reading this, you are probably not as gifted as those players. But if you are, I can find you sponsors, LOL!
Peaks and Valleys is what my baseball coach said when I was 16 years old. Take the peaks and stay out of the valleys and you will win. This is very resonating with me right now as I've seen a couple peaks and too many valleys in cornhole. The best players eliminate the valleys and stay close to the peaks. A 1- point round to you is a win in this game. The more you can accept the 1-point round as a win, the better you will be. Don't throw the dumb airmail to win the game when you haven't hit one yet. Take the one point and keep chipping away. You will have many valleys in this game but practice will make you minimize the valleys. If you can find a good player to practice with, then you both will get better. I played with a guy whose father was a professional horseshoe player. He used to throw the shoes back to his father and then ended up beating his father in a national event.
Perfect practice, makes you perfect.
Ok, so, keep your head up, keep practicing and make minimal changes to your game. I've went from right foot
forward to left foot forward and back. Feel comfortable and you will be confident. Confidence will get you through the valleys.