After 2.5 years, we have officially launched our own lineup of Cornhole Addicts bags. We currently offer 2 great options. The first in the series is called Addiction and it was release at the beginning of March. The 2nd bag is called Fixation and it was just released on 3/21/22.
Cornhole Addicts Bags: Addiction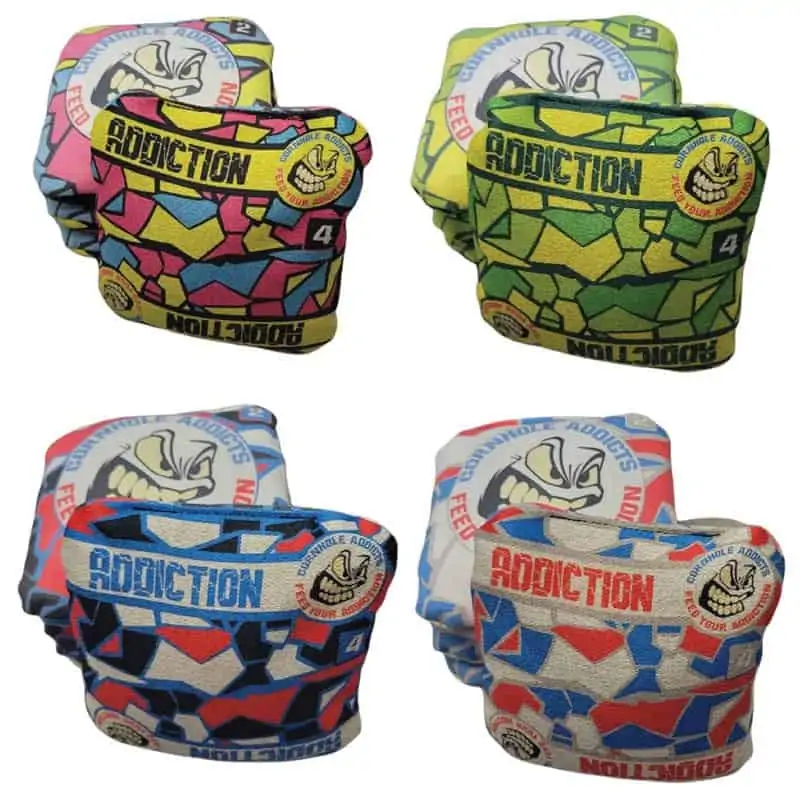 For the past 2.5 years we have collected a lot of data on our website in an attempt to find out what exactly people want in a cornhole bag. Taking all that info into consideration and looking at the bag market, we find there aren't many options for a slower bag. That is where the Cornhole Addicts bag Addiction came from. This bag is a slow bag with speeds rated at a 2 and 4.
This is a great bag for beginner throwers who want to build their confidence without worrying about a fast bag flying off the board. The Addiction features a suede side with a speed of approx 2 partnered with a slightly faster weave material with a speed of approx 4. The bag weighs 16 oz, has a smaller Pro fill, feels great in the hand and takes minimal time to fully break in. But to speed up the process, we recommend treating the bag with Sac Relax.
It is very hard to compare this to another bag since there are very few slower bag options. The 2 side plays like a 2-1 in some conditions while the 4 side plays like a 4-5. I suppose it would most resemble a slower version of the Slide-Rite.
Cornhole Addicts Bags: Fixation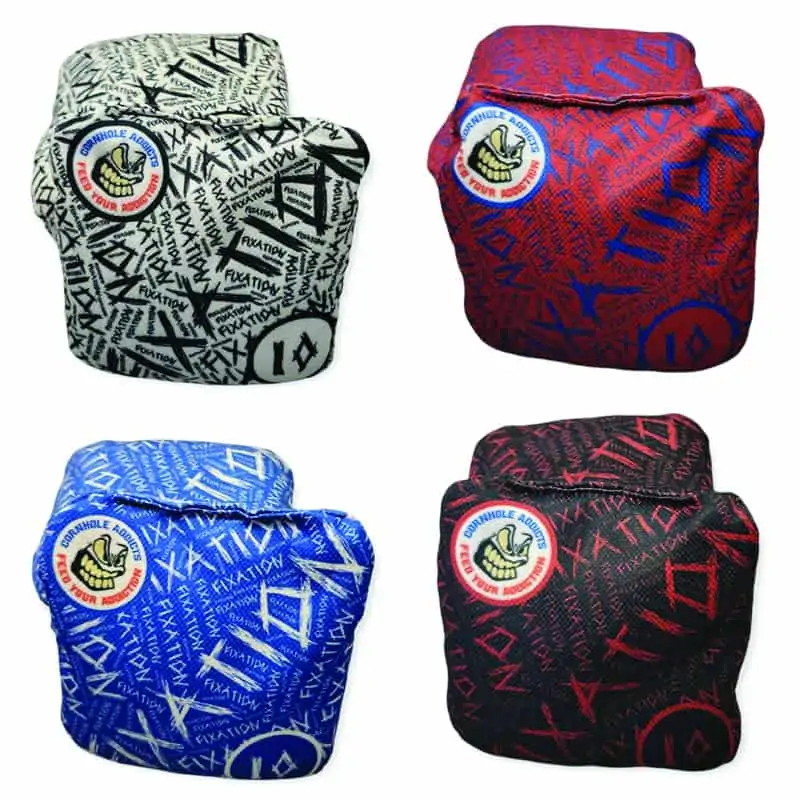 The second bag in the Cornhole Addicts bag series is called Fixation. Both Addiction and Fixation bag series feature the speed rating on the appropriate side of the bag so you will always know which is the faster or slower side. No more guessing! With the fast side of this bag, you'll be able to pull of some of the wildest slide in shots imaginable from sliding around your opponent's bags to sliding the bags in from behind the hole. The slow side of the bag is a fantastic fabric for control without the kick of other bags.
The Cornhole Addicts bag Fixation is a faster type bag with speeds rated at a 5 and 10. Not to say this bag isn't great for a beginner but if the bag lands on the faster of the 2 sides, it could have enough momentum to fly off the board. The slower side of the bag is perfect for blocking or sliding directly into the hole while the other side will push through bags or seek the hole for those high-arc throwers. This is an all around versatile, hole friendly bag with just the right amount of fill. Get the Fixation near the hole and it will drop.
This bag can be most compared to a slower version Titan Stampede. Right out of the box, this bag plays true to it's speeds. It comes with a nice broken in feel which after a couple game, will get even more hole friendly. For me, I don't like to use Sac relax on bags that feel good new but to each his/her own.

ADDICTION BAG REVIEWS:
These bags are quite unique. I love them. They play exactly as numbered for their speed rating." – Stephen
"Great feel and play abilities, used sac relax on it and became nice and floppy." – Cody A.
"Y'all did amazing, had lots of people jealous of my new bags" – Bret C.
FIXATION BAG REVIEWS:
"You know that feeling when you grab a set of cornhole bags and they just feel right, they are comfortable in your hand, the weight is right, the fill is right, you just feel like you can do some damage on the boards with the bags, well that's what these Fixation bags felt like right out of the box and they did not disappoint!! These bags were a beast on the boards, extremely smooth playing, very hole friendly and once I started using them I did not want to use any other bag.
I put them in the hands of a bunch of other players and they all loved them, nothing bad to say about them. I even had someone ask to buy them off of me right on the spot and when I said no they went right to Cornhole Addicts and ordered a set." – Mark P.

"These bags are right in my wheelhouse of what I like to throw. No break in necessary, just unbox and throw! Went 7-0 with the bags first day I got them" – Philip W

"Your new Fixation bags are excellent. I got them quick, ( 3 days from order). I'm looking forward to your next bag drop." – Stephen M.
These bags are not currently ACL Approved but we plan to do that next season.