Learn from the pros with cornhole lessons to get that competitive edge! Everyday there are more and more people either looking to learn the game of cornhole or for those that already play, looking to take their game to the next level. Many have hopes and dreams of having the title, Pro but there is a lot of hard work to get to that level. This season has shown us that if you are not throwing a PPR (Points Per Round) of at least 10.5, you probably can't hang with the elite in the field.
There is a lot more to cornhole than just putting the bean bag in the hole. Without the proper knowledge, you can practice all day and night and still not acheive the results you are seeking. You need to know the best stance, how to hold the bag, different ways to release the bag, the strategy of the game, when to shoot the airmail and more. Pro players don't just toss bags, they need to strategically think about each shot and, they only have seconds to do so.
Cornhole Lessons – Learn from the Pros for that Competitive Edge
Probably the best way for you to get that competitive edge is to take cornhole lessons and learn from the Pros. Recently, top level players have turned their love and passion for the game into a business of offering lessons to players of all skill levels! This is a great way for beginners to learn the game or seasoned players to advance. They can will bring value to beginning, intermediate, and professional players. After all, if you want to be the best, you need to learn from the best!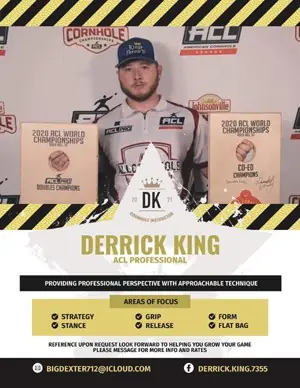 One of the first player to start doing this was Derrick King (DK). He is one of the best in the game with many accomplishments under his belt including a 2020 Doubles World Championship title. He has the skills, knowledge and patience to help you learn and understand the basics of cornhole. The DKWay started at the beginning of this year, January 2022 and he has already helped over numerous players by teaching them about strategy, stance, grip and release, form and how to throw a flat bag.
Right now, there are only a few Pro players offering cornhole lessons but give it time, and more will join. So, if you want to take your game to the next level and learn from the pros, here is a list of players that can help you. We will do our best to keep the list updated.
---
In order to play your best, you need the best, professional grade equipment. That is where we come in! We sell bags, boards and everything else that you need. Lessons are a great start but you still need the right equipment.