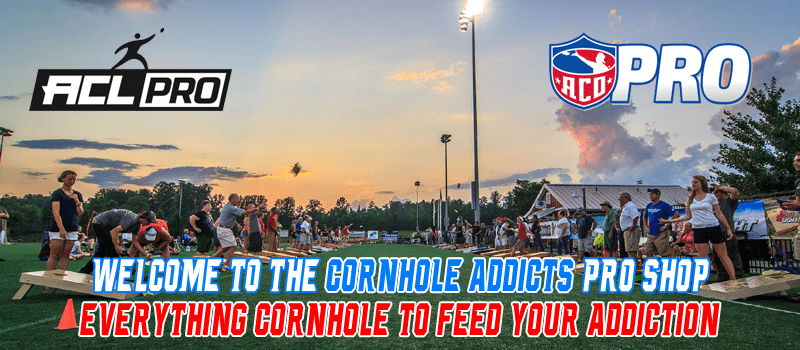 As cornhole continues to grow, many people are looking to join the ranks of the top players and become professional cornhole players. Here are a few suggestions to get you going in the right direction. First thing you need to do is get out of the backyard and compete in local tournaments against some of the best players in your area.
[wpadcenter_ad id=155387 align='center']
When you are ready to take it to the next level and hang with the big boys and girls, there are a couple places to turn to. You can become a member of The American Cornhole League (ACL) or The American Cornhole Organization (ACO). They both offer events all around the nation where registered players compete for points in order to make it to world final tournaments. We are not going to tell you which organization is better to join but look into both and make your own judgement.
The ACL, American Cornhole League
The ACL promotes and develops cornhole as a sport for any age and any skill level. The organization establishes the rules and regulations to govern the sport around the world. They have their own professional cornhole players referred to as ACL Pros.The ACL is divided up in conferences based on the area you live in. The conferences are as follows:
SouthEast, NorthEast, Mid-South, Atlantic, SouthWest, Mid-West, Carolina, Mid-East, Mountain South, Mountain North, West, NorthWest, Mid-North and Great Lakes. The ACL is responsible for bringing cornhole to National TV on stations like NBC, CBS and ESPN.
The ACO, American Cornhole Organization
The ACO is an American organization for the sport of cornhole. Based in Milford, Ohio, the ACO was founded in 2005 by Frank Geers. It is a one of 2 of the largest organizations for cornhole which runs and promotes Professional & Recreational Cornhole tournaments and leagues through its nationwide network of ACO Certified Officials. The ACO has formalized official cornhole rules and has established a system for cornhole players handicap and established the ACO World Rankings for the sport of cornhole. They have their own professional cornhole players referred to as ACO Pros. The conferences are as follows:
Big South, Great North, Heartland, Mid Atlantic, Midwest, Mountain West, North Atlantic, Pacific Northwest, South Atlantic, The Old West and West Coast
For more information on joining, playing or becoming a pro in either organization, check our blog. We have some great articles for you!
American Cornhole League (ACL)
American Cornhole Organization (ACO)
---
Professional Gear for Professional Cornhole Players
Whether you are a beginner or seasoned player, you need the right equipment to take your game to the next level. Be sure to shop our products and support us so we can continue to bring you EVERYTHING CORNHOLE!! Check out our full line of bags, boards and accessories
Top Selling Cornhole Boards