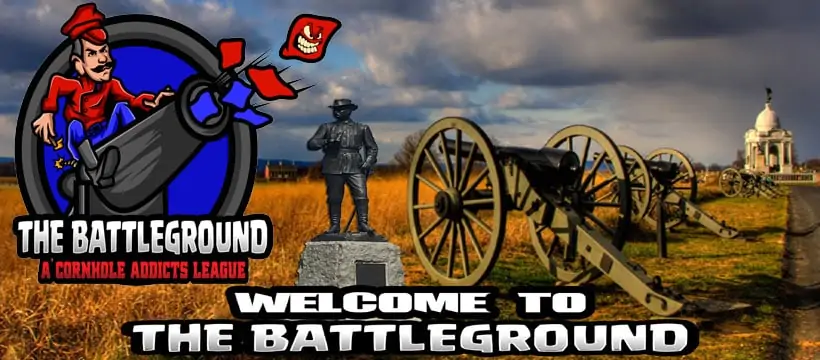 The Cornhole Addicts™ Battleground was started as another way for us to focus on our mission to "grow the game". It is a League that offers a place with a family atmosphere for all cornhole players from backyard beginners to professionals to connect through cornhole. As the sport becomes more popular, people are always looking for places to play. This league was born out of a necessity and has already become a home for many players in the Gettysburg and surrounding areas.
We want The Battleground to be a social organization for all people, no matter what age, gender or skill level to gather, meet new people and socialize while having fun playing and learning the game of cornhole. Someday, we would love to have a Battleground league all over the US. Our first one is a huge success being hosted by ACL Pro Clayton Robertson.
All skill levels are welcome to join, in fact, we love and encourage players coming out of the backyard and looking to enter the competitive side of cornhole to come on down and throw some bags. Everyone is super nice and friendly and would be happy to help you improve your game or just learn how to play. For more information or to register, you can either find us on our FB group or in the free Scoreholio app
Where & When
Monday Nights at Jack's Hard Cider located at 1863 Gettysburg Village Dr, Suite 420, Gettysburg, PA 17325

Friday Nights at Welcome to the SmitShow located at 51 Spring Lane Rd, Dillsburg, PA 17019
Upcoming Tournaments
We have a couple things in the works, will announce as soon as possible
Need Someone to Host Your Cornhole Event!
We also host tournaments! If you are looking for someone to run your tournament or fundraiser, please contact us. We can use your equipment and just run it or we can supply all the equipment. Lets talk!
The Battleground Equipment
The Battleground Apparel
The Battleground Accessories
---
We follow ACL rules and our equipment is built to ACL standards. For more bags, boards and apparel, please visit our Pro Shop