Playing cornhole is beneficial for people of all ages and generations. This popular lawn game involves throwing bean bags at a raised platform with a hole in it, trying to land them in the hole or on the platform. While it may seem like an easy game, there are many benefits to playing cornhole that make it a favorite pastime for many.
Table of Contents
6 Advantages of Playing Cornhole
Socializing
Cornhole is a great way to bring people together and socialize. It's a fun game that can be enjoyed by people of all ages and skill levels, making it perfect for family gatherings, backyard barbecues, and other social events. Whether you're playing cornhole with friends or playing cornhole with strangers, it's a great way to break the ice and connect with others.
Competition
While this is a fun game to play for leisure, it can also be a competitive sport. There are many leagues and tournaments held throughout the country, offering players the opportunity to compete against others and showcase their skills. Playing cornhole for competition can be a great way to challenge yourself, improve your skills, and meet other players. Check out the Scoreholio app to find events in your area
Exercise
Playing cornhole may not be a physically demanding game, but it still provides some exercise. Throwing the bean bags requires some arm strength and coordination, and constantly moving around the playing area can also provide some light cardio. For those who may not enjoy traditional forms of exercise, cornhole is a fun way to stay active and burn some calories.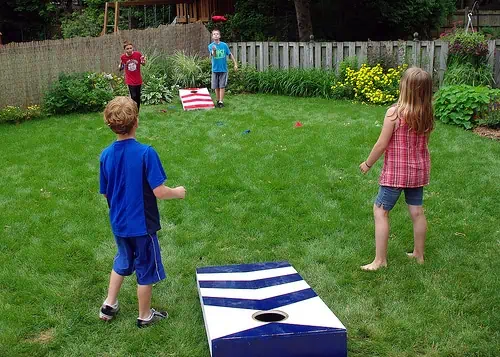 Relaxation
Playing cornhole can be a great way to relax and unwind. It's a game that doesn't require a lot of mental energy, allowing players to focus on having fun and enjoying the moment. Whether you're playing with friends or enjoying a solo practice game, cornhole can be a great way to de-stress and take a break from the busyness of everyday life.
Skill Development
While it may seem like an easy game, playing cornhole requires some skill to play well. Throwing the bean bags with accuracy and consistency takes practice and skill development. Whether you're a beginner or an experienced player, there's always room for improvement. Practice does make perfect playing cornhole.
Accessibility
Playing cornhole can be enjoyed by people of all ages and skill levels. The equipment is easy to set up and although it does require quit a bit of space, most backyards have a large enough playing area. If not, you can always head to your local park. It's also a game that can be adapted for individuals with physical disabilities, making it a great way to promote inclusivity and accessibility.
In conclusion, playing cornhole is fun and enjoyable game that offers many benefits to players. From socializing and competition to exercise and relaxation, playing cornhole can bring joy to people of all ages and skill levels. So the next time you're looking the perfect game to play, grab a set of bean bags and head outside to enjoy the joys of cornhole. Be sure to check out our post on cornhole distance and cornhole scoring. Be careful, playing cornhole can lead to an addiction!
At Cornhole Addicts, we have a huge selection of pro cornhole bags, boards and more. Get shopping with us now!