Whether you're playing cornhole on a relaxing weekend at the backyard, or you're in it for a little fun competition, this game is set to bring good vibes for everyone. However, many people may overlook that cornhole has its own set of real mental health benefits. How exactly does this game boost one's mind and overall wellness?
Cornhole is a wonderful sport that doesn't require superhuman skills–its barrier of entry makes everyone, old and young, enjoy a good game or two. No wonder, you see this game everywhere: In camps, weekend get-togethers, and even in the competitive field. Cornhole is as versatile as it can be.
Did you know that this game also brings a variety of mental health benefits? With the current global situation, people should be given much-needed strategies to curb the anxiety and depression caused by social distancing and isolation. If you're contemplating trying cornhole, here are some of its wellness advantages.
Mental Health Benefits Of Playing Cornhole
Physical activity boosts mental health
Cornhole isn't a static sport. To play this game, you should develop the skill of tossing corn-filled bags with the right strength and precision. Sure, this may seem simple, but it takes some practice to consistently score against another player or team.
Walking and vigorous arm movements are a part of playing cornhole, making it a suitable physical activity for beginners. There are studies that show how physical activity aids in mental health. When one engages in any form of active exercise, sport, or physical games, there is a significant increase in one's positive affect. This is due to the release of brain chemicals called serotonin during physical activity. People feel happier, content, and relaxed.
A healthy distraction with life's worries
Sometimes, the battle isn't on the external side of things. Many of people's struggles are in their minds–rumination, constant worry, and self-loathing thoughts often bring those with mental health issues on a downward spiral.
Playing cornhole is a healthy distraction with these negative patterns of thinking. Instead of being idle and sinking in these self-defeating ideas, playing cornhole helps people focus on strategies to win the game. This is a form of productive thinking, which boosts cognitive skills and improves confidence.
If you're filled with worry and negative thoughts, it is ideal to banish this way of thinking by taking time to do some healthy distractions such as cornhole.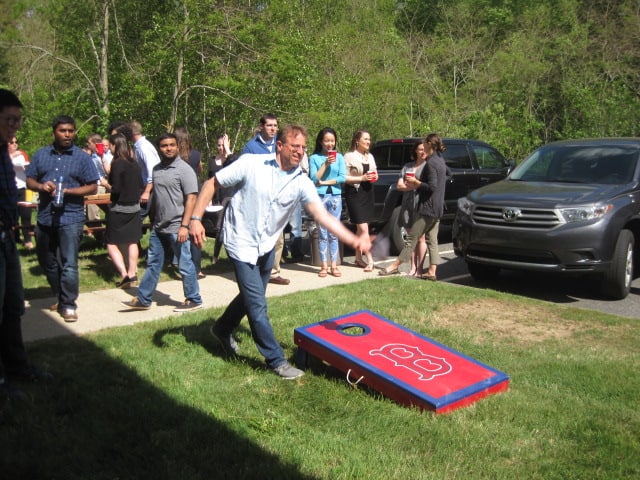 Pathway to social interactions
Playing cornhole competitively can be a great way to open doors for social interaction. Sometimes, people are so accustomed to being at home with their loved ones facing their own screens and gadgets. If you want more than just watching TV or doing chores at home, having a cornhole set is a wonderful option to encourage real social bonding.
According to a New York Times article, social interaction is highly linked to improved mental and physical health. When you spend time with people to create healthy connections, you tend to be happier, have fewer illnesses, and live longer. The old adage is true: "No man is an island". With modern-day exposure to self-entertainment using gadgets, it can be challenging to establish relationships with others. Having a cornhole set is a simple way to have fun in the presence of others without much preparation.
Trying Cornhole for Mental Self-Care
Still on the fence about cornhole? Perhaps you might want to see it as an investment for your mental health, especially during these challenging times. With all the main benefits mentioned here, it can be one of your simple strategies to cope with mental health struggles.
If you enjoyed this article, check out another one entitled Dominate the Mental Aspect of the Game
This post was contributed by Patrick Bailey. You can see more of his writings by following him on Twitter