Hey there guys, I hope you all are staying safe during these troubling times and staying healthy! While everyone in today's world is busy wiping down all their furniture, doorknobs, being more sanitary, we're left out here with our "dirty laundry." Now I know what you're all thinking, why are The Cornhole Addicts writing about dirty laundry? Well, the answer is quite simple, Cornhole bags are what you could say is "our laundry" so just like clothes, you will be washing cornhole bags.
All of us die-hard Cornhole fans are out there practicing every day in hopes to be the next Jamie Graham or Matthew Morton, while our poor bags are picking up all the dust, germs, beer spilled, and heaven knows what else. So today we are going to answer the renowned question of… What's my method of washing cornhole bags?
Take a moment and think about all the places inside and outside your home that you usually clean things? Once you have all those in mind and jotted down, you have nearly every place for washing cornhole bags at home. Bath rubs, sinks, washing machines, dishwashers, driveways, and probably tons of other places that I'm not as familiar with! As you can imagine, there are many different ways to clean your bags, but which one is the best? Your answer probably will vary on who you ask because everyone has their preferred way to do so.
Let's take a moment and dig into just a few of the methods I've seen/heard of over the years. These methods are for resin filled bags and should never be used on corn-filled bags.
Washing cornhole bags by hand
Probably the least popular way, and one of the oldest ways to do so was using a brush and detergent. Wet your bag(s) that you're going to tackle first (can let them soak overnight or right away), take a cup mixed with dish/laundry detergent, and start the process of scrubbing and washing cornhole bags individually. Though the result is most noticeable on white fabric, this method works great as it digs into the fibers of the fabric and can get some of the deepest germs and residue off the bags. Then let the bags air-dry by using a fan, or sticking them in the sunlight.
***Caution: When sticking bags out in the sun to air dry there can sometimes be color damage or lightening of the color on the bags.
Bulk washing bags in the driveway
This method is less invasive on the bags and doesn't clean them as well as the other methods do. The gist of this concept is to lay out all your bags in the driveway, take your water hose and spray all the bags down, flip them over and spray them again, and then set them out to dry. This method can be combined with the scrubbing method above to hold better results. This is probably one of the quickest ways of washing cornhole bags in bulk, but it's limited to whether the weather is cooperating.
Washing bags in the washing machine (most popular)
As you probably guessed, people are washing cornhole bags in the washing machine! This method can be used to wash a few sets at a time and can be washed like a regular load of laundry. The downfall of this method is that it will break your bags down (loosening the fabric of your bags). Since the bags will be thrown around the washer they are more prone to this. You can use regular laundry detergent and fabric softener if desired, this will give your bag that soft touch with a clean finish.
After washing cornhole bags, you then need to dry them by air-drying them or sticking them in the dryer on low to no heat. This will also cause the bags to be thrown around more so it's recommended to dry them with a load of towels or such to prevent them from being thrown around so much.
A heated cycle will work to dry your bags too but if your dryer gets extremely hot and it's more than the beads can endure, they will melt and ruin your bags. The heated cycle will make your bags feel slightly firmer at first because the fabric will "shrink" as it does with clothing sometimes. Bags will loosen back at an extremely fast pace and in a sense be looser than before because fabrics break down over time inevitably. There may be more steps that can be added to this process to get slightly different results. This method is also used on brand new bags when people don't wish to break them in themselves and can expedite the break-in process.
***Caution: Bags with snags or little holes are prone to bursting so please be cautious to check your bags before doing so.
There are many more methods to the madness, but overall these are the most common and ones that we are most familiar with. Some other methods include but are not limited to:
● Dishwasher: unfamiliar with this method, but low heat would be a necessity.
● Soaking bags in the Bathtub: let the bags soak overnight and when you check them again the water will have taken out some of the dirt and residue off the bags. You can also combine this with the scrubbing technique to get a better finish.
● Cleaning in the Sink: quick wash your bags by running water over them while scrubbing them and sit out to dry.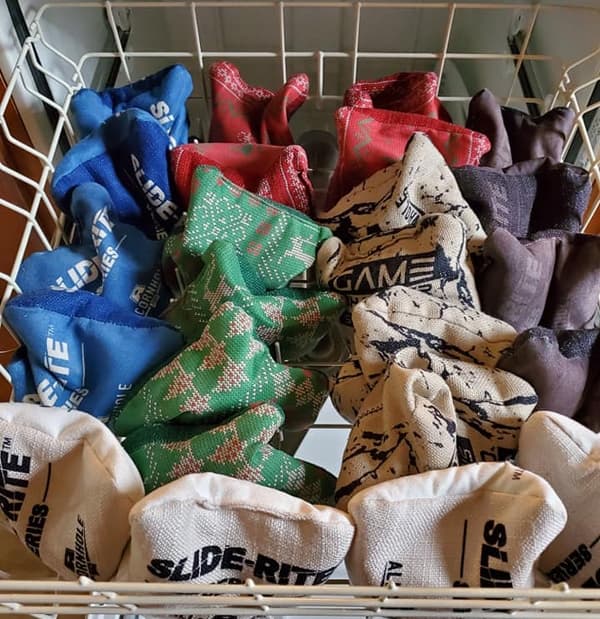 Overall, the way you choose for washing cornhole bags is your preference, but we hope that this has helped some of those wondering how to do so find the method that suits them best. We'd love to hear any other methods you guys use, and if there are better ways to wash bags drop a comment and let us know what it is! If anyone has any other questions in regards to washing bags, reach out to us or your local directors, as they may provide you with some useful information.
If you are looking for new bags, we have tons of the best bags from top manufacturers. Visit our Pro Shop and if you need help selecting the right or best bag for you, check our bag recommendations.
This article was written by Caleb Avery of AveryNation. Be sure to check out his blog for some great articles.