Cornhole Addicts has been around for 3 years and there are still people who don't know who is behind it and what it stands for. It's about time we wrote this to let everyone know who is behind the brand, why it was started and what direction the brand is going.
Who is behind the brand?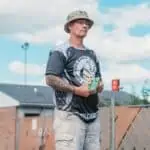 Lets start from the beginning with Who is Cornhole Addicts and how I got addicted. I am David Abate, the one and only person behind this company and brand. Like many, I started playing in the backyard, mostly at my buddy Jim Droney's house. Never really took the game seriously and only played maybe 2-3 times per year, mostly when Jim had a party. I always loved to play any and all backyard and skill games such as quoits, washers, badminton, volleyball, etc.
One day, Jim and I found a local tournament, and like many others we said, let's go and dominate. Like every other player that mutters those words, that was not the outcome. We got our butts handed to us by a bunch of competitive players. While we didn't get a win that day, I gained something even better.
I believe it was back in 2016 and the tournament we went to was the annual Stirling Elks event which introduced me to the Stirling Elks League where I met a lot of great people who became great friends and mentors through my cornhole journey. The addiction was started and although Cornhole Addicts wasn't actually anything yet, I feel that this is where brand was really born.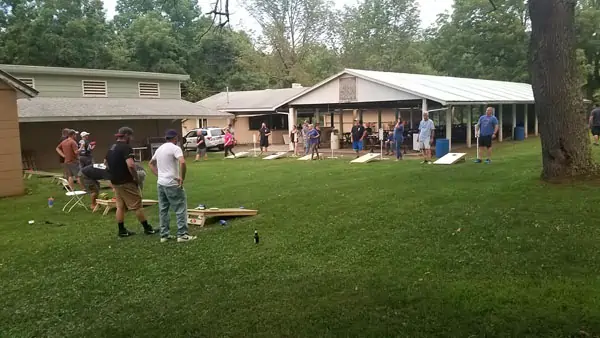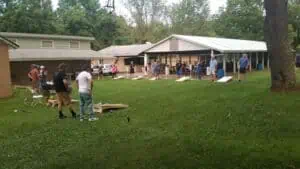 The Stirling Elks league was an awesome smaller league, 4 sets of boards and a close knit group of solid players. But, it was also about 45 minutes from my house which sucked on a weeknight. In talking with the players there, I met a couple that lived local to me, Tom Bostock and Lou Rehl, and we decided to start our our league closer to home. We search high and low for a place and in 2018, we started Hunterdon County Cornhole playing outdoors at the Clinton Elks!! It was a great place to start and it worked when the weather was nice but we knew we needed a new home come winter.
I believe it was the winter of 2018, I suck with dates, when we found and moved to the Firehouse in Bloomsbury. We have a nice indoor place, 8 sets of boards, a full bar and kitchen. I recently stepped down from the management position so I could focus more on my business. But is and always will be my home league!
The start of the website and brand
I have always been a computer geek, yes I will admit it I am a geek. I have knowledge of building websites, knowledge of the internet and knowledge of SEO. I am 100% self-taught, I never went to school for any of it. When you love something, you want to know more about it and strive to be better. Whether that thing is a sport, hobby or whatever. I have started and ran many websites in my day and prior to cornhole I had a very successful ATV website forum where people could meet up with others in their area and hook up for riding.
So once I got hooked on the game of cornhole, it was a no-brainer to start a website. Back in August of 2019, I registered the domain and Cornhole Addicts was alive. I started with selling a few t-shirts, mostly custom designs I created and then I added the blog section. We currently have over 100 informative articles covering everything from how to play the game, how to throw a flat bag and more.
I have always had the mid-set to do things no one else is doing which brought me to the idea of making profiles for the Pro cornhole players. Then I started adding equipment, gear and apparel to make the website a true One Stop Shop for Everything Cornhole! What started as a hobby quickly grew into an obsession. Not just with the game but obsessed to be the best cornhole related website out there. While I believe we could be there already, I continue to work daily to make sure!

What is Cornhole Addicts mission and goal
My mission for Cornhole Addicts from the beginning has been to grow the game by supporting the players. Not just the professional players but everyone from backyard beginners to advance players. The plan was to support players and be a part of their cornhole journey to help them get to that next level. That is still our mission and plan today, it just seems to get a little tougher with each passing season.
Our goal for Cornhole Addicts is to be the best, most informative cornhole related website on the internet. A go-to hub for everything cornhole. We want to be a brand for the people that stands for something bigger. I am a very humble person and still get a little emotional when I walk in to an ACL event, local tournament or blind draw and see the logo on so many things like shirts, bags, jerseys, hats, etc. I never dreamed the brand would grow as big as it. I am very thankful and appreciative. Your support helps us to continue our mission, continue to grow the game, to give back and help the players, all players!
THANK YOU
We Want Your Feedback!
Thank you for reading the entire article about us, now we want your feedback. Take a couple minutes to fill out our customer survey and at the end, you will have a chance to win a $50 Gift Certificate!! We will stop taking entries on on Friday September 9th and the winner will be randomly drawn on September 10th.
We only have 1 rule to the survey, you answer it honestly!! We want brutally honest feedback. We can't fix what we don't know is broken!
Customer Survey