Greyson Waller
TeamAddicts Sponsored Player

Most Memorable Moment:
When I hit a sick airmail drag to spark a comeback, and yea, we won that game!
Nickname:
GW
Preferred Bags:
I do not really have a go-to bag, I throw whatever is working that day!
Favorite Color:
Green
Favorite Hobby:
Playing cornhole
Favorite Food:
Dirty Rice
Occupation:
Student
Hometown:
Chesapeake, VA
My Home League:
Coastal Baggers
Favorite Player:
James Baldwin
Favorite Shot:
Airmail
Mentor:
My dad


Greyson Waller is a Sponsored Player for TeamAddicts and from the Atlantic Conference. This is his story of how he started playing cornhole.
I got started playing cornhole down at the campground I go to and everyone was playing down there so I figured I could give it a try. That's when I fell in love with the game
This young man has been on a tear in 2022, beating some big name ACL Pro players such as Trey Burchfield, Tony Smith and Dayton Webber and he isn't done yet!
Accomplishments:
ACL Open #5 2022 in Virginia Beach, Tier 2 Doubles Champion with Nico Mireles
1st place VA Junior State Champion 2022
1st place Beast of the East blind draw 2022
2nd in competitive singles at VA Open 2021
2nd in competitive doubles at VA Open 2021

ACL Open #5 2022 in Virginia Beach,
Tier 2 DOUBLES CHAMPION with Nico Mireles

Virginia State Juniors Champion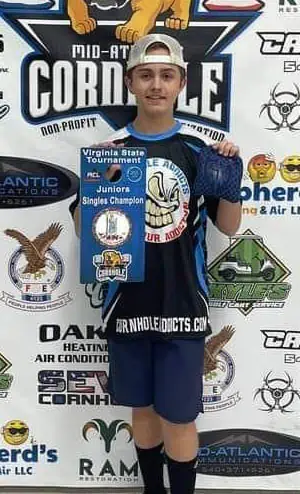 Greyson Waller Beast of the East 2022 blind draw CHAMPION
with Jordan Camba!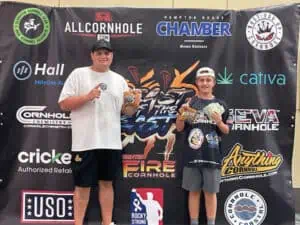 Be sure to follow us