Throwing a Cornhole (Not sure what a "Cornhole" is? Check the List of Cornhole Lingo) every time is actually harder than it sounds but with the right knowledge and practice, you can get the hang of it. So read on for some cornhole tips to improve your game and help you do just that. The right throw and some consistency will supercharge your odds of throwing a Cornhole each time you play.
Throwing a Cornhole bag into the hole is a lot less of a science than it is an art. There is no question that the perfect arc and the perfect slide will get your Cornhole bag in the hole every time. The trouble is in actually throwing your cornhole bags with that perfect arc and slide every time. Here are some cornhole tips that will help you achieve that more often.
Cornhole Tip – Arc
One of the most important parts of the toss is having the right arc. If you have too much the bag will hit the board and stop. Too much arc also adds air time which leaves more room for error. If the bag starts off course by just a little, the longer it has in the air, the further off course it becomes. This sticking power might be helpful for the one pointer's and/or the people looking to throw a blocking bag but might make a Cornhole a little more difficult. Too little arc and your Cornhole bags might just launch off the back of the board. The perfect arc lets your bags slide on the board without getting too far out of control.
Cornhole Tip – Slide
If you use the boards slide to your advantage, you will be sure to get more Cornhole bags in the hole. Don't be afraid of the bag sliding if you want to make a Cornhole. It simply gives you a bigger target. If you play on different boards, you will have to adjust to all sorts of playing services. Some boards and bags are really slick, and on some boards, the bags just stick no matter how flat your arc. This can also be altered by the temperatures if you are playing outdoors. You will have to adjust your arc to accommodate all conditions.
Take a look at the pic below which will show you how to use the slide to your advantage. Sliding your Cornhole bags is the key to getting more cornhole bags in the hole. You really have about 3ft of error room by sliding. If your bag hits 6in or 2ft before the hole it doesn't matter. Either way you still have a chance to make the Cornhole if you are using the slide to your advantage. The only thing you have to do is keep it straight.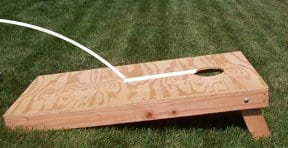 Cornhole Tip – Form
Keeping the right form keeps your bags straight. This is where consistency is important. You must also keep that consistent arc. Once you discover which form achieves the right arc, slide and keep your bags straight, practice makes perfect. Just wash, rinse and repeat. Look here for different types of throws so you can Find Your Perfect Cornhole Throw. No matter which toss you use, consistency is the key. Once you master the form that works best for you, you're on your road to a Cornhole every time. Well, maybe not every time, but most of the time might be a goal worth shooting for.