It hasn't taken long for our third "After School Bagger", Kaeden Moore to rise up through the ranks of the cornhole world. He played in his first competitive tournament just ten months ago, but if you hear his name at your next tournament, you better stand up and take notice, because he is one to be reckoned with!
His first big tournament was at a regional in January of this year, and he was already showing signs of greatness then. "I threw with my partner Jason Ramsey at the Rockys Regional in Norfolk, Virginia and we placed 5th." He has been on the rise ever since, and just this past weekend he earned a 4th place finish in his first ever Advanced Singles Regional.
Kaeden, who hails from Virginia, got started in cornhole a little over a year ago by attending weekly blind draws that his mom and dad were throwing in. He would throw bags and practice, until they thought he was ready to play. The weekly cornhole has only increased since then.
"I play Mondays and Fridays at Southside Cornhole. When time allows we travel to Eagles Nest (Chesapeake, VA), Bowling Alley (Franklin, VA) and Eagles Club (Roanoke Rapids, NC). I am fortunate to play at places that are loaded with talent that it can often feel like we are playing at a Regional."
Kaeden is on the rise
All of the practice and weekly league play have been paying off bigtime for Kaeden, and along with the 4th place Advanced Regional place, he says his biggest accomplishments in cornhole are making Tier 1 at the Albany Open this past June and winning the Sykes Regional with Bailey Moran. "As far as my biggest singles match win, I would have to say it was against Ken Smith Jr, because since then, he has turned pro."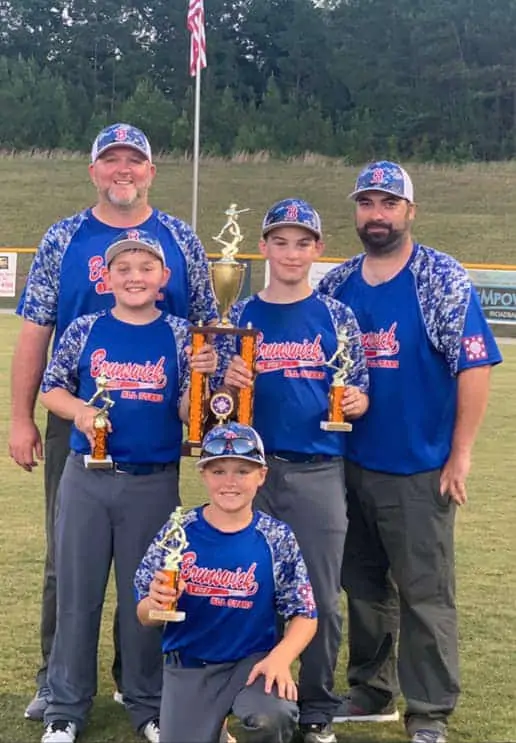 And if it sounds like they are on the road a lot, going to tournaments, you are correct, but this isn't the only sport that Kaeden and his family do a lot of traveling for. He is also a talented baseball player as well, and plays travel baseball for Top Hand Reds 13U out of Emporia, VA. With Kaeden's talent in both baseball and cornhole, he may need to decide one day what he wants to turn pro in!
With all of the travel and activities going on in the Moore household, he realizes how important it is to have the support of his parents, and that Kaeden obviously knows that.
"The people I admire most are my mom and dad, and I cannot put one above the other. They both sacrifice a lot to make sure that my sister Kynzlee (age 7) and I have the best opportunities to succeed in life." And I can only imagine how busy the Moore's schedules are, because along with everything else, Kaeden says they have 8 pets, including 4 dogs (Bella, Spookley, Chance and Fuzzz), and 4 cats (Niblet, Sugar, Dustmite and Sox). If nothing else, we love the names they chose, and I am sure there is a story behind some of those as well!
As far as a favorite cornhole player, Kaeden puts ACL Pro Frank Modlin in that spot. "He is one of the nicest guys I've met, and he always makes time to play with anyone." I think anyone who has met Frank Modlin would easily concur.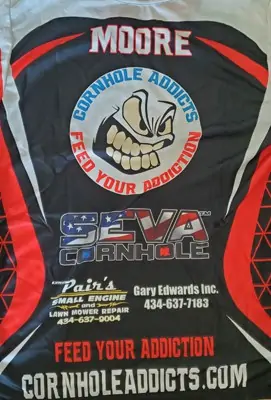 Like most young players, Kaeden would love to turn pro someday, and we have no doubt that will happen, that is, unless he chooses to go pro in another sport like baseball! We here at Cornhole Addicts wish you nothing but the best in whatever you choose to pursue!! We supported you last season and continue to do so this season as a Brand Ambassador of TeamAddicts.
Getting To Know Kaeden:
Favorite Activities (Other than Cornhole) – Baseball and riding 4 wheeler
Favorite Show – Walking Dead
Gamer? – 'I love playing MLB The Show and Madden
Favorite Food – "It's a toss up between tacos and steak"
Favorite Vacation Spot – Myrtle Beach, SC