One year ago, the week of 5 December, Greyson Waller played in his first ACL Open, which was also only the third ACL event he had ever played in. He took 2nd place in the Competitive Division in Singles. Not much was made of it except for in his inner circle. Fast forward a year, and he is on the cusp of national prominence. With recent victories over some of the biggest names in the sport, it appears that no person or event is too large for this young superstar.
In the movie For Love of the Game, Billy Chapel is a pitcher for the Detroit Tigers and is pitching the game of his life: a perfect game. Late in the game, the Yankees manager substitutes a batter to face Chapel, a young and strapping kid named Ken Strout who hadn't spent much time in the big leagues. Strout was the 27th batter of the game. If he makes an out, he becomes the 27th out and Billy Chapel gets his perfect game. If he somehow gets on base, he ruins the perfect game. Either way, Strout was going to make history.
While Billy stands on the mound preparing to pitch, the announcer says, "Ken Strout is just young enough, just cocky enough to not realize the magnitude of the situation that he is in." Ken fouls a ball off, prompting Billy Chapel to say, "I don't scare you at all, do I Strout?".
When I watch Greyson play the local favorites and the pros in the ACL events, I always think of that one minute and seven seconds of that movie because Greyson is just young enough and just cocky enough to not realize the magnitude of the games he plays, that he is supposed to be nervous, that he is not supposed to be as good as he is this young and this quickly. But he isn't nervous. He isn't scared. And yes, he is THAT good, THIS young.
Greyson's introduction to the game
The journey from the summer of 2020 to where he is now was fast and furious. Having never picked up a bag before then, he was introduced to cornhole during a family camping trip at Bethpage Campground in Urbana, VA. According to his parents, he was a natural. But it was his subsequent friendship with and encouragement from Colton Boyer and his family that planted the seed and set the stage for Greyson to become the player he is today.
Wanting to develop a good, flat throw and wanting to be better than the people at the campground, Greyson started practicing. A year later, in the summer of 2021, with his flat throw in hand, he became the player at the campground that everyone wanted to draw in the blind draw tournaments. According to his dad, Phillip Waller, "There was no denying that Greyson was a lot better than most…" of the players at the campground.
Putting in the work
He continues to practice everyday of the week if it isn't raining or if he isn't playing in a tournament. Practices range from 2-4 hours or more on weekdays and 6 hours or more on the weekends. But he doesn't just go outside and throw; he focuses on specific areas that he feels needs work. For example, recent practice sessions included focusing on 10 push shots (also referred to as push-and-go, collect shots, and block and push), 10 four baggers, and 50 airmails.
When he met Colton Boyer, Colton was throwing SEVA Marksman bags and Greyson, naturally, migrated toward that bag. After meeting Landon Bass at the 2021 Virginia Beach open and seeing Landon roll a shot at will with a set of the BG series bags, Greyson started throwing BG bags and working on his own roll shot.
It took him almost another year to perfect the back loaded bag throw that's needed to roll. Now, he has moved away from the carpet style bags and roll shots and has moved to a medium speed bag (Titan Venoms) while focusing more on his airmails.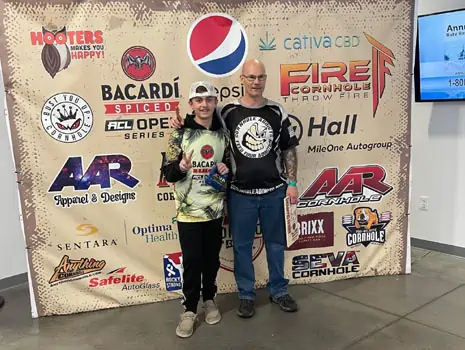 That day at the 2021 Virginia Beach Open where he finished 2nd, was a turning point for Greyson. Not only was his hard work showing being bumped up to the Advanced Division but he was introduced to someone who has made a huge impact in his life, David Abate the owner of Cornhole Addicts. Today, Greyson is a sponsored player for Team Cornhole Addicts and an Addict for Life!
Starting to payoff
If you watch Greyson play, the one thing that stands out is his focus and his composure during big games. Frank Modlin, Devon Harbaugh, Ken Smith, Jr., Trey Burchfield, Ryan Smith, Berklee Pair, Tony Smith, Noah Wooten, Micheal Dinges and Adrian Johnson are just a few of the top Pro players that Greyson has beaten, no doubt due to his unmatched ability to shut things out, focus, and not let a game or a player become bigger than the moment.
This kid has been making waves in 2022! Some of his biggest podium finishes include 1st place Beast of the East blind draw with partner Jordan Camba, 1st place VA Junior State Champion, 1st place Juniors at ACL Open #1 in Rock Hill and 1st place Tier 2 doubles with Nico Mireles at the Largest ACL Open #5 in Virginia Beach. Can't wait to see what 2023 has in store for him.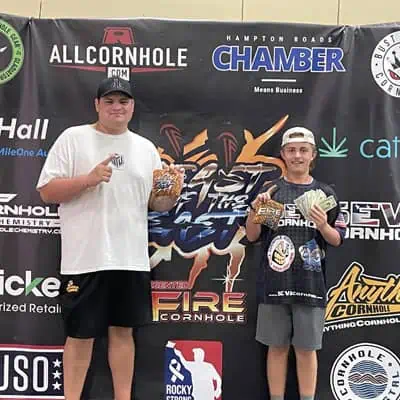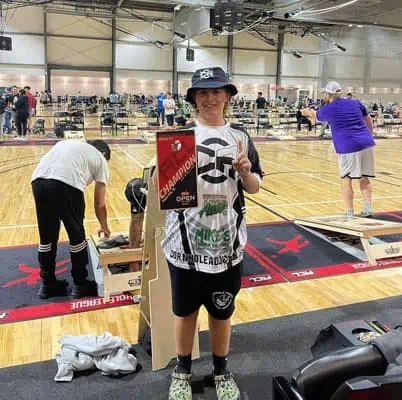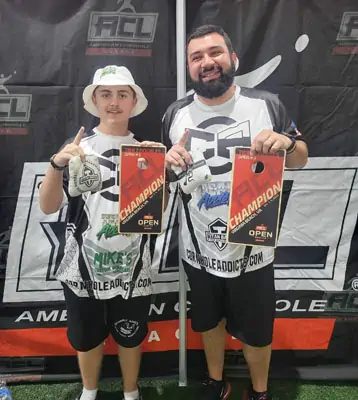 As this season progresses, and with strong showings already in several tournaments, there is no doubt that Greyson will continue to be a force in the ACL ranks locally, regionally, and nationally. With his strong family support system, many sponsors backing him and his unparalleled practice habits, there is no doubt that he isn't waiting for the future to happen; he is making it happen. And anyone that knows cornhole knows this: the future of the ACL is now, and its name is Greyson Waller.
Current ACL Rankings
As of today, 12/19/2022, this 13 year old is ranked:
8th in Atlantic Conference
7th in the State of Virginia
4th in ACL Juniors
143rd in ACL Open Standings
Like many others, the end goal is to become a professional player in the ACL. If he continues the patch he is on now, there is no doubt he will achieve that goal.
Fun Facts about Greyson
Favorite Sport outside of cornhole: Football
Favorite Football Team: Dallas Cowboys
Favorite Cornhole Game played: Trey Burchfield (beat him twice) during the recent November Lawrenceville Regional and Jordan Camba at the Virginia Beach Open
Go To Song When Needing to Get Pumped Up: It Was a Good Day by Ice Cube
Song Listened to the Most: Chicken Fried by the Zach Brown Band
Favorite Food: Dirty Rice made by his mom
Favorite Color: Teal
Favorite School Subject: Math
Favorite Movie: The Lego Movie (Knows every word)
Favorite Cornhole Player: Devon Harbaugh and Frank Modlin
Next Player(s) on the hit list (whom he wants to beat): Matt Guy, then Matthew Stout
Goals: Finishing the season in the Top 8 in Juniors for an automatic PDC spot (he is currently 3rd)