Jolila Barrientes may be the youngest of our 'After School Baggers', and probably the newest to the game of cornhole, but don't sleep on this adorable young lady. She has talent bigger than her home state of Texas and people are starting to notice her in the cornhole world!
Jolila's mom, Laura, talked about just how new she is to the game of cornhole. "Jolila started playing early this year, and when she started she didn't really know anything about the game. Every tournament she played in was in the TCL (Texas Cornhole League). In fact, we didn't even hear about the ACL until a few months ago."
Jolila, who lives at home with her mom, dad (Joe), two older sisters (Joanna and Loralei), and her 18 year old brother Josh, actually picked up her first bag at her dad's softball game.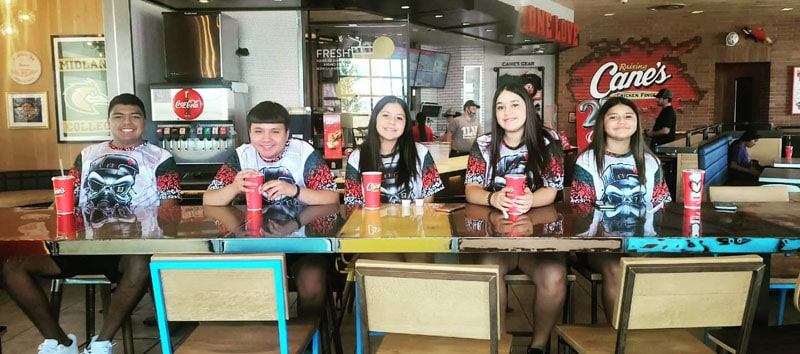 "Someone brought boards and bags to the game, and there were a bunch of people just hanging out and throwing. From that point on, I was hooked, and now there are always bags and boards when our friends get together."
But what started as some fun in the backyard has now turned into more competitive play, and that all started with going to the league her dad and brother played in.
"I wasn't allowed to always go to league nights because of school, but on nights that mom allowed me to go, I would watch and learn, and throw when the boards were open. Since I wasn't very good, I didn't play league, but I would play in blind draws. In February of this year, my sister and I played in our first league. We didn't do very well, but we had a lot of fun."
It is that kind of attitude, and her willingness to learn, that will take Jolila places, and it has already started. Her first big tournament was at a TCL event in Irving, TX in June. She didn't place, but she says she learned a lot.
"There were a lot of good throwers, a lot of great players, and I didn't place, but watching them and playing against them helped me learn a lot."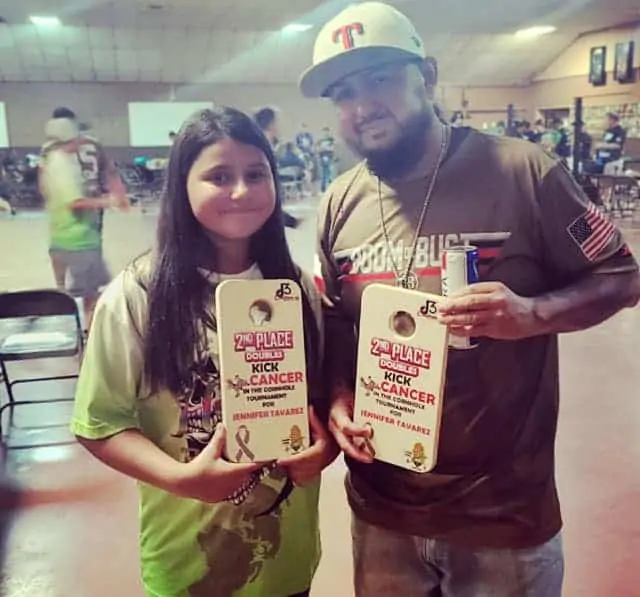 All of the tough losses and hours of throwing bags paid off in a benefit tournament she threw in with her dad. Their second place finish was made all the sweeter because she got to enjoy it with him.
"I don't always get to throw with my dad, because he plays in the open division, but at this benefit we were able to throw together. It was in the open division, and it was tough, but it was a whole lot of fun. I was really happy to get second, and it also made me happy that I didn't let him down."
Her most recent accomplishment was with her partner Dan. They played in a big tournament, Texas Live, in Arlington, bringing home a hard fought 3rd place finish.
Jolila is competitive by nature, playing volleyball and club level soccer for a few years, and that drive, along with a lot of support from her family and friends, has her on the road to greater things.
"I get a lot of help from my friend Adrian and my brother Josh, as well as the people I throw with. Adrian is always confident when he throws, never giving up, and Josh taught me how to throw and always helps me when I need help. The people that I throw with at "Boom or Bust" (local league) always make me feel special and welcomed. They are like family."
She also has a lot of support from mom and dad, although Jolila's mom Laura says that sometimes she gets a little too loud when she hits those airmails!
It is also no surprise that Jolila's favorite cornhole player is ACL Pro Isabella (Bella) Suprenant, and what a perfect player for her to aspire to be!
"Bella started playing at a young age, and has already accomplished a lot. I want to become a pro and be like her. She is awesome!"
Jolila's mom summed everything up in just a few sentences. "The days are short and the nights are long for our cornhole family, but we wouldn't trade it for the world! We are excited to attend some bigger tournaments this year, with the hopes that Jolila will be able make a name for herself!
You cannot help but feel the love in each and every word that comes from Jolila and her mom, and for that reason alone, I know Jolila will accomplish great things…in cornhole and in life!
Getting to know Jolila
Favorite Dessert – Oreo ice cream
Favorite Movie – The Sandlot
Favorite Vacation Spot – Arlington, TX to shop and spend time with friends and go to Six Flags (Not to mention that her favorite team is the Cowboys)
Favorite Subject in School – Art, I love to draw, especially nature stuff
---
If you are new to the game of cornhole and looking to get some bags in your hands, here are some great ones to start with