She might only be fourteen years old, but don't allow the big smile and childlike attitude to fool you! When Isabella Surprenant steps up to the boards, she is all business. Her friends call her Bella, and in the cornhole world, she is already making a name for herself!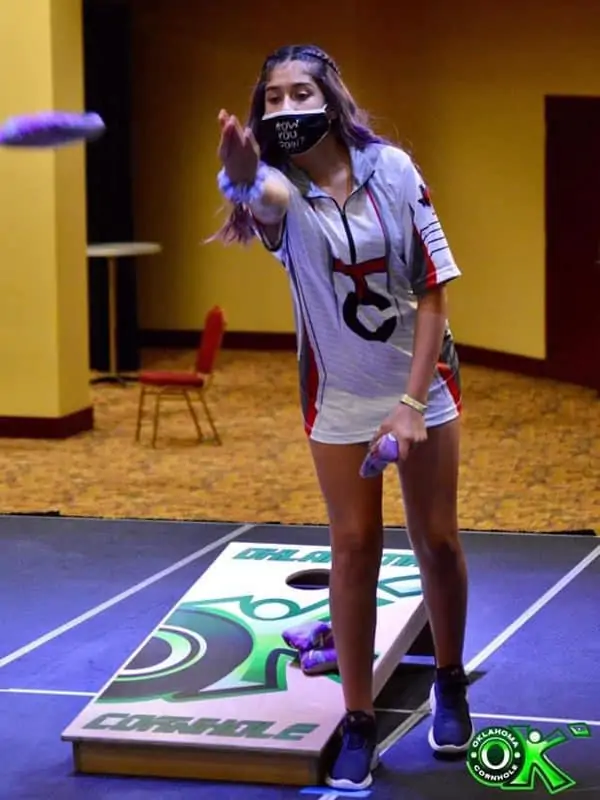 Born in Katy, Texas, Bella picked up the game of cornhole after her family moved to Lawton, Oklahoma in 2015. The youngest of four children, she started throwing for fun with her brother in law's family a couple years later. "My sister got married about a year after moving to Oklahoma and I started throwing at the lake with her husband's family. I didn't start throwing in a league until November of 2019."
And it sure didn't take long for Bella to find success. She finished first in that social league, as well as the second one that she and her mom joined in March of 2020. The two of them were hooked and they began playing at a lot of different local tournaments. From there it was on to bigger and better things.
She met friend and current partner, Braidyn Fink, at one of those local tournaments, and he encouraged her to go to the pro qualifier, which was only a couple weeks away. "My dad told me I should go to the qualifier to see how I like it. I didn't know anything about the ACL, so I wasn't signed up, and even though I didn't get to play, it was a blast! After I came back from that one, I told my dad I wanted to become a pro!"
She has been on that quest since that day, and she and her mom, Carmen, have been putting in the miles to prove it. Their vehicle has a lot more miles on it these days, but her biggest fan doesn't mind. Mom commented on the long hours on the road. "Honestly, I love the time we spend together. The sleep part is tough, because even after we get to tournaments I don't sleep, because my 'Boo', (one of mom's many nicknames for Bella), is very energetic."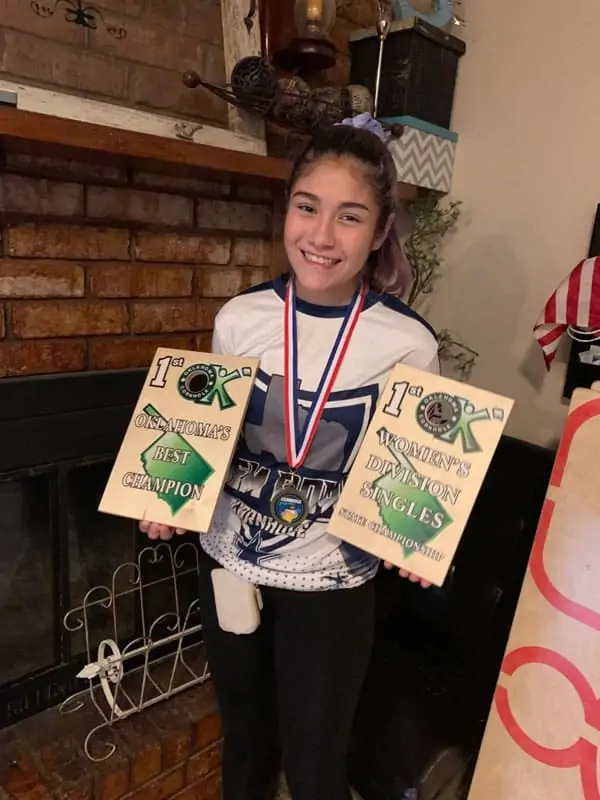 The sacrifices haven't gone unnoticed by Bella either. "My mom is my biggest inspiration. She has sacrificed her entire life to do this for me. I know she misses her grandkids and my brothers and sis, and of course my dad, who also works a lot and sacrifices a lot for me." But they are all beginning to see the benefits of all the hard work Bella is putting in, and all the sacrifices that are being made.
She has won some big tournaments in both Texas and Oklahoma and earned some tremendous accolades, but she says her biggest win to date is at "The Gauntlet" in Arkansas earlier this year. She teamed up with ACL Pro Samantha Finley, and went through a very tough bracket to win it all. "We beat Ryan Windsor and Ethan Morgan in the finals, and we had to beat Devon Harbaugh and Tony Smith to get to them!" It was a signature win for Bella.
I believe the sky's the limit for this young lady, but what does she enjoy most about the game? It is what 99% of all cornhole players would tell you. It's the relationships. "I love the relationships I have made. The cornhole families are the best. I have gotten to see so many great players at the national level and every one of them has been very helpful to me."
I have to believe that she is telling the truth when she says she loves the friendships the most, because her mom informed me that once they get to a tournament, her 'Boo' takes off, rarely to be seen again. This girl is the real deal, both on the boards and away from them, and I for one, am rooting for her! If you see her at a tournament, she will be the one running around, hanging out with a lot of her friends and taking a lot of pictures and videos.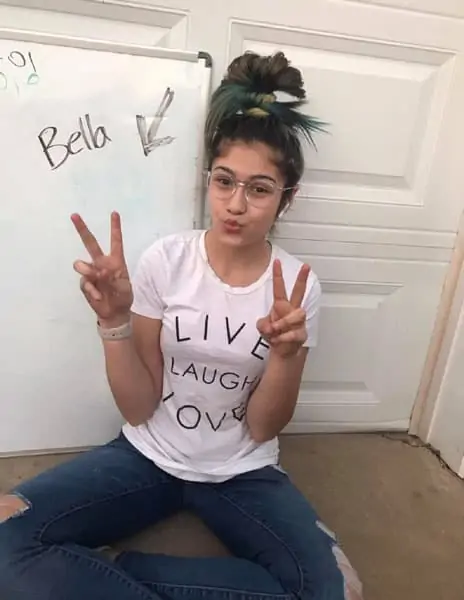 But you better bring your "A" game along with you when you face her on the boards, because this girl knows how to throw. And how bad does she want to become a pro in this game? "I want to become a pro really bad! I am doing my best, playing with a lot of different people and giving 110%. I am going to be a PRO, that is my goal for 2021!"
I know a lot of people who are pulling for you Bella, and we here at Cornhole Addicts are as well! LET'S GO! The ACL Pro Qualifier is all set for in August 2-8th in Rock Hill, SC and you can bet Bella will be there with an army of friends watching and supporting.
GET TO KNOW BELLA:
Favorite sport other than cornhole – SOCCER, I used to be in an academy that plays all year long. Mom says if I don't make it at cornhole I am going back to soccer, (haha)
Favorite TV Show – Grey's Anatomy or New Girl
Favorite people to take a road trip with – If I can take Devon, Allison, Noah, Sam, Trey, Braidyn, Tony, Hunter, Dalton, Kyle, Quentin, Ryan Windsor and DK, that would always be fun! I am sure I missed some!
Place you most want to visit – Hawaii or Italy
Person who makes you laugh the most – Hunter Thorne or Braidyn Fink, but it is easy to make me laugh
Woman player who inspires me the most – Either Samantha Finley or Allison Peters, because they are always giving me good advice, and my mom and sister who are very competitive and push me to do better

Favorite things to do other than cornhole – Watching TV or movies, and talking and hanging out with my dad, talking and doing car stuff. I also love hanging out with my niece and nephew
Be sure to like Bella's Facebook page where you can follow he in he journey now and after she becomes an ACL Pro.