There are a lot of positive things that could be said about Connie Altice and how great she is at cornhole. In fact, you will read about a lot of those in this article. But what I love most about Connie are the things that drive her to be a great person and player, her love and dedication to her family. In my interview with Connie, it was her first comments to me that said it all!
"I am extremely proud to say I am a military mom! I have been married to my husband Rob for 17 years, and we have three amazing children who have all served or are serving this great country! We also have five adorable grandbabies, 3 girls and 2 boys, ranging in age from 10 to 5! I never knew you could love anyone more than your own children until you have grandbabies!"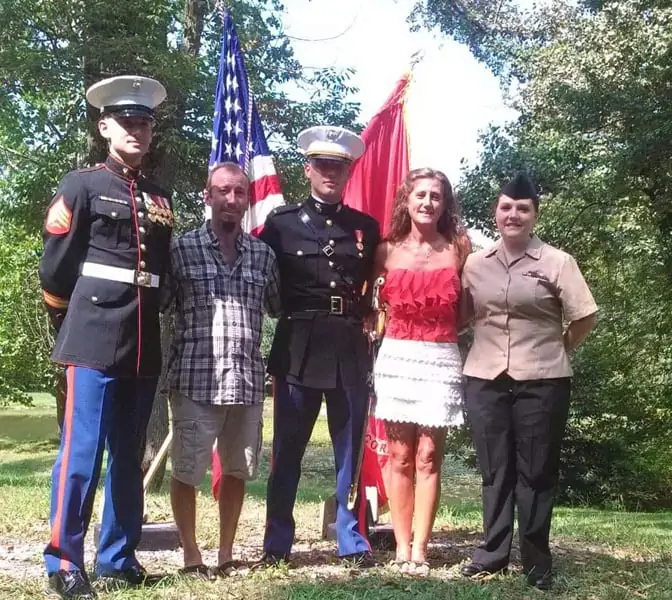 It is exactly that kind of passion that has driven Connie Altice to be a great player in such a short amount of time, and is proof that you don't have to be a teenager or in your twenties to rise to the top of this game! At the age of 54 Connie has taken her game to a whole new level.
How it started for Connie Altice
Connie Altice started playing seven years ago at Myrtle beach, while on vacation with her family. The kids didn't want to go to the beach one day and they had cornhole boards set up in the activities hall. I got home from there and made a couple sets of boards and we started throwing when we went camping or to family gatherings.
"I started throwing at tournaments after that, but it was nothing like it is now. It was more for fun and the social aspect, than it was competitive."
It wasn't until Labor Day of this past year that it got more serious. Some friends asked her to go to the Keystone Regional in Lancaster, and she decided to go along to see how she would do. The trip changed everything for Connie, finishing 1st in the competitive bracket out of 84 players! She was officially hooked after that!
"I started throwing more regularly. I went to my first Mid East Conference event over the winter, placing first in the women's division, and then at the open in Virginia I placed 2nd to Kamryn Belvin, losing to her 19-21."
Connie's biggest win
But even with these two big accomplishments under her belt, Connie says that the biggest win of her short cornhole career came at her most recent Mid East Conference event in Cleveland. And I am proud to say I was there to experience it.
"After losing my first game of the tournament, I came back through the losers bracket to get the double dip and win the women's bracket." Connie had to defeat three pros on the way to her second conference win in three months time.
And with how popular Connie Altice is becoming in the game we love, I asked her what it was like when she first started throwing cornhole in a male dominated sport.
"At first it was kind of hard. Going to weekly blind draws and not knowing anyone was kind of scary at first, but now when I go I try to be very encouraging to other women who are just sitting there watching. Everyone is very welcoming and more women are starting to throw."
Connie Altice is not only a terrific player, but also a great ambassador for women's cornhole and all of her hard work and success is only driving Connie to become even better. "I would love to try to go pro this upcoming season, and will be heading to Rock Hill for the ACL qualifier in August."
If you have ever seen her throw or thrown against her in a tournament over the past several months, I know you wouldn't bet against her doing exactly that! But it is her last comment that sums it all up for me. In fact, I'm not even going to change the punctuation in how she sent it to me. It says it all, and tells us exactly who Connie Altice is and what she is about!
"This last year I have grown so much with the sport. I have met so many nice and talented people and I have had the opportunity to travel a little. THIS WOULD NOT BE POSSIBLE WITHOUT THE LOVE AND SUPPORT FROM MY HUSBAND AND MY CHILDREN. I am truly blessed!!!!!"
And Connie, you are a blessing to all of us who know you!
Getting to know Connie
Favorite Genre of Movie – I am a sucker for romantic comedies and will probably be crying at some point
Favorite Pastime for You and Rob – We both love cornhole, so it is usually spent throwing. Even when we are camping, we are still throwing somewhere
Beach or Cabin in the Mountains – Rob and I both love the beach. We kick around the idea about moving south someday
Favorite Bag to throw – I currently throw pink Lucky Pro Snipers. I also like to throw Ultra Vipers, and more times than not, they are on the slick side.
* Connie and Rob's youngest granddaughter was born with a double mutated gene and was diagnosed with Deaf 1 Syndrome. It is extremely rare, with less than 100 people being diagnosed with it.
** Connie and Rob's oldest son served 9 ½ years in the Marine Corps. Her daughter served 6 years in the Navy and now works with disabled vets at Walter Reed. Their youngest son is a Captain in the Marine Corps and is a fighter jet pilot, stationed in San Diego, flying the F/A 18.