I was at a Regional, warming up for a winner's bracket final, when a young lady, Kelly Karanovich, came over and asked if she could throw with me to help me warm up for the game. From the way she played and carried herself, mature beyond her years, I was surprised to find out she was only fifteen. But what impressed me most was that she noticed me warming up for a big game and took the time to help me.
Playing competitively for less than a year
I am sure she doesn't recall that evening, but that young lady is sixteen now and is already making a name for herself in the cornhole world! And to think, she is still relatively new to the game. Kelly has only been playing competitively for a little less than a year, playing in her first tournament in May of 2020. It's been less than two years since she picked up her first bag.
"I played in a fundraiser for my softball team in 2019 where I met Justin Stranger. We had a lot of fun playing side games and he gave me tips on how to play. I went home and started looking up the game, how to play it and different strategies to use." Justin has remained a friend, and when time allows, Kelly and Justin partner up.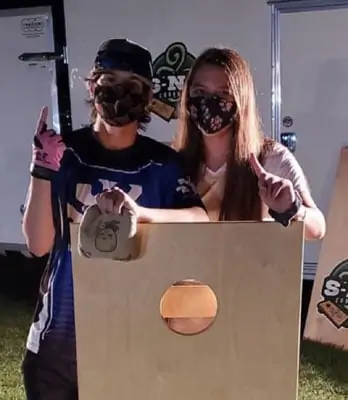 Her mom and dad bought her a set of bags and boards for Christmas that year, and after playing in some virtual tournaments early last year, she fell in love with the game. But cornhole isn't the only thing that Kelly Karanovich takes seriously. She is a straight "A" student at Mount De Sale high school, where she plays varsity softball, as a sophomore, on a team that is regularly challenging for state championships.
"I play cornhole almost every night and I take school, softball and cornhole, all very seriously. When I graduate I want to go to college and major in business and law." Kelly's mom Debbie, couldn't agree more about her daughter's determination.
"She is very determined to improve with each game she plays. She has a positive attitude and loves the game. She loves to watch other players to pick up on their strategies."
Kelly, who is the oldest of two children (Kyle is 14), plays weekly blind draws with her dad, but it is her mom that takes her to the weekend tournaments and her mom says the trips are pretty special. "The best thing about taking Kelly to tournaments is the talking and singing in the car. I like to watch her play, but I'm not supposed to, because when she looks up and sees me she gets distracted. The overnight cornhole trips are fun with hotel stays, more singing, talking and just goofing off."
Kelly's biggest win
The miles, sacrifice and weekly blind draws are paying off. You will see her on the podium often, with her biggest win coming at a conference event. "My biggest win to date is probably the Crew Cup at a Mid Atlantic Conference event. I partnered with Matthew Morton, Allan Rockwell and Trea Kelly to win that event."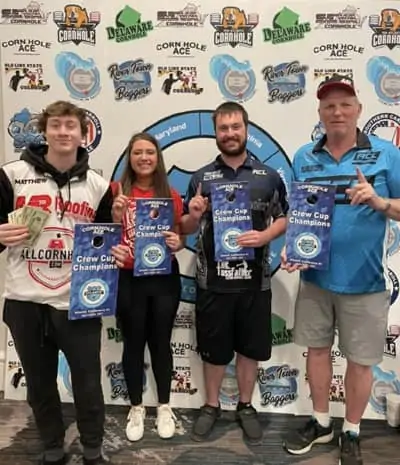 Kelly has already seen her share of success, and she gives credit where credit is due. "My parents are my biggest inspiration, but there are also a lot of fellow players who have taught me a lot about the game. They include Justin Stranger, Thom Stranger, Bob Mallonee, Frank Modlin and Mike Morton." Not a bad group of guys to learn from for sure!
So what's up next for this up and coming player? "I'd like to become a pro, so I will see how I do at the qualifier." She has the drive, the determination and the ability to do it, that's for sure, and we here at Cornhole Addicts believe in you! It's not a matter of "if", but "when"!
Getting to know Kelly
Nicknames from mom and dad – Kells Bells, Kell-Kell
Favorite sport other than cornhole – Softball
How many sets of bags do you own – 17
Favorite Dessert – Any pie with fruit in it
Favorite Subject – History
Least Favorite Subject – Math
Favorite thing to do with my spare time – I have very little, but when I do, it is to talk to friends
What I love about cornhole – The strategy and how each game is different
Want to learn more about the game and strategies? Be sure to check out our extensive blog articles or browse our Pro Shop and if you would like more information on the American Cornhole League (ACL) and how to get involved/started playing, go to iplaycornhole.com