Michele Ruybal needed something to fill the competitive craving in her life. After spending much of her life playing softball, volleyball and track, knee issues and just the fact that she was getting older, left a void. Thank God for Norm Williams and cornhole!
"I am the kind of person who craves competition, so when I saw Norm, an old buddy of mine, post the cornhole league on Facebook a couple years ago, I was interested to join and see what it was about."
Her first experience was quite frustrating, as it is for many people but being the competitive person she is, she wasn't about to give up on the game. So she turned to the internet for help.
"The first night I couldn't get a bag on the board to save my life, but I wasn't going to quit. I wanted to learn how to hold a bag, so I turned to YouTube and was amazed at all the information I found! I didn't know anything about this sport but my goal was to learn and to improve every week."
Learn and improve is exactly what Michele Ruybal did. At the end of her six week league her team finished second and Michele was named most improved player. She was hooked! But that league had finished so she needed to find another place to play and call home. Being from Denver, CO, she found a tournament at Mile High Cornhole. But it also didn't take long for her to realize that this group of mostly men were at a whole different level than she was.
"I didn't allow this to stop me from going though. I was already addicted to the game, so I went to check the tournament out. Everyone was so friendly that I went back the next Thursday night. I don't think I missed a week in two years! They definitely made me feel like a huge part of the cornhole family."
Michele is so addicted to the game that last year her amazing husband Tony built cornhole decks for her at home so that she could play when the weather was nice. And now that she is working from home, she can take cornhole work breaks in the backyard. I am sure that statement alone makes a lot of you jealous!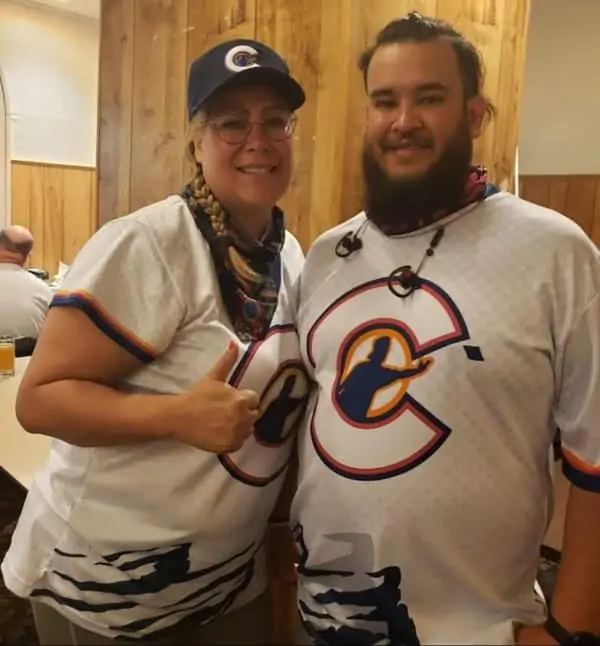 It was also during this time that Michele Ruybal decided to do something to get more ladies involved in the game. "There were only a handful of ladies playing when I started and it was a bit intimidating so, not only was I determined to get better but I also wanted to bring more women into the game. The number has increased since I started but I want it to grow even more!"
Calling All Lady Baggers #weplaytoo
And being the determined lady she is, Michele Ruybal started a page called "Colorado Lady Baggers" and their handle is #weplaytoo. They currently have almost 200 followers, which may not seem like much but with Michele at the helm, it is sure to take off!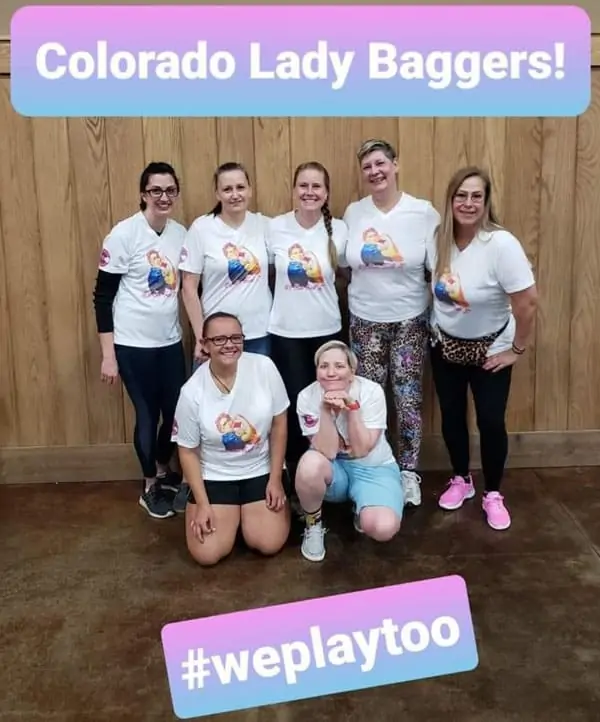 She uses the page to post tournaments and highlight accomplishments of ladies that throw. It is also great to have a group to support each other! With all that Michele is doing to support other ladies in the game, she just recently had her biggest win to date and she didn't need a partner to do it.
"It took me two years, but I finally got first place in singles at Mile High Cornhole. I felt like Queen for a Day! It was like a dream to me. Everyone was so happy for me that they stopped their games, coming over to give me hugs and fist bumps! It was a huge blessing! My next goal is to win in doubles with my son DJ, who keeps getting better and better."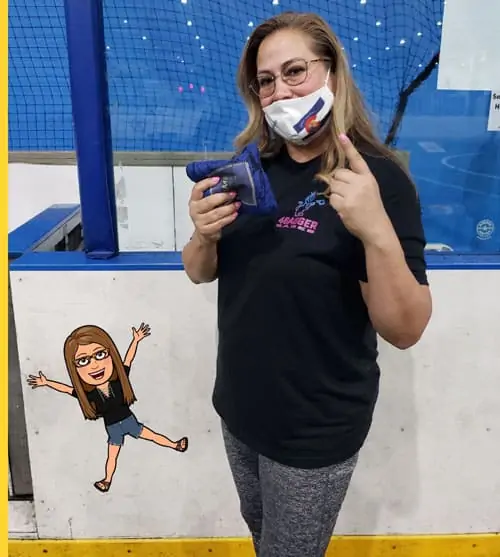 Michele also adds that she is working on her 20 year old daughter, trying to get her into the game and hooked on it like she is! I have a gut feeling that her daughter will be playing in no time!
With all the recent success I asked Michele Ruybal what she loves most about cornhole, and like most of us, her answer was the people.
"I am sure you probably hear this a lot but it is honestly the truth. The best thing about cornhole is the people and the community of family. Everyone that I have met through cornhole have been amazing people. You look forward to not only playing this game but to also hang out with the people every week. I love all my cornhole peeps! I recently started traveling and playing and have met so many more people from other states and it is amazing to see them growing this game and so many women involved too."
Michele, we love your excitement for the game and your drive the help grow the game! It is definitely contagious for sure! You truly are a "Cornhole Addict" in the truest sense!!
Getting to Know Michele Ruybal
Favorite TV Show – Young Rock
Cornhole Nickname – So'Chele (You will have to get the story from her! haha)
Favorite Pastime Other Than Cornhole – I like to work on my health and fitness. I also like Zumba and lifting weights. (Her husband Tony also has her playing in a pool league)
Pizza, what are your toppings – This would be a cheat meal, but the best is a white sauce with chicken, bacon, spinach and jalapenos. They call this the DJ Special, named after her son!
Favorite Cornhole Player – There are so many, but if I had to choose one I would say Yetty Yennawati, because she has shown me that hard work and persistence pays off. I aspire to be like her one day, an ACL Pro!